Analysis: Offshore Cementing Services Firm Up
by Rigzone Staff
|
Tuesday, August 04, 2009
Currently, there are hundreds of offshore rigs working worldwide. Whether they are performing exploration, development or workover operations, these rigs depend on state-of-the-art cementing units to complete the task at hand. A crucial step in production and abandonment operations, as well as sidetrack or directional drills, cementing a well can make or break the ultimate success of the project. This is where leading service providers, such as Schlumberger, Halliburton and BJ Services, step in to ensure the heavy investments that are made on offshore drilling operations are not in vain.
Offshore cementing is very similar to onshore cementing; it's an integral process required to bring a well into development. But when you add a few hundred -- or thousand -- feet of water, HP/HT conditions, directional wells and harsh environments, it is clear that the offshore cementing industry has come a long way since its roots in the 1940s.
A part of the completion process, cementing a well involves pumping a slurry mixture into the well after it has been drilled. Used to protect the well from water penetration, the cement slurry replaces the drilling fluids located within the wellbore, between the casing and the actual sides of the well. After it has been pumped into place, the cement slurry is left to harden, and the well is strengthened and sealed permanently.
Offshore Challenges
While the same concepts and processes are present in cementing both onshore and offshore wells, the offshore -- and especially deepwater -- environment poses unique obstacles.
"Non-productive time is a critical offshore metric due to the high cost of offshore operations," explained Steve Stuchly, the global business development manager of Halliburton's cementing produce service line. "Offshore wells typically have a higher complexity of well design; the locations are remote and can only be accessed by sea vessel or air. Offshore logistical challenges include rig capacity limitations and just-in-time delivery of materials."
Additionally, offshore cementing services tend to be much larger projects, said Gurjeet S. Jauhar, the business development manager of worldwide offshore cementing equipment with BJ Services.
"The process is the same, it's just in the deepwater you use more materials, more services, so you have higher revenues," Jauhar said. "Also the jobs are very visible; they are pretty critical-type jobs -- so the job must go very well. It has to be very reliable equipment, and sometimes we do use higher horsepower-rated cement units on those type rigs. There are extra specialized accessories that we provide for deepwater cementing."
Market Share
When considering the entire offshore fleet, including drill barges, inland barges, platform rigs, submersible rigs, tender rigs, jackups, semisubs and drillships, there are three major players in the offshore cementing industry: Halliburton, Schlumberger and BJ Services. Even though there are numerous companies providing offshore cementing units, combined Halliburton, Schlumberger and BJ Services garner about 90% of the market among rigs that are working or available for work (which excludes rigs that are cold stacked or under construction or modification without a cement unit).
Because cementing units are regularly changed, market share is constantly changing. While cementing units are housed on the rig and connected to its power and communication sources, the contract for the services is through the operator, not the rig contractor. Whether a cementing unit has passed its functioning prime or a new technology is required for upcoming drills, offshore cementing units are regularly installed. The service companies staff the cementing units, as well, whether offshore or remotely.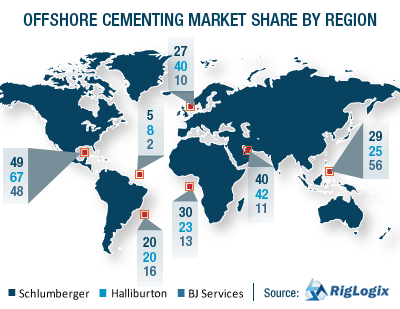 Each of the three leading cementing service providers is represented in all the major worldwide drilling arenas. While Schlumberger leads the pack in West Africa, BJ Services serves more of the rigs working offshore Southeast Asia, and Halliburton has garnered more of the offshore cementing market in the Gulf of Mexico.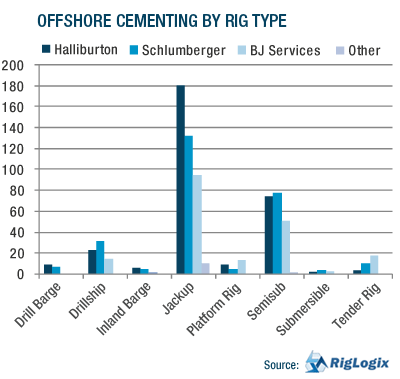 When looking at the rig fleet according to rig-type, market share is mixed among the leading companies. While there are nearly 500 rigs rated for shallower waters, both Halliburton and BJ Services stressed that their companies were focusing on deepwater and ultra-deepwater technologies. However, Schlumberger is currently the leading provider of cementing units for semisubmersibles and drillships, servicing about 10% more of these deepwater rigs than Halliburton and about 40% more than BJ Services. As exploration and production ventures into deeper waters, these leaders in cementing services are poised to deliver innovative solutions for the new frontier of offshore oil and gas development.
Successful Strategies
The success that these companies have established in the offshore cementing services arena is due to a number of factors, but experience, reliability and state-of-the-art equipment help to catapult them to the forefront.
Halliburton, for example, performed the first cementing operations offshore in the Gulf of Mexico in 1947. Additionally, Halliburton is the only company that currently offers cementing solutions inclusive of casing equipment. Furthermore, the company is the only provider that designs and fabricates its own pumping equipment
"As a result, our HT-400 pump continues to set the standard for reliable pumping in the industry," said Stuchly with Hallibuton. "Offshore, Halliburton cementing skids offer the most diverse choice of mixing and pumping capabilities. Lastly, we are pioneering engineering tools built on computational fluid dynamics and finite element analysis enabling our cementing services to benefit from the only three-dimensional displacement model in the industry to optimize zonal isolation."
Building on its successful onshore cementing business, BJ Services offers the Seahawk twin cementing unit, which provides precise density control, refined automation and high pump rates.
"It's the reliability and quality of work that we provide to the client," said BJ Services' Jauhar about the reason why the company has garnered such a high percentage of the market. "Our equipment is state-of-the-art; our systems are very reliable; we have state-of-the-art instrumentation on the units; and our people are trained very well."
In an effort to increase availability, BJ Services has made major efforts to construct cementing units on spec, in order to have units available immediately.
"What we did in this latest construction boom that started in 2006 is we started to invest a lot of money into building the units and having it ready when the rig would require it," added Jauhar.
In addition to the hundreds of rigs presently working in waters globally, there are 149 new rigs currently under construction. As these rigs are completed, there emerges an opportunity for cementing service providers to gain market share and place more offshore cementing units worldwide.