Analysis: Pride Spins Deepwater Focus
by Rigzone Staff
|
Monday, July 27, 2009
Although it hasn't been officially announced, major offshore drilling contractor Pride International intends to spin 20 of its mat-supported jackup rigs into a new separate company: Seahawk Drilling. The Pride spokeswoman confirms that the spin-off is on-schedule and progressing for a mid-2009 completion -- and that's any day now.
"By separating the mat-supported jackup rigs, Pride will create two distinct companies that can each focus on their core business interests and ultimately enhance shareholder value," said Kate Perez, the director of investor relations and corporate communications for Pride International.
Current Fleet
Right now, Pride International operates 45 offshore rigs. This includes the 20 mat-supported jackups that will be spun into Seahawk Drilling soon.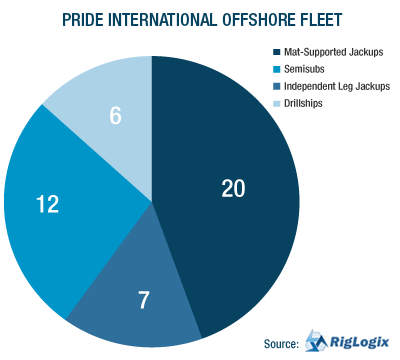 With a new focus on deepwater drilling, the company will hold the remaining 25 rigs, including two deepwater drillships and an additional four deepwater drillships under construction. Another 12 semisubs are members of the fleet, six of which are rated for deepwater drilling. The company will retain seven independent leg jackups stationed around the world.
"Pride will continue its transition to primarily higher spec assets and deeper markets, and we will maintain a small shallow water GOM presence, and a few jackups in the international market," said Perez, the Pride spokeswoman. "It's a good niche to have and provides some extra flexibility for our customers."
In fact, the jackups that Pride is keeping in its fleet are all currently drilling, with two in the Middle East, two in South Asia, two in the GOM and one in West Africa.
Renewed Deepwater Focus
In addition to the Pride Africa and the Pride Angola, which are both rated for waters measuring up to 10,000 feet deep and currently working for Total offshore Angola, Pride currently has four drillships rated for 12,000-foot-deep water under construction.
Recently named by the company, the Deep Ocean Ascension and the Deep Ocean Clarion drillships are contracted to BP from their delivery dates in 2010 through 2015. Scheduled for completion in early 2011, the Deep Ocean Mendocino is contracted to Petrobras through 2016 with a option for one and two additional years, which would bring the contract revenue to anywhere between $916 million and $1.24 billion depending on the length. The fourth newbuild drillship, the Deep Ocean Molokai, is scheduled for delivery by the end of 2011 and is being built on spec with no contract signed yet.
Additionally, the company owns 12 semisubs, and all but one is contracted and drilling. Half of the semis are rated for waters measuring less than 3,300 feet deep, with three working offshore Brazil, one in Congo, one in South Africa and one undergoing modifications in Angola. The six deepwater semisubs can drill in waters measuring between 5,000 feet and 7,500 feet deep. Four of these are drilling offshore Brazil, one in Egypt and one in Congo.
Profit Refit
This renewed focus on deepwater drilling will help Pride bump up its profit margin. While the majority of the company's mat-supported rigs are stacked in the GOM, the majority of the remaining fleet is working offshore worldwide.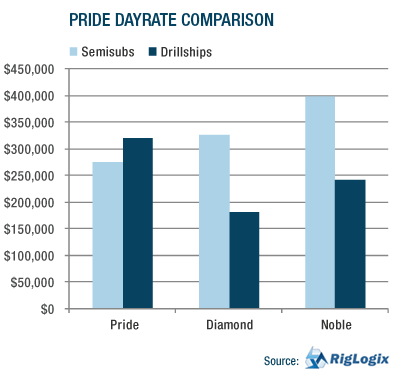 Additionally, the newbuild drillships will help to buoy the average dayrate. The company's current average dayrate for drillships is just less than $321,000. In comparison to similarly sized contractors, Pride's average drillship dayrate is substantially higher than both Diamond Offshore and Noble Drilling. Furthermore, with an average dayrate of nearly $483,000 for its contracted newbuilds, the company's average dayrate for drillships would increase with the completion of the drillships to more than $418,000.
Considering all the semisubs with contracts (11), Pride's average dayrate is more than $275,000. In comparison to Noble and Diamond, the company is quite below the average dayrate for semis. But if you split the company's semisub fleet into mid-water and deepwater floaters, the dayrate for semis improves. For the five contracted mid-water semis, the average dayrate is more than $226,000; while the average dayrate for Pride deepwater semis is more than $316,000.
With all of its mat-supported jackups located in the Gulf of Mexico on both sides of the border, the company has seen profits melt in this rig sector. In fact, in Pride's last quarterly report, the company CEO addressed the issue.
"The difficult environment that developed during late 2008 has continued in 2009 with further signs of weakness, evidenced by declines in worldwide fleet utilization, especially among jackups and midwater rigs, lower dayrates and subleasing of floating rig capacity," stated Louis A. Raspino, Pride president and CEO. "All segments of the offshore business are affected to some degree by the current slump in activity. Although the deepwater segment has a more durable position by virtue of the large contract backlogs established over the past 24 months, a more challenging near to intermediate-term pricing environment is possible, especially for conventionally moored deepwater units."
Spinning this segment of the company's fleet into another company further solidifies Pride's profit margin.
Seahawk Spin-Off
The 20 mat-supported jackup rigs being spun into the new company Seahawk Drilling are capable of drilling up to 25,000 feet deep in waters measuring up to 300 feet deep. With a NASDAQ ticker symbol of HAWK, the company will constitute the second largest fleet of jackups in the GOM. The majority of these rigs are currently cold stacked or ready stacked in the US and Mexican waters of the GOM. Only five are contracted and drilling, four of which are working for Mexican NOC Pemex.
"The mat jackups presented a strong collection of assets on their own, and the GOM focus that those rigs have will be prime when the market rebounds there," said the Pride spokeswoman.
The Seahawk spin-off will be a tax-free distribution to shareholders, resulting in an independent debt-free public company.
"We will have low operating costs and maintain a business strategy that is tailored to our rig fleet and geographic exposure," Seahawk CEO Randy Stilley told Rigzone. "The Gulf of Mexico has geology that is well-understood, solid infrastructure in-place and continues to offer compelling returns, especially now that well costs have decreased from 2008 levels."
While the official spin-off has not yet occurred, Seahawk is currently changing the names of the 20 rigs, adjusting its pricing and looking for acquisition opportunities.
"We expect to find opportunities to acquire additional jackups at attractive prices in the future," Stilley added. "The company is already operating independently from Pride, we have begun to re-name our rigs, and we have adjusted our cost levels to match the current environment."