Musings: A Look Back at the First Half
by G. Allen Brooks
|
Parks Paton Hoepfl & Brown
|
Wednesday, July 22, 2009
The first half of 2009 was all about the "green shoots" associated with a global economic recovery. An old Wall Street boss of mine referred to the phenomenon of looking for or counting on good news or positive data points among the dung of reality as "wishing and hoping." Today, investors would tell you that to be successful in the professional investment performance derby managers must be ahead of the crowd in recognizing and seizing investment trends. Of course that means grasping at straws that appear to be early signs of economic trend changes while being fully cognizant that what they are grabbing may prove to be nothing but straw -- the dried out green grass from prior growing seasons.
This spring investors seized on improvements in highly economically sensitive activity measures such as the Baltic Dry Index that measures the daily rate charged for cargo ships hauling bulk materials such as iron ore. That index, after falling nearly 95% in the second half of 2008 from its all-time peak, began to rise this spring as China waded into commodities markets to restock the country's depleted inventories of raw materials while taking advantage of depressed prices. From the low of last year, the BDI has risen nearly 550%.
Purchasing raw materials was further encouraged by Chinese businessmen's expectations of a demand rebound in response to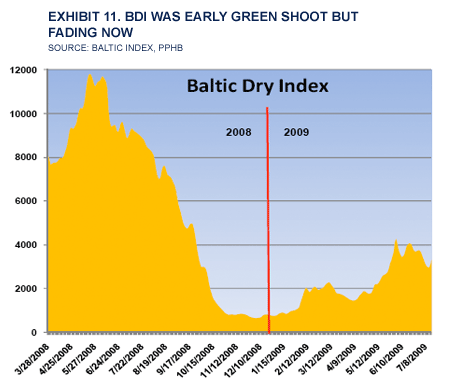 China's financial stimulus efforts. That occurred in the early months of 2009, but then seemed to ease off in April and May before resuming its recovery recently. The government's economic stimulus came with a significant step-up in bank lending designed to bolster domestic consumption growth.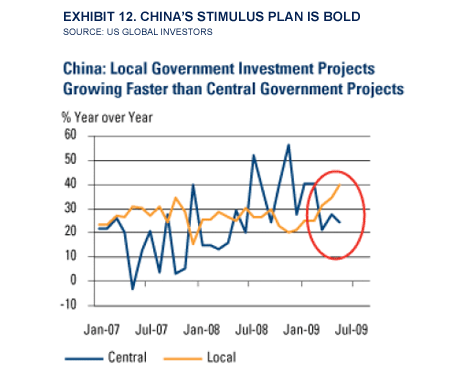 Manufacturing output in many countries around the world has begun to show signs of recovery suggesting that the coordinated government stimulus efforts are making a difference in the course of economic activity. The problem is that stimulus efforts are making a positive impact on economic activity; however the pace of the recovery is quite slow. If activity accelerates then we could see a sustained pattern of industrial commodity prices rising further during the rest of 2009.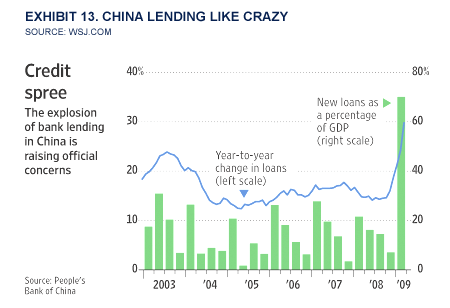 As shown in Exhibit 14, the top eight categories of industrial commodities we have been tracking experienced increases of greater than 20% during the first six months of the year. The top eight categories included crude oil and silver, which often are not immediately thought of as industrial materials.
Among the poorest performing commodities so far this year are coal and natural gas, but both these fuels have suffered from reduced energy demand. Additionally, both fuels have been targeted by the U.S. government to reduce their consumption as a part of efforts to reduce carbon emissions. The recently passed cap-and-trade legislation by the U.S. House of Representatives will make coal and all other fossil fuels more expensive to use as power plants, refineries and petrochemical plants must pay for carbon emissions associated with using them. If either economic activity turns up more sharply than currently expected and/or the cap-and-trade legislation is revised or rejected, coal and natural gas might turn in better than expected price performance during the second half of 2009.