Analysis: Shell Open to Offshore Drilling
by Rigzone Staff
|
Friday, July 10, 2009
One of the largest petroleum companies in the world, Royal Dutch Shell retains its strength in the upstream market through steady exploration and development drilling. While the price of oil and gas dropped in the last year, Shell has continued its strategy of increasing upstream developments, but reined in the number of projects launched in an effort to overcome cost challenges. Despite this, the company plans to grow production numbers 2 to 3% annually for the next three years.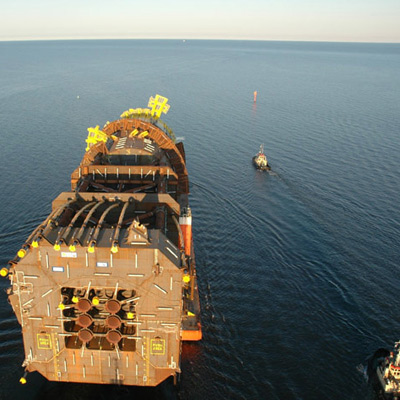 Perdido Hub
Having added 1.2 Bboe to its portfolio through the drill bit in 2008 alone, Shell is currently in the process of bringing three major deepwater projects on-line, including BC-10 in Brazil, Gumusut-Kakap in Malaysia and Perdido in the US Gulf of Mexico. Additionally, Norway's second-largest gas field and the country's first deepwater field Ormen Lange is currently undergoing further development to add to production that has already begun.
Current Rig Fleet
Shell currently employs 22 jackups, semisubmersibles and drillships worldwide. Of these, eight are jackups, ten are semisubs and four are drillships, portraying a strong presence in deepwater. Out of the deepwater E&P programs that Shell is currently undertaking, four deepwater rigs are deployed in the Gulf of Mexico and four deepwater rigs are deployed in the Austral-Pacific region with the remainder divided between the North Sea, West Africa and Brazil.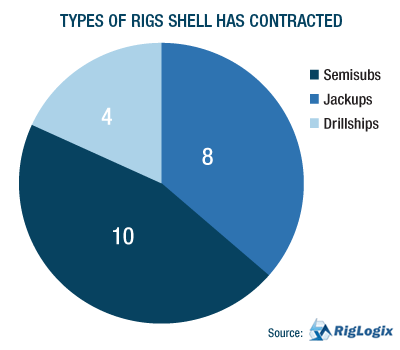 Leading the super-majors, Shell currently employs substantially more rigs than other public companies its size. Presently, BP and Chevron both have 15 rigs contracted and ExxonMobil employs 10 rigs.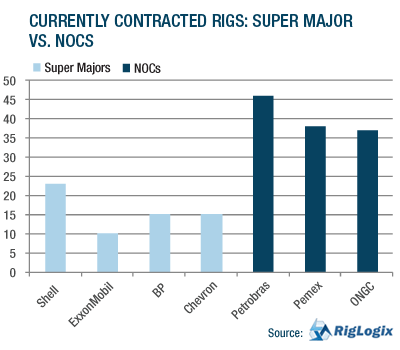 In contrast, major National Oil Companies currently boast markedly more rigs working offshore. With the most rigs working worldwide, Petrobras currently has 46 offshore rigs contracted, twice as many as Shell. Mexico's Pemex currently employs 38 rigs offshore, and India's ONGC has 37.
With an average dayrate of $356,000 for its contracted floater fleet (semisubs and drillships), Shell is right in line with the industry average of $352,000 a day. Despite this, Shell is paying substantially more than Petrobras with an average of $224,000 a day for its floaters, and significantly less than the five other largest super majors, which are paying an average of $406,000 a day for their floating rigs.
In comparison, Shell's average dayrate for jackups stands at $137,000, which is approximately 7% less than the worldwide average of $147,000. Additionally, the company's average jackup dayrate is substantially below the $157,000 average of the other three largest non-government-owned jackup operators.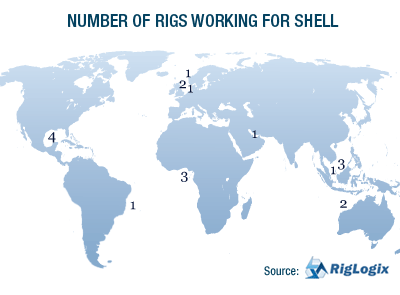 Portraying geographical diversification in offshore activities, Shell is currently drilling offshore 10 countries worldwide. With its largest presence in Southeast Asia, the company presently employs eight rigs working in the countries of Australia and Malaysia. With six rigs contracted and working in the North Sea, four rigs working in the US and three in West Africa, Shell is active in the world's offshore hot spots. The company also employs one rig in the Middle East and another offshore Brazil.
Rig Utilization
In contrast to other major E&P companies, the average number of rigs contracted by Shell over the last eight years has varied. While many companies strive to contract more rigs over time, or simply stay firm in the number of rigs contracted, Shell has oscillated from a high of 26 average rigs contracted in 2002 to a low of 12 average rigs contracted in 2005 - and seemingly everywhere in between.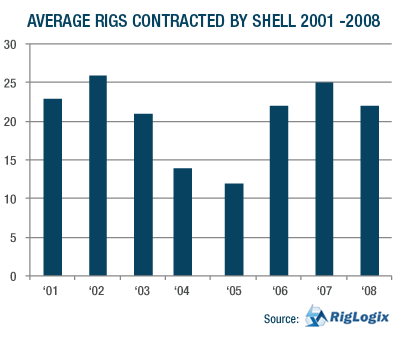 While the average number of rigs contracted thus far in 2009 equals 25, the number of rigs contracted for the rest of the year takes that average down to 23 rigs contracted for the whole of 2009. According to contracts already in place, the average number of rigs contracted for 2010 and 2011 is 19 and 13, respectively.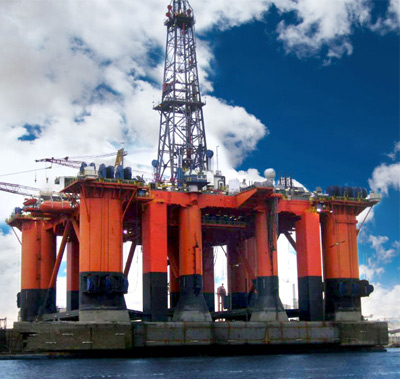 Frontier Driller
Not surprisingly, 2009 has been a relatively quiet year for Shell's offshore rig contracting activity. In fact only one new rig has gone to work for Shell this year. Starting its contract in May 2009, Frontier Drilling's semisub the Frontier Driller began work offshore the US GOM at Tahoe. The contract lasts through the close of 2011 and is set at a dayrate of $300,000.
Future Strength
While there are seven rigs (Deepwater Pathfinder, Maersk Convincer, GSF Britannia, GSF Magellan, Noble Clyde Boudreaux, Songa Venus and Sedco 709) scheduled to fall off contract with Shell by the close of 2009 and do not have options for renewal, there are a number of rigs that are set to start working for Shell
By the close of July, the Cajun Express deepwater semisub managed by Transocean is scheduled to commence a short-term contract in the US GOM with Shell. This contract is a farm-out from Chevron, which has the Cajun Express contracted until 2010.
Also in the US GOM, the Noble Danny Adkins deepwater semisub, which is currently under construction, is set to start a four-year contract with Shell in October 2009. The dayrate for the contract is in the mid-$440s.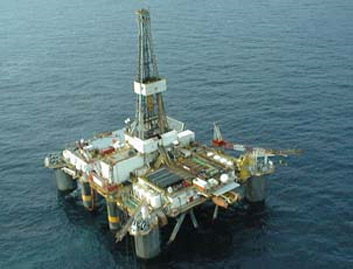 Transocean's Sedco 70
Transocean's Sedco 704 is scheduled to start a two-year contract with Shell in the UK North Sea in October 2009 at a dayrate of $422,000. In Egypt, the JP Bussel jackup operated by Rowan is scheduled to start work at the close of October in a multi-year contract
Furthermore, two newbuild drillships have been contracted to Shell in contracts spanning more than five years. Construction on Frontier Drilling's Bully 1 ultra-deepwater drillship is expected to conclude in early 2010, and Shell has signed the rig through 2015. Scheduled to be delivered in mid-2010, the Bully 2 ultra-deepwater drillship has been contracted by Shell through 2020.
Rising to the challenge of offsetting waning production through both exploration and development drilling offshore, Shell maintains a conservative approach to spending at a time when prices of both oil and natural gas are low and the cost of development is high.
"These are testing times in the oil and gas industry," Shell's chief executive Jeroen van der Veer recently said at the company's 2009 strategy update. "Whilst short-term measures are important, we keep our long-term perspective, and continue to believe that energy needs over the long term provide a positive context for Shell's investment programmes today."