Musings: U.S. Oil Imports at Risk and at Odds with Obama Goal
by G. Allen Brooks
|
Parks Paton Hoepfl & Brown
|
One of the objectives of the Obama administration's energy policy is to reduce the dependency of the United States on imported oil. This has been a goal of virtually every previous administration starting with President Nixon in 1972. For most of this time, oil imports have grown as U.S. domestic oil production declined and oil consumption steadily rose. The average of the four weeks ending June 12th, the United States imported about 12.0 million barrels a day (b/d) of crude oil and refined product out of estimated daily demand of about 21.4 million b/d of consumption. Total imports represent about 56% of the total oil demand in this country. Our total demand estimate includes the volume of refined product exported from the U.S. since it demonstrates our total exposure to imports.
The latest data on crude oil and refined product imports by country is through March 2009. That month's data shows a total import volume of 12.5 million b/d with Canada being our leading supplier with 2.4 million b/d, Mexico second at 1.2 million b/d, Venezuela third at 1.1 million b/d, Saudi Arabia fourth at 1.0 million b/d and Nigeria fifth at 0.9 million b/d. The interesting thing is that these top five countries have remained in our top five suppliers since at least 2000.
As we look at these five countries we are drawn to the point that at least three of them have serious long-term supply challenges that could result in their not being able to sustain their current exports to the U.S. That could mean the U.S. will become more dependent on other foreign suppliers or welcome increased volumes from our two most solid suppliers - Canada and Saudi Arabia. Each of these countries present policy issues that the Obama administration needs to deal with. But first let's look at the supply challenges of the other three top suppliers.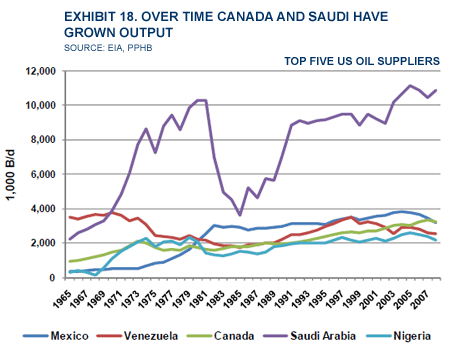 When we look at a chart of production by each of the five countries since 1965 through 2008, it becomes clear that Saudi Arabia and Canada have been essentially on growth trajectories. Each of these countries has significant oil reserves, although Canada's are from the tar deposits near Ft. McMurray in northern Alberta. Both Mexico and Venezuela have produced substantially more oil in the past then currently, but each suffers from problems that are contributing to falling production that endangers U.S. oil supplies. Mexico's oil production is in a long-term, rapid decline as the giant offshore Cantarell field is being rapidly depleted. The ability of Pemex, the state-owned oil company, to overcome its technical shortcomings for deepwater exploration in the Gulf of Mexico and extract more oil from several large onshore fields with highly complex geology is in doubt. For the first five months of 2009, Pemex's production has fallen by 7.9% to 2.65 million barrels per day. The Mexican constitutional restriction against any non-government entity gaining ownership of domestic hydrocarbons has made the country less attractive for major independent oil majors to become involved. While these western companies possess the knowhow for deepwater exploration, they are reluctant to enter into service contracts where there is no upside to the value of their technological knowledge and skills.
Venezuela's case is quite different and reflects the political situation within the country. Since President Hugo Chavez assumed power, and was re-elected, he has strengthened his control over revenue generating businesses in Venezuela. Not only has he grabbed control over income, which he has used to build greater support among the poor in Venezuela through monetary grants and free services, he has driven the knowledge workers of the oil industry from the country since they were seen as his foes. Lacking the technological capabilities and with reduced reinvestment in the business, Venezuela's production has fallen despite Pres. Chavez's claim that the country is still producing at its much higher OPEC quota. Unless conditions change, and/or Pres. Chavez reverses his policy of giving cheap oil to neighboring countries to earn political support for his socialist agenda, Venezuela's oil supplies are likely to continue to decline. The recent investment programs by China and other countries will make new Venezuelan oil supplies off-limits to the United States.
While Nigeria offers the possibility for increased supplies, the ongoing violence and terror reign in the country that has resulted in shut-downs of production and export operations makes the country suspect as a dependable source of oil. The long-standing corruption issues that have plagued western oil and oilfield service companies are also likely to make Nigeria a less attractive country for the petroleum industry to work in. These conditions could change, but much like subprime mortgages, Nigerian assets have a toxic quality to them.
There are clearly other countries that could step forward to replace the declining production from Mexico, Venezuela and Nigeria. However, the global oil production lost from these three countries, coupled with the general aging of producing oilfields around the world suggests that we will be looking at higher oil prices in the future. The easiest way for the Obama administration to achieve both its energy and environmental goals is to encourage the development of all types of alternative fuel sources, especially those for power generation. Unfortunately, this administration has fallen into the trap of picking energy winners and losers as it has with the banks and automakers.
Electric and hybrid vehicles offer promise for cutting petroleum demand. Compressed-natural-gas vehicles represent another potential oil-saver. The new diesel engine technology developed in Europe and slowly making its way to the U.S. offers another cog in the fuel-transition movement. The problem we perceive is that the Obama administration has little sense about how best to accomplish this transition in power-train technology. The transition will take time and is best driven by market forces, in our opinion. While we are not big fans of higher taxes, we think that only by raising gasoline prices along with developing a mechanism to rebate the higher cost to lowincome people, can the transition to a more fuel-efficient vehicle fleet occur on any timely basis.
Generated by readers, the comments included herein do not reflect the views and opinions of Rigzone. All comments are subject to editorial review. Off-topic, inappropriate or insulting comments will be removed.