Analysis: Saudi Aramco's Rig Appetite
by Rigzone Staff
|
Tuesday, June 23, 2009
The world's largest oil company in terms of proven reserves, Saudi Aramco is the state-run company for the Middle Eastern country of Saudi Arabia. Onshore and off, Saudi Aramco has a total of 100 major oil and gas fields and 267 billion barrels of proven oil reserves.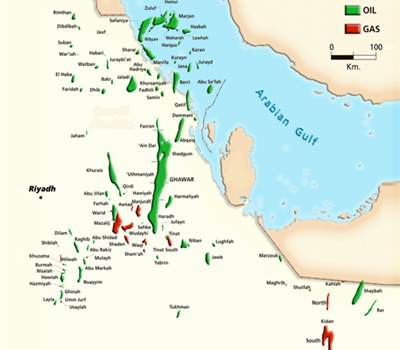 Oil and Gas Fields of Saudi Arabia, EIA
In fact, the NOC holds the world's largest offshore field, Safaniya, with an estimated 20 billion barrels of oil and daily production of 1 MMbopd. Other major producing offshore fields for Saudi Aramco include Zuluf, which has a daily production capacity of 500,000 bopd, and Marjan, which produces 270,000 bopd.
In a five-year plan starting in 2009, Saudi Aramco is increasing drilling exploration and investment in the oil sector, which includes increasing drilling by a third. A priority has been placed on offshore areas, and the company is presently investing in an effort to increase production capacity by 20%. That includes both development to achieve first production and re-development of producing fields. Major upstream projects include works on offshore fields Berri, Zuluf and Safaniyah. Also under development, Manifa is expected to hold between 10 and 20 billion barrels of oil and is scheduled to come on-stream by the third quarter of 2011.
Significant Increase in Offshore Activity
Saudi Aramco has not always been very active offshore or focused on its offshore resources. At the start of the decade, the NOC only had one rig working in the waters offshore Saudi Arabia, and it was a rig that the company owned. That number increased over the next year to four rigs by the close of 2001. Following that pattern of increased offshore activity, the number of rigs Saudi Aramco contracted from 2002 through mid-2005, continued to increase with nine rigs contracted in June 2005.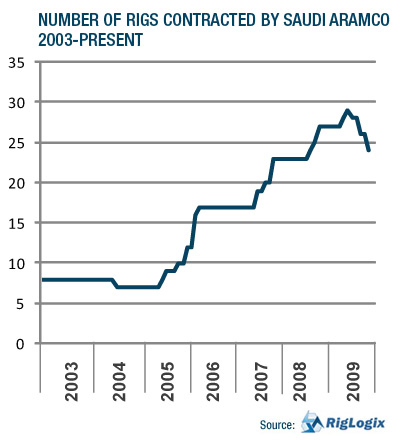 By the close of 2005, Saudi Aramco had 16 rigs contracted, and that number continued to increase. By mid-2007, the company had 23 rigs contracted for work. Through 2008 and into the start of 2009, the number of rigs increased further, with Saudi Aramco's contracted rig count peaking at 29 rigs in January of this year.
Saudi Aramco: Currently Contracted Rigs
As of June 2009, Saudi Aramco has 23 jackups contracted for work in Saudi Arabian waters. With 73 jackups working in the waters of the Persian Gulf presently, Saudi Aramco is by far the single most active operator in the region. In fact the next four most active operators in the Gulf region combine for a total of 22 contracted rigs.
Of the 23 total rigs working for Saudi Aramco, 20 are performing drilling operations, two are conducting workover, and one is undergoing modification in the United Arab Emirates.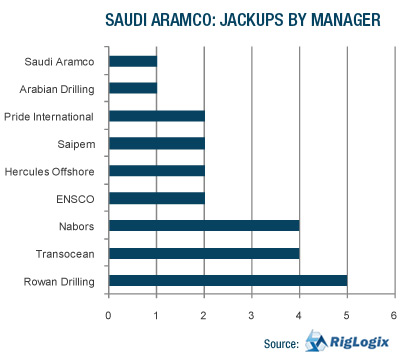 There are eight rig managers currently under contract with Saudi Armco. With the most rigs drilling for the NOC, Rowan has five jackups under contract. Both Transocean and Nabors have four rigs drilling for the company. ENSCO, Saipem and Pride each have two rigs working for Saudi Armaco presently. The SAR-201 is actually managed by Saudi Aramco, and it is the rig that is undergoing modification.
Because the waters of the Persian Gulf average 160 feet deep and are not deeper than 300 feet, the majority of the rigs contracted by Saudi Aramco offshore Saudi Arabia are rated for 250 to 300 feet deep. In fact, 19 of the jackups are rated for these waters, two are rated for waters less than 250 feet, and two are capable of drilling in waters deeper than 300 feet.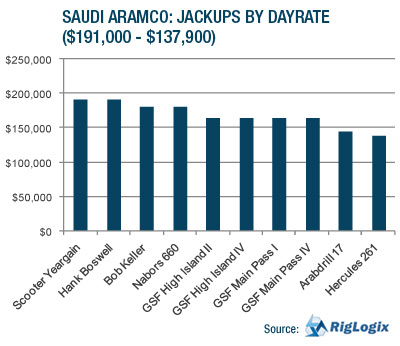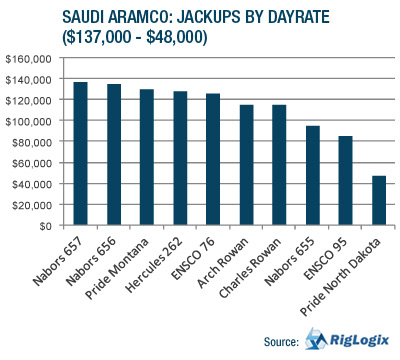 Of the 20 rigs in which RigLogix has dayrate information, the average dayrate that the company is currently paying is nearly $145,000. The highest earning jackups are two Rowan rigs, the Hank Boswell and the Scooter Yeargain at $191,000 a day. A close second, both Rowan's Bob Keller and Nabors' 660 are commanding a dayrate of $180,000.
Four of the jackups have recently commenced or extended their contracts with Saudi Aramco. Those include the Arch Rowan, the Hercules 261 and 262, and the Pride North Dakota. Starting its contract in mid-March, the Hercules 261 jackups has a firm contract through September 2011, with a one year option, at a dayrate of $137,900. The Arch Rowan started its contract extension with Saudi Aramco on May 1, adding 8 months to the nearly three and half years it had already been working for the company.
Commencing operations on May 24, the Pride North Dakota is contracted though May of 2010 at a dayrate of $48,000. Most recently, the Hercules 262 jackups commenced drilling operations for Saudi Aramco on May 27 in a firm contract through September 2011, with an option for another year of work.
Of the 23 jackups currently working for Saudi Aramco, two will drop off contract within the next couple of months. The Charles Rowan, which is currently drilling on the Marjan field, is scheduled to end its contract by the end of June. Conducting workover operations on the Berri field, Saipem's Perro Negro 5 jackup is scheduled to conclude its contract in August 2009.
Saudi Aramco: Future Drilling Activities
Looking forward, the total number of jackups contracted by Saudi Aramco slips to 19 by the close of 2009. In 2010, the average number of rigs the company has contracted is 17, and 2011 starts with 15 rigs contracted so far.
Although the company has not signed new contracts as of late, the length of Saudi Aramco contracts is significantly longer than the typical jackup rig contract. In fact, the worldwide average contract length for all currently ongoing jackup contracts is 857 days. In contrast, the contracts Saudi Aramco has signed since 2008 are an average of 1,115 days long, which is 258 days, or 30%, longer than the current worldwide average length.
Taking into account that jackup contracts are shorter in the Gulf of Mexico than other areas of the world, the worldwide average jackup contract length is 917 days if you disregard the GOM jackup contracts. Nonetheless, Saudi Aramco contracts remain 198 days, or 22%, longer.
Furthermore, the number of contracts signed in the last year has dwindled, but that may be part of a strategic pattern, rather than a lessening in activity. The only contract signed by Saudi Aramco in the last twelve months was an extension of the already contracted Arch Rowan. This is in contrast to the number of contracts signed in 2008, which were six. Prior to 2008, Saudi Aramco had signed just one new offshore rig contract in 2007, but had signed six new contracts in 2006.
If this pattern of a busy year followed by a slow year continues, the company may be ready to sign a number of new contracts at the start of 2010. Given that the company has openly expressed its plans to increase production and focus on its offshore fields, as mentioned above, it seems likely that Saudi Aramco will be launching rig tenders and signing a significant number of new contracts or extending existing contracts in the relatively near future.
More Information

For daily updates on the worldwide offshore rig market please visit www.riglogix.com