Analysis: Diamond Offshore's Fleet & Focus
A strong competitor in the offshore rig market, Diamond Offshore currently offers 45 offshore rigs, making it the fourth largest fleet of competitive offshore rigs. Of its total fleet, 14 are jackups, 30 are semisubmersibles and one is a drillship.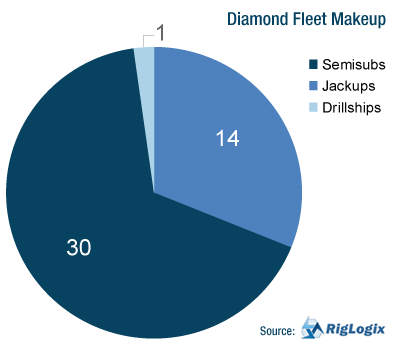 Currently, Diamond has approximately 90% of its rig fleet contracted, and in June 2009 alone, the total revenue generated by contracted rigs exceeded $320,000,000. The majority of Diamond's rig fleet is currently performing drilling operations. In fact, 34 rigs are presently drilling, and three are performing workover operations. One is waiting on location, one is undergoing inspection, one is being modified, and one is en route to a new location. Four rigs are ready-stacked at this time.
Looking forward to the next several months, the Ocean Columbia, Ocean Scepter, Ocean Spartan, Ocean Spur and Ocean Titan jackups, as well as the Ocean Bounty, Ocean Epoch and Ocean Nomad semisubs are set to come off contracts. With those rigs becoming available later this year, Diamond's percentage of rigs currently contracted at the close of 2009 will fall to approximately 69%.
Competitive Dayrates
Currently, Diamond jackups earn an average dayrate of more than $140,000. With 10 jackups contracted, the company is expected to earn more than $41,000,000 in revenues from jackup dayrates in June, with the Ocean Shield commanding the highest dayrate of the jackup fleet at $265,000 a day.
The average dayrate for Diamond's 30 semisubs is approximately $320,000, and Diamond's drillship, the Ocean Clipper currently earns a dayrate of $182,000. With 30 of the 31 floaters contracted in June, the company earned more than $282,000,000 this month from floater dayrates. Earning the highest dayrate of Diamond's floating fleet, the Ocean Victory semisub garners $560,000 a day in a contract with ATP in the US Gulf of Mexico. Not far behind, the Ocean America semisub earns $550,000 a day in a contract with Mariner in the US GOM.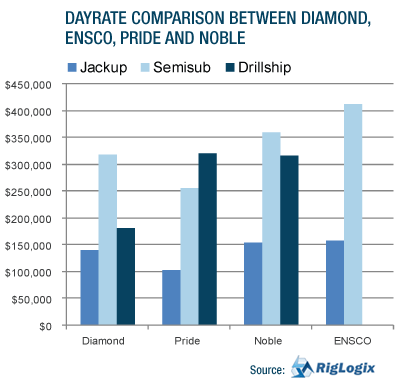 Diamond currently boasts competitive dayrates for its rigs, in comparison to other similarly sized rig contractors. In fact, the average dayrate of Diamond's jackups is above that of Pride International's, and on par with both ENSCO and Noble.
In comparing average dayrates for semisubs, Diamond out earns those of Pride, yet comes in below the average dayrates for ENSCO and Noble.
Strategic Growth
Having recently completed a successful $500 million debt offering at a rate of 5.78%, the company was able to make a bid to purchase the Petrorig I. Announced earlier this month, Diamond is in the process of purchasing this newbuild semisub for an undisclosed amount, which is expected to close on or about June 25.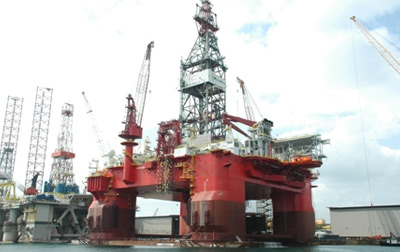 Originally built for PetroMena by SembCorp Marine's Jurong Shipyard, the rig was put up for sale after PetroMena could not make the final payment for the construction of the rig. PetroRig I is a dynamically positioned semisubmersible rig rated for waters measuring up to 10,000 feet deep, as well as harsh environments. The rig had a five-year contract on it for work with Petrobras, but the purchase of the rig does not include that contract.
"The contract for the PetroRig I is between Larson and Petrobras," explained a Diamond spokesperson. "It does not come with the purchase. We will have to negotiate a new contract for the rig with someone and will proceed with vigor as soon as the purchase is complete."
In addition to the rig it is currently acquiring, two of Diamond's fleet are recent builds:
Delivered in April 2008, the Ocean Shield jackup is currently under contract with Eni in Australia for a dayrate of $265,000. The Ocean Scepter jackup, delivered in May 2008, is currently contracted to Enap for work in Argentina at a dayrate of $198,000.
Worldwide Scope, Regional Focus
Currently, Diamond rigs are deployed in 12 different countries. Holding a definite presence in a number of regions, Diamond is strongest in the Gulf of Mexico with 20 rigs currently stationed there. Sixteen of those rigs are in the US GOM, while four are contracted to Pemex for operations on the Mexican side of the gulf.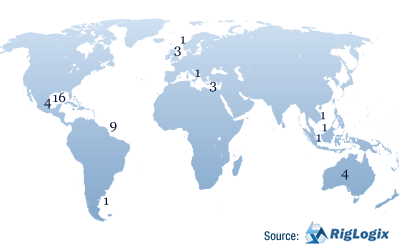 Presently, 10 Diamond rigs are working in the waters offshore South America. With one jackup working offshore Argentina, another nine are drilling in the waters of Brazil, eight of which are contracted to Brazilian powerhouse Petrobras.
Also, the company currently has seven rigs working in the Asia Pacific region, including Australia, Indonesia, Malaysia and Vietnam. Currently four rigs are working in the North Sea, with three in the UK and one in Norway. Another three rigs are working offshore Egypt, and one is working for Crosco in the waters offshore Croatia.
Future Strength
According to a company spokesperson, Diamond's strengths lie in the fact that it holds the "second largest floater fleet in the world, with an emphasis on the deepwater; strong, conservative balance sheet; [and a] long history of opportunistic acquisitions that has given us the highest return on capital employed of any of the offshore drilling contractors"
"These strengths have allowed us to build a currently $9 billion plus backlog that may provide a bridge to a recovery in the offshore drilling market, assuming it comes by late next year," he added.
While predicting the recovery of the offshore rig market is a challenge, looking at its current downturn is not. Over the course of 2006 through 2008, an average of 325 new rig contracts were awarded during the months from January through May. However, for the first five months of 2009, only 119 new offshore rig contracts were awarded -- a 63% drop in the number of new contracts being signed. Diamond has not been immune to this trend, witnessing a nearly 80% decline in the number of new contracts it has signed with operators during the first five months of 2009 as compared with the same months of the previous three years.
At the same time, as implied by the company's $9 billion backlog, Diamond rigs have been contracted well out into the future. Eleven of the company's semisubs have contracts providing more than 1,000 days of work and keeping the rigs contracted into 2012 or beyond. For these long-term contracts, the average day rate being earned is about $270,000. A further eight semisubs and one jackup have more than 500 days of work lined up, keeping them on contract into late 2010 or 2011. The rates for these contracts are markedly higher than for the longer terms contracts, with an average day rate of more than $360,000. Those 20 rigs, slightly less than half of Diamond's total fleet, account for nearly $7 billion of the company's contract backlog.
Taking a slightly different view of the future for Diamond's fleet, 27 of 31 floating rigs are contracted at the start of 2010, more than 87%. At the start of 2011, nearly 55% of Diamond's floating fleet is contracted already.
In contrast, only four of Diamond's jackups are contracted at the start of 2010. However, contracts on jackups are typically not signed as far in advance as those of floating rigs, so many of these rigs will likely land contracts as time progresses.
Looking at these statistics about Diamond's current and future rig contracts, it is clear that Diamond has the contracts in place to keep its fleet largely occupied for the next two years and provide consistent revenue for the company.
When asked about the company's strategy moving forward, the company spokesperson simply said, "Our strategy is to keep doing more of what we have been doing so well."
RELATED COMPANIES