Mainland Resources Sees Bright Future in Haynesville Natural Gas
by Phaedra Friend
|
Rigzone
|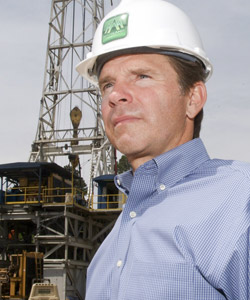 Mike Newport
New to the scene, Houston-based independent Mainland Resources has managed to get a piece of the Haynesville Shale pie, and CEO Michael Newport spoke with Rigzone about the exciting possibilities presented by this major onshore gas play along the Texas-Louisiana border. After reaching first production in early 2009, Mainland is now looking to drill more Haynesville wells, expand into nearby zones and snatch up expired leases from majors that have been unable to meet drilling requirements.
With a vision for the future, Mr. Newport sees the Haynesville and other major domestic gas developments as opportunities to change the landscape of US hydrocarbon consumption.
"I hope that we as a country will be relying on natural gas as a transportation fuel," Michael Newport, president, CEO and director of Mainland Resources, explained of his vision for the industry in the next decade or two. "We have the means to be self-sufficient and have enough reserves domestically to last for 80 to 100 years. This would generate additional drilling in the US, which creates jobs domestically and would get us away from sending billions to foreign governments."
"Natural gas is America's second largest energy resource, behind coal, and a vital component of our energy supply - 98% of the natural gas used in the United States is from North America," Newport added. "T. Boone Pickens and other energy industry experts proselytize that domestic natural gas reserves are twice that of petroleum, and new discoveries of natural gas are continually adding to existing reserves. Improved drilling technology has resulted in reserves doubling over the last five years and will likely double again in the next five years."
Haynesville Play
Touted as the world's fourth-largest gas reservoir and estimated to hold more than 160 Tcf of gas, the Haynesville Shale first gained notoriety in 2008 with discoveries in the Haynesville, Cotton Valley and Hosston formations. The rush for exploration and production leases in northwestern Louisiana and northeastern Texas began quickly afterward.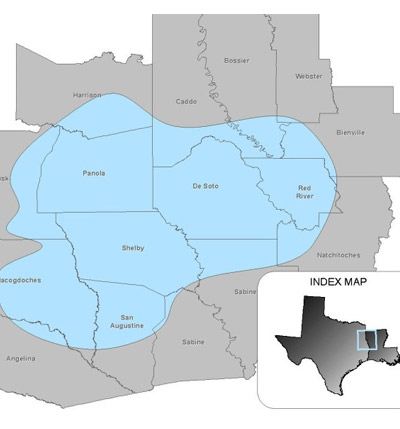 Haynesville Shale
While much of the land has been leased by major operators, the Haynesville Shale has opened up opportunities for smaller independents, as well.
"While I can't answer for other smaller independents, for Mainland Resources the opportunity has created a company-maker for us," said Newport.
Mainland Resources was able to join the game when it formed a joint venture with operator Petrohawk (Mainland 40%, Petrohawk 60%). In fact, Mainland Resources was founded just last year by industry veterans to take advantage of Haynesville prospects.
The JV has since discovered Haynesville gas in DeSotto Parish in northwest Louisiana, bringing its first well into production in early 2009 at 23.3 MMcfe/d. With an estimated reserve of 7 to 15 Bcf of tight gas, the company should be able to drill up to 25 Haynesville wells on these leases. This year, the company plans to drill and complete another three wells.
"Our current plans are to drill a well on each section to hold all our leases by production," Newport said. "We will then commence the development program of drilling six to seven wells per section as the gas prices increase."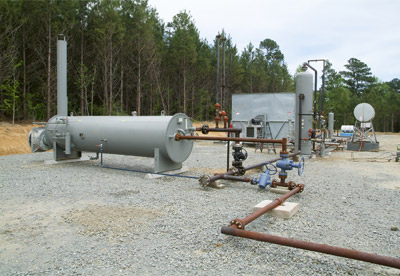 Mainland Griffith 1H Well
With plans for drilling and development under way, Mainland also has its eye on more Haynesville acreage. Additionally, Mainland has acquired 100% interest in Cotton Valley zones above the Haynesville, on which the company plans to duplicate drilling and production efforts.
"We will continue to look for opportunities around us as leases begin to expire," Newport revealed. "We do not feel that the big companies can drill enough to hold the tremendous leasehold positions they accumulated in the last year."
Although the company's strategy is to go in strong and come out on top by bringing wells into production as quickly as possible in order to reinvest profits in more operations, Haynesville Shale wells are expected to produce for nearly two decades, ensuring profits for a much longer time.
"We have had reserve reports that have listed production for 17 years; however, I have heard as much as 20 to 25 years," said Newport of the Haynesville life expectancy.
Despite gas trading at historic lows, Mainland agrees with the recent report from the EIA estimating a demand increase of 44% from 2006 to 2030. In turn, the company president foresees future price increases.
"This should mean an increase in price and, along with this, we will continue to infill drill our acreage for the Haynesville," disclosed Newport. "We will also infill drill and develop our shallow zones that we own 100% of the rights."
With current activities gaining speed, reserve numbers increasing and demand expected to grow, the prospects for success are looking up for this junior independent.
Generated by readers, the comments included herein do not reflect the views and opinions of Rigzone. All comments are subject to editorial review. Off-topic, inappropriate or insulting comments will be removed.