Analysis: Awaiting the Blow - GOM Rig Fleet Preps for Hurricane Season
by Phaedra Friend
|
Rigzone
|
Thursday, June 04, 2009
Hurricane season 2009 officially begins this week and lasts through Nov. 30. Despite the fact that two respected hurricane forecasting groups have predicted an average season, the high winds and waves from one hurricane could wreak havoc on the offshore oil and gas industry operating in the Gulf of Mexico.
According to a May 2009 report from the National Oceanic & Atmospheric Administration, forecasters are expecting a near-normal Atlantic hurricane season, with a likelihood of 14 named storms. The NOAA predicts that four to seven of these storms have the potential to become hurricanes, with between one and three reaching major hurricane status of Category 3, 4 and 5.
In line with reports from the NOAA, Colorado State University's Department of Atmospheric Science downgraded its initial assessment of an active season to an average season in April 2009. Based on a potentially weak El Nino phenomenon and observed cooling temperatures of Atlantic tropical sea surfaces, CSU predicts that 12 named storms will form in the Atlantic Basin during the 2009 hurricane season. The forecasting team anticipates six of the storms to become hurricanes and two of those to progress to major hurricane strength.
Tropical depressions become named tropical storms when the winds associated with the disturbance reach a sustained force of 39 mph. In turn, tropical storms become hurricanes when winds climb to 74 mph, reaching major hurricane status with winds traveling 111 mph or faster. According to the NOAA, an average hurricane season will exhibit 11 named storms, of which six are hurricanes and two of those are major hurricanes.
In the Path of the Storm: Offshore Rigs Working in the GOM
Currently, there are six drillships, 33 semisubmersibles, 112 jackups, 7 submersible rigs and 64 inland barges -- for total of 223 rigs -- located in the US and Mexican waters of the Gulf of Mexico.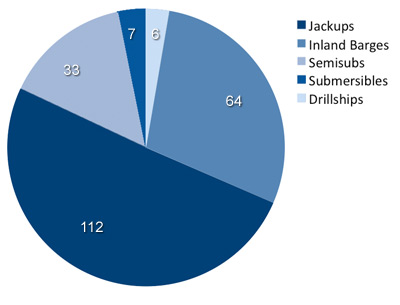 Of the drillships, five of the rigs are managed by Transocean. Additionally, all of the drillships are in the US GOM and are rated for at least 10,000 feet of water.
With the majority of the 33 semisubs performing drilling operations, Diamond has the most semis working in the GOM. Of the total number of semisubs, five of them are located in Mexican waters.
The most by far, 113 jackups are currently located in the GOM. With a total of 40 rigs either ready- or cold-stacked, there are 50 jackups currently drilling in the gulf. Additionally, Pemex has employed 32 of these rigs for drilling efforts in the Mexican gulf.
Furthermore, there continues to be shallow-water activity in the GOM. There are 64 inland barges and 7 submersible rigs located in the GOM. With the majority ready- and cold-stacked, nine inland barges and three submersible rigs are currently drilling.
Industry Efforts to Overcome Hurricane Forces
The MMS has spearheaded myriad efforts to ensure the safety and security of the people working offshore, as well as the rigs, production facilities and pipelines located in the US GOM by instituting design, communication and safety measures.
"MMS works year-round to better prepare oil and gas infrastructure against production disruptions from storms in the Gulf, and issues Notices to Lessees each year to identify guidelines and requirements for operations during the hurricane season," Lars Herbst, MMS Gulf of Mexico regional director, told Rigzone.
"Last year we saw a marked decrease in the number of moored Mobile Offshore Drilling Units that went adrift, and credit this improvement to MMS requirements for increased mooring lines," Herbst added. "MMS also required the use of a risk assessment tool for MODU mooring requests which helped prevent damage to pipelines and structures from those MODUs that did move."
Additionally, Herbst revealed that one of the notices issued this year was strengthened by a check-list for jackup fitness, serving as a risk-assessment tool that can aid in the decision-making process used for approving jackup locations during the hurricane season.
"With an additional new NTL, requiring jackup rigs and moored Mobile Offshore Drilling Units be outfitted with multiple Global Positioning System transponders, MMS will be able to track and locate the ones which have moved from their locations due to storms," he added.
Additionally, operators and service companies with efforts in the GOM have consistently pressed the envelope to establish above-the-bar safety measures to provide security for both staff and assets in the path of storms. Similarly, major rig contractor Transocean has instituted both design and safety measures to proactively combat the threat of hurricanes in the gulf.
"We believe Transocean is well prepared for the hurricane season," Transocean Corporate Communications Director Guy Cantwell told Rigzone on the first day of the season. "Some of the safety measures we've implemented in recent years include a more mature risk-assessment process and adding four additional mooring lines to two of our deepwater moored rigs, which have transponder beacon devices on them as do our other moored rigs."
While this is in-line with what the MMS has required, Transocean has added measures to defend its fleet against this year's hurricanes.
"Transocean is a little different from some of the other mobile offshore drillers in that we have a lot of dynamically positioned rigs," Cantwell continued. "The crews on these DP drillships and semisubmersible rigs are well trained in securing wells far in advance of hurricanes coming through an area, moving the rigs out of the way until the storms pass and them moving back to locations. Those operations have proven successful at protecting people and the environment, and we are confident that this year will be just as successful as in the past."
Transocean expects to have 12 rigs in the US GOM this summer, including nine DP rigs (five drillships and four semisubs) and three moored semisubmersible rigs. This includes the newbuild ultra-deepwater drillship Discoverer Clear Leader, which is expected to be in the US GOM this month.
Proven Strength
Proving strength, tenacity and a willingness to change for the better, the petroleum industry has been able to weather the storms of the past. Within the last five years a number of hurricanes have entered the gulf, and many of them have adversely affected the petroleum industry. Four storms in 2004, including Charley, Frances, Ivan and Jeanne, coupled with another four major storms in 2005, which were Dennis, Katrina, Rita and Wilma, hit the petroleum industry full-force. Adding to the destruction, three hurricanes in 2008, Dolly, Gustav and Ike, brought yet another round of production disruptions.
While many offshore facilities were destroyed, and even more were seriously damaged, the petroleum industry was able to enact safety measures, protecting the lives of the people working in the GOM, as well as the environment. With the can-do spirit that the industry has always portrayed, it is certain that whatever storm comes its way this year, the petroleum community will continue to thrive.
Generated by readers, the comments included herein do not reflect the views and opinions of Rigzone. All comments are subject to editorial review. Off-topic, inappropriate or insulting comments will be removed.
RELATED COMPANIES
For More Information on the Offshore Rig Fleet:
RigLogix can provide the information that you need about the offshore rig fleet, whether you need utilization and industry trends or detailed reports on future rig contracts. Subscribing to RigLogix will allow you to access dozens of prebuilt reports and build your own custom reports using hundreds of available data columns. For more information about a RigLogix subscription, visit
www.riglogix.com
.