Analysis: Noble's Strategy Pays Off
by Phaedra Friend
|
Rigzone
|
Monday, June 01, 2009
Celebrating 88 years in business, offshore rig contractor Noble Corp. isn't new to the ups and downs of the petroleum industry. In fact, the company was well prepared for the market's recent drop, showing experience pays and a strong strategy wins out in the end.
In fact, the company's recent quarterly earnings rose, when others felt the bite of the stalled economy, credit crunch and low commodity prices. In the first quarter of 2009, Noble reported $414 million in earnings, up from $384 million for the same quarter last year. The company's contract drilling services alone topped $872 million in revenues, up 9.3% from the first quarter of 2008. Noble's current backlog stands at a strong $10.6 billion.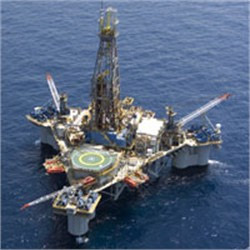 Noble Paul Romano
"This is a cyclical business," Noble Chairman, President and CEO David Williams recently told investors. "We all knew this day would come, and when you know the up cycle leads to a down cycle, you can manage it."
He added that investors may feel a twinge of concern because of the economy, but that Noble was ready for it.
"For us, it's a survey year, and we're going to make sure that we get the surveys and the shipyard projects that we've queued up over the past couple of years completed," Williams said. "So that when the market turns, as we well know it will, our units will be in good shape and ready to go back to work."
Utilization & Dayrates
While dollars earned proves a history of success, the numbers don't lie. Noble consistently competes when it comes to utilization and dayrates.
Overall, Noble saw a steady utilization this month with 50 of 58 rigs contracted and an 86% utilization rate for the entirety of its fleet. In May 2009 alone, total revenue from contracted rigs reached more than $305 million.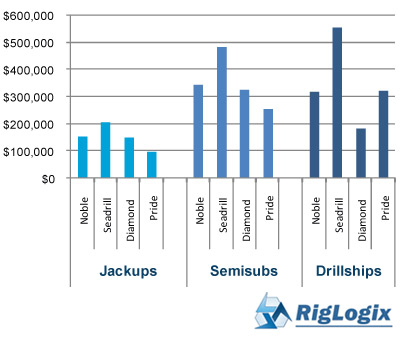 With 63% of its fleet consisting of jackups, Noble delivered utilization for the month of May at 83%, with 35 jackups contracted. The average dayrate for Noble jackups is nearly $154,000. The average jackup dayrate is higher than similarly sized rig contractors Diamond and Pride, but a bit below the average dayrate for Seadrill's jackup fleet.
With 13 deepwater rigs currently contracted, Noble is experiencing a strong utilization with 93% of the company's semisubmersibles and drillships contracted this month. At present, the average dayrate for a Noble semisub is approximately $344,000, and the average dayrate for the company's drillships is $317,000. In comparison to similar drilling contractors, Noble's average dayrates were above that of Diamond, on par and above average drillship and semisub dayrates for Pride, and below Seadrill averages.
A Noble Fleet
The Noble offshore rig fleet consists of 62 drilling rigs, making it the second largest fleet behind Transocean's. The fleet is composed of 42 jackups, 13 semisubmersibles, four drillships, and three shallow-water submersible rigs working in the GOM.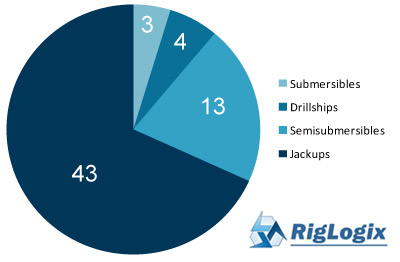 Strategically expanding its fleet, Noble is currently constructing four new rigs -- one jackup, two semisubs and one drillship. The Noble Scott Marks is a 400' severe environment ILC jackup being built in China. It is expected to be delivered in the second half of 2009, and Venture Production has contracted the rig through 2011 at a dayrate of $210,000.
The Noble Danny Adkins and the Noble Jim Day are Bingo 9000 self-propelled semisubmersibles rated for 12,000' water depths that are both under construction in Singapore. Expected in the latter part of 2009, the Noble Danny Adkins is contracted through 2013 by Shell at a dayrate of $447,000. Scheduled for completion in 2010, the Noble Jim Day is then contracted to Marathon at a dayrate of $515,000 through 2014.
Noble's fourth newbuild, the Noble Globetrotter drillship, is being built on spec by Korean shipyard STX in China. The 10,000 foot rated water depth DP-3 drillship is based on the Bully rigs being built by the Frontier/Shell JV with the drilling mast and pipe storage in carousels, providing a low-cost solution for drilling in ultra-deepwaters.
While the Globetrotter is not contracted currently, Noble remains confident that a contract will be signed on the drillship, and at a good rate.
"We're not in a hurry on Globetrotter," said Williams. "We think we've still got a good product and a good price in the market. We've still got a lot of talk going on."
He added that the company's current backlog and assets allow Noble to wait for the perfect opportunity. While operators may be "looking for a chink in the armor" to capitalize on the less than stellar economy, Noble isn't "panicked" and won't sign a contract that doesn't meet its expectations.
Brazilian Ties
Petrobras has contracted a massive amount of deepwater rigs for the next several years, and many in the industry are expecting the Brazilian major to snap up the Globetrotter drillship, as well.
"We expect Petrobras is certainly one of the companies that we've had an ongoing dialog with about Globetrotter," said Williams. "Certainly that's a good fit for Petrobras."
While Noble sees a strong potential for Petrobras contracting the Globetrotter drillship, the company recently finalized a $4 billion contract with Petrobras for five other deepwater rigs in Brazil.
Petrobras has contracted Noble's current fleet of three drillships, the Noble Roger Eason, Noble Leo Segerius and Noble Muravlenko, each for a six-year term. The drillships will undergo planned upgrades, costing $175 million a rig and taking them out of commission for approximately 150 days. These upgrades exhibit the company's strategy of improving now to be ready for the future.
"With the award of these contracts, we will not only boost our overall fleet backlog to more than $10 billion, we will also be able to move forward with our planned upgrades on each of our three drillships," Williams said at the announcement of the MOUs for the rigs. "We are also pleased that Petrobras saw the value in our upgrade plans and decided to support the program by paying $90,000 per day for up to 150 days of each rig's scheduled shipyard stay."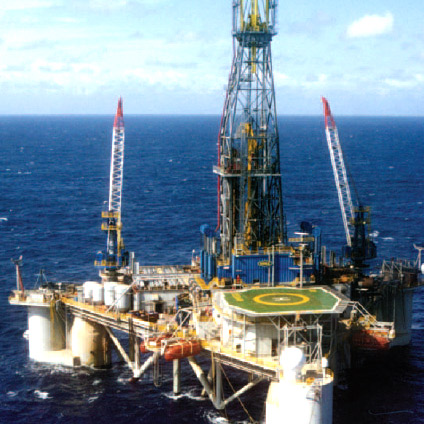 Noble Paul Wolff
In the same award, Petrobras picked up the Noble Paul Wolff and the Noble Therald Martin deepwater semisubs, each for five-year terms. In addition to these five rigs, the Noble Dave Beard, a newly built deepwater semisub currently undergoing inspection in Brazil, will start a five-year contract for Petrobras later this year.
Furthermore, Noble expects to see the Brazilian powerhouse sign on even more rigs in the future.
"Petrobras has historically been very heavily weighted toward DP rigs but there have been a lot of moored rigs that they've let in there the last few years, and I think that may be an opportunity for some of the moored rigs we've got. Likewise, it may be an opportunity for additional newbuilds," William added.
Looking Ahead
With high utilization rates and a strong backlog, Noble stands to see another 88 years of success. Add to that a diversified fleet, a new crop of rigs being built and a drilling-minded client snapping up deepwater rig contracts, Noble is confident with the strategy it has set forth
"Our focus hasn't changed. We continue to prioritize assets over larger deals, and floaters over jackups," Williams said of the company's strategy. "In Noble, we just turned 88 years, and this isn't our first rodeo. We've got a solid backlog, good assets, great operating teams and the financial strength to not only weather the downturn, but actually make the most of it and grow our business."
RELATED COMPANIES
For More Information on the Offshore Rig Fleet:
RigLogix can provide the information that you need about the offshore rig fleet, whether you need utilization and industry trends or detailed reports on future rig contracts. Subscribing to RigLogix will allow you to access dozens of prebuilt reports and build your own custom reports using hundreds of available data columns. For more information about a RigLogix subscription, visit
www.riglogix.com
.