Musings: NOAA Hurricane Forecast Consistent With CSU Projections
by G. Allen Brooks
|
Parks Paton Hoepfl & Brown
|
Wednesday, May 27, 2009
Last week the U.S. Government's National Oceanic and Atmospheric Administration (NOAA) issued its first forecast for the upcoming storm season suggesting a "near-normal" Atlantic hurricane season. In NOAA's press release announcing its forecast, the agency put a 50% probability for a "near-normal" season, a 25% probability for an "above-normal" season and a 25% probability for a "below-normal" season. NOAA uses probabilities and ranges in its forecast. They estimate a 70% chance that there will be nine to 14 named storms this season with four to seven becoming hurricanes and three of them major hurricanes (Category 3, 4 or 5).
The NOAA forecast is pretty much in line with the slightly reduced April forecast issued by the hurricane forecasting team at Colorado State University. Their April 7th forecast called for 12 named storms with six hurricanes and two intense hurricanes. Recently, when Dr. William Gray of CSU was interviewed about the upcoming storm season, he suggested that there was a good probability that his group would be further reducing its projected number of storms. While CSU and NOAA are expecting average storm activity for this storm season, both caution that it only takes one storm targeting U.S. landfall to create severe economic, financial and safety issues. NOAA's press release urged American citizens living along the U.S. coastline to take precautions for the upcoming season and make preparations for possible storm landfalls.
Both CSU and NOAA have talked about the various atmospheric and ocean conditions that influence the upcoming hurricane season. There are forces that have a positive influence on the formation of storms while others tend to diminish them. According to NOAA, the strongest positive factor influencing storm formation is the multi-decadal signal, which creates warm Western Atlantic water, West African rainfall and reduced wind shear. On the other hand, a possible El Nino in the Pacific Ocean that produces warmer and stormier Eastern Pacific Ocean conditions could help increase Atlantic wind shear that often weakens hurricanes or prevents them from forming. Additionally, it is possibly there will be cooler Eastern Atlantic water that also tends to impede the formation of hurricanes.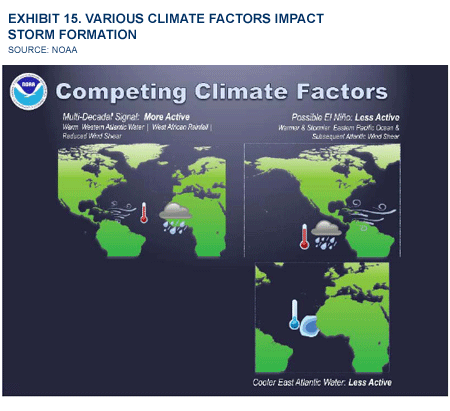 Based on these early forecasts, it looks like 2009 will be a less active tropical storm season than those experienced throughout most of this decade. That would be a welcome condition, and it could help the offshore oil industry sustain Gulf of Mexico production and help tame any sharp upward move in commodity prices. For many oil and gas companies, and energy investors, this scenario may be something of a depressant since they are probably relishing the possibility of spiking oil and gas prices to help boost energy company profitability and stock prices.
Generated by readers, the comments included herein do not reflect the views and opinions of Rigzone. All comments are subject to editorial review. Off-topic, inappropriate or insulting comments will be removed.