Musings: Shrinking Europe Gas Market Could Impact US Gas Market
by G. Allen Brooks
|
Parks Paton Hoepfl & Brown
|
New forecasts for European natural gas demand are calling into question the role Russian natural gas will play in the continent's supply mix. Long-term, the European gas market outlook has implications for the U.S. gas market. IHS Global Insight says it expects European gas demand to fall by almost 10% this year, which will pressure Russian gas suppliers hoping to capture a larger share of the continental market. The problems last winter over the delivery of Russian gas to Eastern Europe that resulted in thousands of people shivering in their homes prompted a recent meeting between EU and Russian officials to attempt to resolve the gas delivery issue permanently. However, based on media reports, Russian President Dmitry Medvedev refused to grant assurances to EU consumers that future gas supply cutoffs might not happen again. In fact, he said he doubted that transit state, Ukraine, through which the gas flows, had enough money to pay for the gas Russia supplies, suggesting that future disruptions are likely.
The bigger problem for Russia, however, is the prospect of falling gas demand in Europe coupled with surging global liquefied natural gas (LNG) supplies and Europe's desire to insulate itself from winter fuel disruptions. According to Bernard Reutersberg, CEO of E.ON Ruhrgas AG (EO-N-AS), "The days of high growth rates for European gas consumption are surely over." This is bad news for OAO Gazprom (OGZPY-RK), the Russian gas export monopoly. Gazprom is Russia's largest company and its export revenues account for about a tenth of the country's gross domestic product. Last year Gazprom boasted of boosting its share of the European gas market to 33% by 2015 from its current 25% stake. With a falling gas consumption outlook and increased gas competition, that boast could prove hollow.
Gazprom prices its long-term gas supply contracts off a basket of oil products, but with a six-to-nine month lag. Therefore, it is looking for a near-term boost to its gas sales from customers who have been holding off buying until prices fell. What Gazprom risks, however, is increased pressure from its long-term customers to renegotiate these agreements to reflect the currently emerging more competitive gas market. Additional pressure will come from the proposed EU targets to reduce greenhouse gas emissions by 20% by 2020, and efforts to get 20% of the EU's energy demand sourced from renewables such as solar and wind power.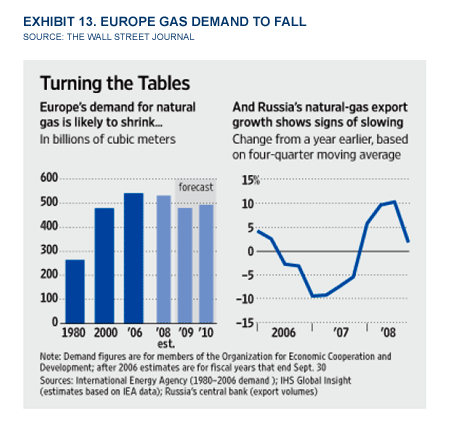 Whether the EU environmental and/or energy efficiency targets are capable of being realized remains in doubt, however, there exists a distinct possibility that mandatory goals will be implemented. Should that happen, and oil prices rise, natural gas consumption will suffer. IHS Cambridge Energy Research Associates says the combination of these conditions could lead to a 16% drop in EU natural gas consumption by 2020 and a 35% decline by 2030. This dire outlook was echoed by Mr. Reutersberg who said that if the environmental goals are met and oil prices hit $100 a barrel in 2010, European gas use in 2020 would be 22% lower than today and import needs would be 5% lower. That could drive increased LNG supplies to the United States putting downward pressure on domestic gas prices.
Generated by readers, the comments included herein do not reflect the views and opinions of Rigzone. All comments are subject to editorial review. Off-topic, inappropriate or insulting comments will be removed.
MORE FROM THIS AUTHOR
G. Allen Brooks
Managing Director, PPHB LP