Musings: Natural Gas Prices and LNG's Dirty Little Secret
by G. Allen Brooks
|
Parks Paton Hoepfl & Brown
|
Tuesday, May 12, 2009
Optimism about the ending of the U.S. recession and its impact on future demand for natural gas coupled with positive comments from large domestic gas suppliers about the trend in gas supplies has ignited a rally in natural gas futures prices during the past week. Natural gas prices jumped from a low of $3.25 per thousand cubic feet (Mcf) on April 27th to a recent high of $4.31 per Mcf last Friday. A near 33% rise in gas prices in such a short time-period reflects a severely oversold market. The dramatic price run-up may have more to do with commodity short-sellers than people buying into the view of a sustainable and healthy recovery for the market.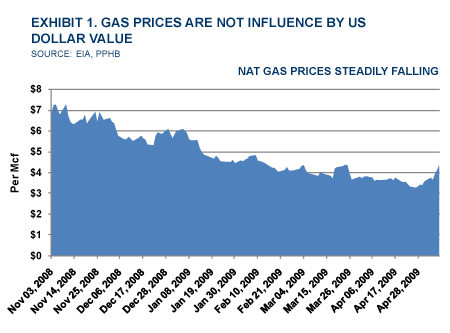 There were several very positive statements made by the CEOs of major natural gas producers about the changing supply/demand dynamics of the business on their company earnings conference calls with analysts. Mark Papa, CEO of EOG Resources, Inc. (EOGNYSE), said he expects the impact from the decline in gas-oriented drilling will result in natural gas production falling by 4.5 billion cubic feet per day (Bcf/d) by the end of the year. He believes the resulting North American natural gas production declines could be reversed by early in 2010 if $7 per Mcf gas prices return or the gas-directed rig count falls below 650. This view compares with that of the Petroleum Industry Research Association (PIRA) that believes gas production will be 3 Bcf/d lower at year end. Equally bullish was Aubrey McClendon, CEO of Chesapeake Energy (CHK-NYSE), who sees gas storage being full by October and that gas production would be 10% lower at year-end compared to 2008. That implies natural gas production should fall by 4 Bcf/d. Should these estimates prove accurate, the supply drops would go most of, if not all, the way to wiping out the perceived supply/demand imbalance in the domestic gas market of about 5 Bcf/d due to the falloff in industrial and commercial consumption related to the economic recession and credit crisis.
While the drilling rig count, and especially the gas-directed rig count, are down sharply from last year and continue to fall, the key question remains when we will get an upturn in gas demand from recovering automobile and housing industries. Most gas industry CEOs and Wall Street analysts are confident that all that is needed for a sustained recovery in natural gas prices is an uptick in gas demand, but more importantly the fall in production due to the gasrig count downturn. Once gas prices recover, then drilling should resume, but due to the rapid production declines for most gas shale wells, the industry will be spending quite a bit of time trying to catch back up with falling supply in the face of rising demand thus sustaining higher natural gas prices.
The challenge for the oil service industry is to gauge the number of drilling rigs that will be needed once we enter the industry recovery phase. We have heard comments from various CEOs that there may be only 1,200 to 1,400 gas-directed rigs needed, which if one throws in another 250 oil-directed rigs, suggests a total of 1,450 -1,650 working rigs at the next industry peak. Since we recently peaked out at 2,031 rigs, according to the Baker Hughes (BHINYSE) rig count data, then the domestic contract drilling industry will have a significant surplus of rigs going forward. The simple math appears to be about 2,050 rigs plus about 300 rigs under construction that will enter the fleet boosting the domestic fleet to 2,350 rigs. Since we will need considerably fewer rigs (1,450- 1,650), the drilling industry will need to eliminate nearly 700-900 rigs in order to restore a relative balance between supply and demand that is needed to support reasonable pricing. (Investors should consider the stocks of companies manufacturing acetylene torches since so much steel will need to be cut up.)
With a peak drilling rig fleet on only 1,450-1,650 rigs, it would appear there is a shake-out coming among land drilling contractors. At this point we will not get into our views of the dynamics of the future drilling rig fleet and how the industry consolidation might shake out, but instead we want to focus on another gas industry issue that has not received much attention and that could have a significant impact on the land drilling business.
The conventional wisdom about the contract drilling business is that sometime later this year or early in 2010 the rig count will begin rising from the roughly 800 rigs that will be working at the industry trough to maybe 1,200 rigs. But that conventional wisdom is predicated on the domestic natural gas supply/demand balance being restored and crude oil prices remaining in the $50 a barrel range. Our question is what happens if the gas market doesn't recover its balance? How might that happen? We suggest there is a "dirty little secret" about liquefied natural gas (LNG) that could disrupt the North American gas supply/demand balance and contribute to low gas prices for several more years. Can anyone spell "gas bubble?"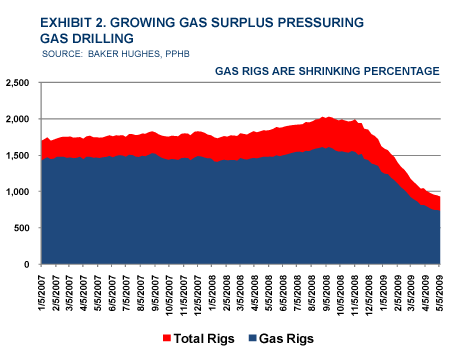 We recently spoke at a conference where another of the speakers was an old acquaintance, Jim Jensen, a leading U.S. consultant on LNG. Mr. Jensen and I had time to talk about the LNG market. We were looking forward to getting educated on LNG market trends given this fuel's growing importance on the outlook for the domestic natural gas industry. We will not go through his talk's conclusions, but he also shared with us another, more detailed LNG talk he made earlier this year. His bottom line is that the LNG market is going through another upheaval that is likely to impact the North American natural gas market. This upheaval could last through 2011, but the future for the North American natural gas market after that date remains uncertain because the future will depend on decisions LNG players make about new investments in the current period.
Since there are so many new LNG facilities coming on stream, many after delays, there is a surge in LNG supply coming. Its arrival coincides with the decline in gas demand, and the question mark about when gas demand will resume its traditional growth. To understand the magnitude of the LNG supply issue, Mr., Jensen calculated that for the 14 year span of 1997-2011 including the completion of the LNG facilities currently under construction, LNG supply will have grown at an 8.4% annual growth rate. For the prior 14-year period, the supply growth was only 4.7%. Today, Qatar has replaced Indonesia as the world's largest supplier of LNG, which is where the "dirty little secret" comes in.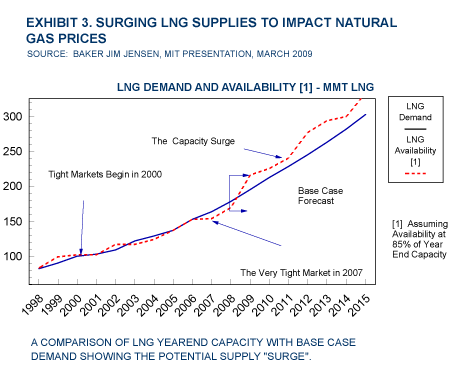 Conventional wisdom suggests that LNG cargos come to the United States because it has the largest available storage capacity, which is true. However, people believe that when gas prices get very low, below $3 per Mcf, LNG sellers will look for other international markets with better prices. Many of these foreign markets have linked their LNG pricing to crude oil prices, which was partially the reason why we heard of LNG cargos going for $18-$20 per million Btus (roughly per Mcf). Why would LNG sellers want to dump their gas into the U.S. if gas prices are so low? Well, what if you make so much money from the sale of the natural gas liquids (NGLs) contained in the gas streams utilized to produce the LNG that the gas actually has a negative value?
According to Mr. Jensen's data, Qatar gas contains 48 barrels of NGLs per Mcf. Qatar can realize enough income from selling those NGLs to cover the cost of liquefaction, transportation and regasification of the LNG, and still have profit left over. In that case, Qatar would find no natural gas price too low to stop sending LNG cargos to the United States. In Mr. Jensen's March speech at MIT, at a time when the domestic natural gas price was around $4.50 per Mcf, he posed the question of who would blink first between shale gas producers and LNG exporters. But the question becomes, who blinks at $3, or $2 or $1 per Mcf gas prices? If Qatar could actually pay someone to take their LNG, then shale gas producers, no matter how low a finding and development cost they have, will be have a hard time convincing Wall Street analysts on the value of their production and reserves. The dirty little secret becomes more significant when one realizes that most of the LNG gas streams have even higher NGL content than Qatar's gas distorting the economic decision about exporting LNG volumes.
Assuming the shale gas producers are the ones that blink, what happens to drilling and oilfield service activity in the United States? Our guess is that there would be little recovery in the drilling rig count until this imbalance with LNG is resolved. So could the domestic oil service industry be looking at a rig count averaging in the 800s for several years? That would certainly change the outlook for oil service company earnings and the attractiveness of their stocks. That would also magnify the challenges of restructuring the domestic oilfield service industry. We will be revisiting this scenario in future Musings.
While we always talk about the natural gas business being primarily a regional industry, the globalization of the LNG business may radically alter the U.S. natural gas industry. We could, however, be entering a period much like the domestic gas business was forced to deal with in the late 1980s and early 1990s when $1/Mcf gas was a reality. We are not forecasting such a dire outlook since there are many factors at work in this scenario. However, we are certainly going to be monitoring these factors to attempt to assess their possible impact on future natural gas prices and the outlook for U.S. oilfield service industry activity. But not considering the impact of an extended "L-shaped" pattern for the domestic rig count could be a mistake, whether one agrees with our LNG concerns or not.
Generated by readers, the comments included herein do not reflect the views and opinions of Rigzone. All comments are subject to editorial review. Off-topic, inappropriate or insulting comments will be removed.
MORE FROM THIS AUTHOR
G. Allen Brooks
Managing Director, PPHB LP