Musings: Investors Starting to Favor Energy Stocks
by G. Allen Brooks
|
Parks Paton Hoepfl & Brown
|
Tuesday, May 05, 2009
The spring survey of America's money managers conducted by Barron's finds that energy stocks are moving back into favor among investors. In responding to the question to pick the best and worst performing industry sectors for the next 6-12 months, energy was ranked third in the best category and second to last in the worst.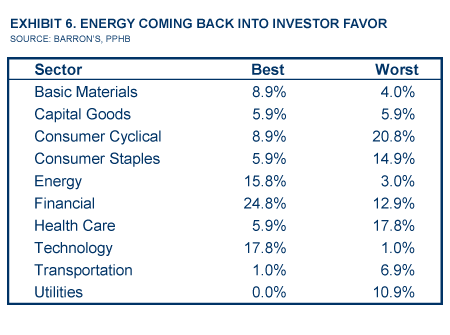 One money manager was quoted as saying he expects to see oil prices climbing back to $100 a barrel as a worldwide economic recovery spurs inflation and the Federal Reserve attempts in coming months to mop up all the liquidity it has pumped into the financial system. He characterized the challenge the Federal Reserve faces as "walking a tightrope," and he doesn't believe it has the dexterity to handle it.
The investors surveyed are not particularly optimistic about the pace of the economic recovery - with 43% not expecting U.S. gross domestic product to turn positive before the fourth quarter and 50% not before 2010. Despite that dour view, 60% of managers think stocks will be the best performing asset class in the next six to 12 months. Some 23% of surveyed managers believe that commodities will be the top performing asset class. That may well reflect their fears about inflation, which could lead to higher bond yields and rising prices not only for oil but gold.
In picking energy stocks to be among the best performers for the near future, money managers may be focusing on rotation within the stock market. Energy stocks are down 7% in the past three months, underperforming the Standard & Poor's 500 by 8% and leading many investors to question their fundamental outlook. The energy underperformance has been most pronounced since the stock market rally began March 9th. From that point, energy has underperformed by 12%. This performance is not completely surprising given the challenge to company earnings from falling natural gas prices, stable crude oil prices and falling activity. Many investors are wondering how long before oil and gas prices fall in response to record high inventories? That potential has investors questioning how solid analyst earnings estimates for energy and oil service companies are in light of the potential for a further retrenchment in oilfield activity. So far, reported company earnings have been slightly better than expected, but there are few signs that the bottom in earnings or oilfield activity has been reached. The key issue is that investors need to own the stocks before the data confirms that a business turn has occurred, however after the recent run up in share prices, it is hard to push investors to keep buying energy stocks.