Musings: Energy PE Firm Builds War Chest for Investments
by G. Allen Brooks
|
Parks Paton Hoepfl & Brown
|
Tuesday, April 28, 2009
First Reserve Corp., the largest private equity investor in the energy industry recently announced it has closed a $9 billion buyout fund, the twelfth fund in the 26-year history of the firm. William Macaulay, co-founder and CEO of First Reserve, commented in an interview with the Financial Times that the fund raising effort was one of the longest and toughest money gathering undertakings in the company's history, lasting almost a year. The effort, however, fell short of the original goal of raising $12 billion, but given the night-and-day changes in the energy, private equity and investment worlds, it is not surprising First Reserve could only raise 75% of its target despite an outstanding long-term performance record.
We suspect that without this outstanding investment track record, First Reserve would have had a greater challenge to raise as much money as it did, and quite possibly impossible to do. According to data disclosed by California State Teachers Retirement Systems (Calstrs), First Reserve generated a 50% internal rate of return on its $2.3 billion Fund X, which closed in 2004. Calstrs has also reported that the last six funds, which include Fund X, generated average net returns of about 25% a year. With this investment performance, it is not surprising that Calstrs invested $800 million, while the Washington State Investment Board committed $400 million and the California Public Employees' Retirement System put up $300 million.
The success of First Reserve in raising $9 billion is in contrast to the overall private equity business. Investors put less money into private equity funds in the first quarter of 2009 than they have done for almost six years. According to French private equity fund tracker, Prequin, the industry raised only $46 billion in 2009's first quarter, down from $125 billion in 2008's fourth quarter. The first quarter investment was the lowest quarterly total since the $34 billion raised in the fourth quarter of 2003. "Two-thirds of investors are sitting on the sidelines and most are selling, not buying," said Antoine Dréan, chief executive of Triago, which advises private equity groups on fund-raising.
The First Reserve Fund XII's $9 billion total exceeds the $7.8 billion fund it raised in 2006. The earlier fund made several high-profile oilfield service company buyouts last year - the $3 billion purchase of Canadian-based CHC Helicopter Corp., the largest provider of flights to offshore drilling rigs and platforms around the world, and the Scotland-based Abbot Group PLC, a large international contract driller providing both land and offshore drilling rigs, purchased for $1.8 billion. The CHC deal was the largest oilfield service buyout in 2008 while Abbot was the largest land driller deal of the year. Because of the high values paid for these companies, which were already trading at premium valuations before the deals were announced, 2008 generated a record average valuation for oilfield service M&A transactions.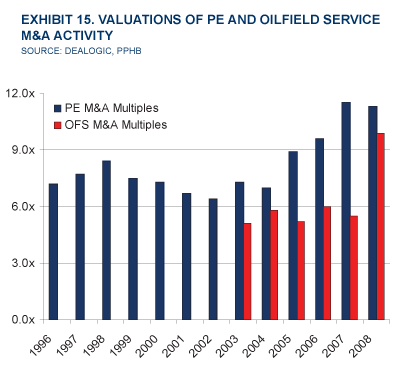 Mr. Macaulay indicated that First Reserve has recently lowered its five-year oil price forecast from $60-$80 a barrel to $50-$70. But with oil prices having fallen from $147 last year to around $50 now, he suggested he would be investing more in oil reserves in the near future. He also is reportedly targeting energy equipment manufacturing businesses and uranium reserves as attractive investment areas. At the present time, First Reserve has a number of oil and gas exploration and production investment efforts, so there is always the opportunity to leverage off these existing enterprises with money to help fund projects requiring greater investment than the existing companies can supply.
First Reserve has been very active in virtually every type of energy - oil and gas, coal, solar, nuclear, wind, landfill gas and ethanol. It has invested in infrastructure opportunities such as the largest storage terminal facility in the Caribbean, power generation facilities, pipelines and terminal facilities and even refineries. They have also invested in energy insurance and collateralized loan obligations for energy companies. They also have a start-up venture seeking investment opportunities in shipping.
More recently as global energy projects have become larger and the funds necessary to make them financially viable, First Reserve has begun teaming up with strategic industry investors such as Halliburton (HAL-NYSE), Schlumberger (SLB-NYSE) and Nabors Industries (NBR-NYSE). These arrangements have allowed First Reserve to participate in creating ventures that meet the operational needs of its strategic partner who does not necessarily have to put up money but can contribute operating assets and/or new business ventures while providing solid investment returns to the investment fund. These strategic relationships will most likely become more important in the future according to Mr. Macaulay who is quoted in the Financial Times as saying, "The opportunity set is really pretty good in the energy business so, contrary to what you might think, we are actually working on how to make the $9 billion last long enough, such as by teaming up with more strategic partners." Clearly, First Reserve and its partners plan on helping reshape the global energy industry, which is probably entering a significant transformational period.
Generated by readers, the comments included herein do not reflect the views and opinions of Rigzone. All comments are subject to editorial review. Off-topic, inappropriate or insulting comments will be removed.