Industry Survey: Downhole Measurement Stacks Up
by P. Douglas Sheridan
|
EnergyPoint Research
|
Monday, April 27, 2009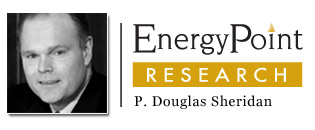 Knowing The Hole
It can be a tricky and involved question: Are there hydrocarbons down there, and if so, in what locations, quantities, forms and environments? Answering these and related questions with greater certainty, and at lower cost, has been an ongoing mission of providers of formation and well evaluation services since the oil and gas industry's earliest days. Of course, the requirements of today's upstream customers go considerably beyond those of past eras. The industry is now being forced to seek, and attempting to extract, ever-smaller deposits that are increasingly held in complex, unconventional, or otherwise poorly understood geologic formations. Consequently, the need for greater reliability, precision and availability of downhole data, and the equipment and trained personnel to gather and interpret such data, remains a central focus of operators.
Standing Out, Trending Down
EnergyPoint Research has independently measured customers' satisfaction with providers of formation and well evaluation (FWE) services going back to 2004. For the purposes of our surveys, FWE is currently divided into four segments: wireline logging, logging-while-drilling, core and fluids analysis, and well testing. Historically, FWE as a category has outperformed many of the other service categories covered in our surveys, including certain drilling and completions-related activities. However, FWE's forerunner status does appear to be lessening somewhat. Overall, of the FWE segments we cover, results indicate respondents have been most satisfied with core and fluids analysis (CFA) services. We believe the strong CFA ratings reflect not only the increased specificity and reliability of the data and insights gleaned from such geological logging, but also the competence and professionalism of the suppliers and personnel serving this particular segment. Whatever the root cause, the data do suggest customers view CFA as a particularly value-adding service these days. Conversely, respondents rate logging-while-drilling (LWD) the lowest among FWE segments, in part due to frustration with inexperienced crews and faulty equipment. Well-testing and wireline logging services garnered slightly stronger marks than LWD, although these segments also seem to be undergoing ratings erosion as of late.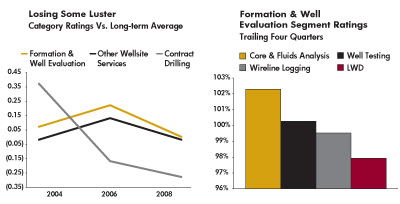 Out In Front
Two suppliers generally lead the pack when it comes to FWE ratings. Downhole measurement and related services have been at the core of Schlumberger's organization since its inception, and the company accordingly sets the pace with survey respondents in both wireline logging and well-testing. We do note the company's more recent ratings have drifted downward, however. For its part, Core Laboratories carries the crown in the segment of CFA, combining an expansive knowledge base and unique capability set to offer customers both answers and advantages. Geoservices has also fared well in FWE, showing notable ratings vigor in recent surveys.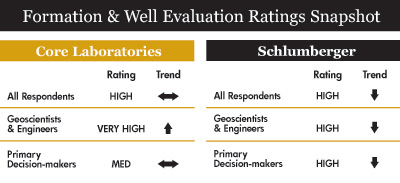 About The Data
This report is based on findings from over 8,800 customer evaluations of suppliers of oilfield products and services, including more than 1,000 evaluations in th e category of formation and well evaluation, via EnergyPoint's 2004 - 09 independent surveys. In exchange for participating, respondents are provided survey results in the form of EnergyPoint's MarketPartners® Reports and Updates, past versions of which may be found at www.energypointresearch.com.
Generated by readers, the comments included herein do not reflect the views and opinions of Rigzone. All comments are subject to editorial review. Off-topic, inappropriate or insulting comments will be removed.