Musings: Commodity Price Actions Suggest Glimmers of Recovery
by G. Allen Brooks
|
Parks Paton Hoepfl & Brown
|
Wednesday, April 15, 2009
The 2009 cumulative returns through March for the commodities we track suggest the emerging signs of economic recovery may be impacting prices. The final two columns in our chart in Exhibit 10 (at end of section) show the cumulative performance for these commodities for the first two months through February and then for the three months through the end of March. At the top of the 2009 performance ranking is copper with almost a 42% cumulative performance this year, up from its second place ranking through February when that commodity had only an 18.6% price appreciation.
The small signs of economic recovery - the uptick in the Baltic Dry Index, U.S. housing starts, U.S. durable goods orders and Chinese economic data - are being mirrored by the performance of various economically sensitive commodities such as copper, platinum, palladium and lead. While aluminum experienced positive monthly price appreciation during March, its improvement was nowhere near the strength of monthly gains reported by copper, lead, zinc and palladium. A leading commodity trader, Dennis Gartman, publisher of The Gartman Letter, commented on CNBC Thursday morning that he was buying economically sensitive industrial commodities, or ones he describes as "hurting your foot if you drop them." He also mentioned lumber as a commodity showing increasing strength, which he attributes to recent improvements in new housing starts. He indicated he had been looking at agricultural commodities - wheat, soybeans and corn - but thought that there were too many variables in play that give him little confidence in the near-term future price action of these commodities.
Copper is considered the leading commodity measuring economic conditions since it is used in housing, automobiles and many industrial manufacturing processes. Copper demand in China has been a leading indicator for the health of its economy. A factor in China's copper market is the availability of scrap market supplies. The following two charts (Exhibits 7 and 8) show how scrap copper supplies have fallen dramatically in recent months coinciding with a sharp rise in copper imports. It is this condition in the copper market that has been largely responsible for the increase in global copper prices, and also a contributor to the improvement in the dry bulk shipping sector. We understand that many other industrial commodity markets are experiencing similar swings due to falling inventories and available scrap supplies that are forcing manufacturers to buy new raw material supplies. As these conditions continue to spread throughout the commodities market, and until material producers open up new raw material production facilities, we would expect to see commodity prices continue to rise.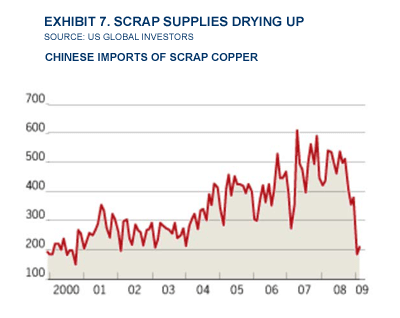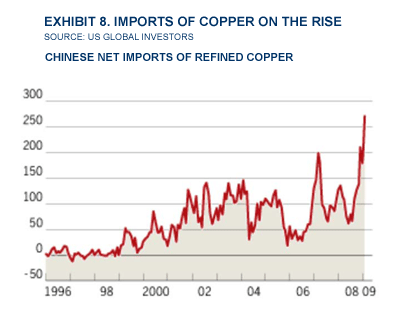 On Friday, China released economic data to support earlier signs of economic recovery. The key statistic was that while exports fell for a fifth consecutive month, the 17.1% decline for March was considerably better than the 25.7% decline in February. Imports to China in March fell 25.1%, which was greater than the decline in February. As a result, China's trade surplus was $18.56 billion, greater than in February, but less than half the levels recorded late last year. While some economists cautioned that the decline in imports signaled further challenges for China's economy since a large portion of imports are components for final assembly before export to consuming markets such as the United States, Japan and Europe, which are still economically weak.
Other positive economic news from China were that crude oil imports hit a one-year high and steel mills imported record quantities of iron ore in anticipation of a pickup in demand. Car sales hit a monthly record in March according to figures released last Thursday, marking the third consecutive monthly rise. Housing sales in major cities have also picked up in response to lower prices. And China's National Bureau of Statistics said last week that its survey of managers' confidence rose in the first quarter after plunging in the final quarter of 2008. While these economic statistics are encouraging, the damage that has been inflicted on the global economy will require an extended period of time to be repaired. The chart in Exhibit 9 showing the decline in global trade at the end of 2008 puts into perspective the challenge of repairing the economy.
What are the implications for energy markets if we are starting to see improved economic demand? To answer that question, we must focus on the crude oil market because the natural gas market remains a series of regional markets impacted more by local than global factors. These regional gas markets are slowly evolving into a more integrated global market, but its full transformation is still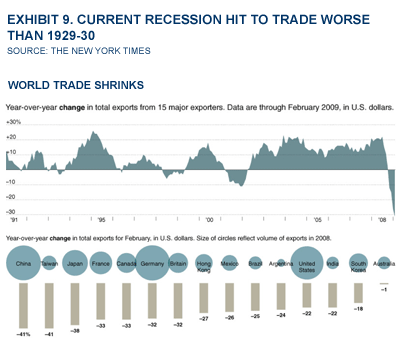 years away. Natural gas in the United States continues to suffer from flagging demand and continued supply growth that is keeping prices under pressure.
Crude oil experienced a good month in March as its cumulative price action for the first quarter shifted from a loss of nearly 10% through the first two months of the year to become slightly profitable at quarter's-end. Likewise, coal had a very strong monthly price performance in March and cut by almost two-thirds from its loss in the first two months of 2009. One has to believe that the price increases for these two fuel supplies reflect improved supply/demand conditions in the energy market following the evaporation of demand during the last few months of 2008 and the slow reaction by suppliers to the lost demand.
Improved industrial commodity prices support a more optimistic view of the global economy. We should not, however, assume that the world's economy will rebound sharply or quickly from here. Substantial financial and economic damage has been done to the global economy and it will take time for the economic and financial stimulus injected into economies around the world to restore consumer and business confidence resulting in a boost for consumption and investment. Until then, we can expect periods with both better and worse economic statistics that will buffet consumer, business and investor sentiment. It, however, is better to be gauging the pace of an economic recovery than attempting to determine the "splat" point of an economic downturn.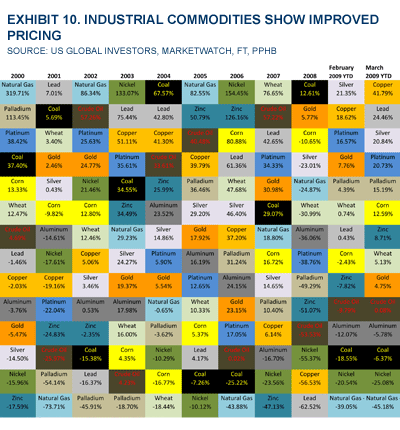 Generated by readers, the comments included herein do not reflect the views and opinions of Rigzone. All comments are subject to editorial review. Off-topic, inappropriate or insulting comments will be removed.