Analysis: North Sea Utilization
by Phaedra Friend
|
Rigzone
|
Monday, April 06, 2009
With the UK estimating recoverable reserves of 25 Bboe and Norway estimating 82 Bboe of remaining reserves, the North Sea remains a viable geographic locale for hydrocarbon exploration and production. In fact, approximately 300 - 400 MMboe were discovered in the UK North Sea in 2008, and 837 MMboe were discovered in the Norwegian North Sea.
Despite large reserves, relatively successful exploration and established development infrastructure, exploration and production in the North Sea are waning. Furthermore, the combination of the extreme environment, HPHT reserves and dwindling E&P budgets is expected to hit the North Sea oil and gas industry head-on.
Nonetheless, there is a silver lining: While the North Sea may experience a short-term slow down, the demand for petroleum remains, as does the proven commerciality of the region. Additionally, while rigs capable of drilling in the North Sea must be equipped for the harsh environment, the majority of the waters in the area are at relatively shallow to mid-water levels. With declining utilization and a growing fleet of jackups, these rigs will be more plentiful, less expensive and more likely to find work in the North Sea, ultimately bumping up exploration and production activities in the region.
Past North Sea Rig Utilization
Focusing on the offshore rig fleet contracted for work in the North Sea, specifically jackups and floaters (drillships and semisubmersible rigs), utilization has proven quite high in 2006, 2007 and 2008.
The North Sea experienced 100% utilization of jackups in April 2006 with 32 contracted. In April 2007, the jackup market saw a 100% utilization rate, with 35 rigs contracted for work in the area. The average jackup dayrates increased year-over-year from $113,000 in April 2006 to $168,000 in April 2007, which was an increase of nearly 49%. With a further increased average dayrate of $192,000, the number of jackups contracted dropped slightly in April 2008 to 32 rigs, but the utilization remained high at 97%.
With an average dayrate of $160,000, the floater rig market in April 2006 experienced 89% utilization with 39 rigs contracted for work in the North Sea. The next year saw 38 rigs contracted, which was a 95% rig utilization rate. The average floater dayrate grew by 38% in April 2007 to $220,000. Increasing utilization to 98%, thirty-nine floaters were contracted for work in the North Sea in April 2008. Growing another 40%, dayrates for floaters in the North Sea averaged approximately $307,000 in April 2008.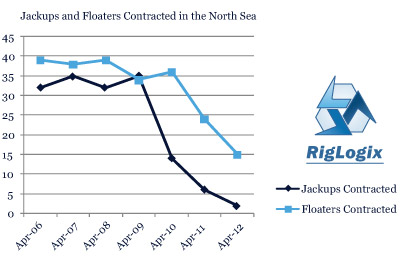 SOURCE: RigLogix.com
North Sea Rig Utilization Today and Tomorrow
With a 100% rig utilization rate, 35 jackups are contracted for work in the North Sea in April 2009, with an average dayrate of $198,000. Contracted jackups drop considerably looking into the future, with only 14 jackups contracted in April 2010 (40% utilization). For April 2011, there are only six jackups currently contracted, and two jackups contracted in April 2012.
Because of their relatively short contracts, jackups tend to be the more volatile of category of offshore rigs in terms of utilization and day rates. Additionally, operators tend not to contract jackups as far in advance as deepwater rigs. This is evidenced in the falling numbers of jackups contracted in the North Sea.
While North Sea utilization rates drop over time for floating rigs, those numbers do not fall as drastically or as quickly as the jackups. In April 2009, there are 34 floaters contracted to work in the North Sea, an 83% utilization rate with an average dayrate of $389,000. The number of floaters contracted in the North Sea grows in 2010 to 36 rigs contracted, which is an 89% utilization rate.
Looking further into the future, the number of drillships and semis contracted for work in the North Sea starts to drop. In April 2011, there are 24 floaters contracted to work in the North Sea; and in April 2012, there are 15 floaters contracted.
Generated by readers, the comments included herein do not reflect the views and opinions of Rigzone. All comments are subject to editorial review. Off-topic, inappropriate or insulting comments will be removed.
For More Information on the Offshore Rig Fleet:
RigLogix can provide the information that you need about the offshore rig fleet, whether you need utilization and industry trends or detailed reports on future rig contracts. Subscribing to RigLogix will allow you to access dozens of prebuilt reports and build your own custom reports using hundreds of available data columns. For more information about a RigLogix subscription, visit
www.riglogix.com
.