Musings: Changing Landscape of Global E&P Industry
by G. Allen Brooks
|
Parks Paton Hoepfl & Brown
|
Tuesday, March 31, 2009
Last week marked a significant point in the current petroleum industry downturn. The more than $100 a barrel oil price decline, coupled with a 70%+ drop in U.S. natural gas prices during the second half of last year, signaled energy industry participants that their world would be significantly different in the future from the view they held as late as July 2008. There was little recognition of this change in the early stage of the price decline, but after the credit crisis exploded in mid September, about the same time that Hurricane Ike landed on the upper Gulf Coast of Texas, the realization about the future became real.
What made trying to figure out how the industry view would be changed was compounded both by economic and financial developments. A more important factor was the potential for a radical shift in the political landscape due to the presidential election. It was in the aftermath of the credit crisis that presidential candidate Barack Obama regained the public sentiment lead from his opponent, John McCain. While Mr. Obama was professing changing the culture of Washington and reversing the perceived anti-middle class policies of the Bush Administration, energy executives realized that the anti-oil company movement fostered by $4 a gallon gasoline prices earlier in 2008 would likely lead to changes in energy regulation.
The loss of access to capital markets for many smaller oil and gas companies and independent operators meant that companies were forced to radically re-plan their spending activities. This pressure came as commodity prices around the world collapsed - partly in response to pressure on financial funds to raise cash to meet client redemption requests and because prospects for global economic growth imploded.
Given a lack of clarity, or even a hint about the future petroleum industry environment, corporate, and even individual, financial survival became the immediate focus. The impulsive response for corporate executives was to stop current spending, slash future spending commitments and work to shrink the enterprise to a scale that can be supported by future cash flows, even though confidence in estimating what they would be was extremely low. The drilling rig count began to fall and with it the volume of oilfield activity and petroleum industry employment, also. The Bush Administration's floundering response to the growing global credit crisis generated little confidence in how quickly this recession would be reversed. As Europe, and then Japan, and finally China and Southeast Asian countries experienced the impact that an absence of credit had on their commerce, fears about a repeat of the Great Depression dominated the popular press and media commentary. Fear became the watchword!
Now, six months after the credit crisis exploded, there are signs credit markets are starting to function again. Consumer spending, which had been in a freefall for most of this time, appears to be stabilizing. Housing prices are continuing to fall, but other housing industry indicators are signaling a possible stabilization. Prospects for global energy demand growth have evaporated, but while forecasters are still trying to assess the bottom in demand, energy executives realize that demand is not going to zero. Energy executives are now able to begin thinking about the future. While still not clear, there are trends emerging that will likely shape the energy market for the next few years.
These trends include: accelerating depletion in existing oil producing fields, many of which are extremely old, that will make growing supply more difficult and expensive; a growing world population that will need and demand more energy; political forces that will dictate where the western oil industry will be able to explore and develop new hydrocarbon resources; natural gas, once only a regional fuel, that will play a greater role in future world energy supplies; public (read government policy) pressure to control carbon emissions that will intensify and restrict, or at least boost, the cost of carbonintensive fuels; energy demand growth in mature economies that will slow or possibly slip into a long-term decline trend; unconventional oil and gas resources that will account for a larger share of petroleum supplies; investors who will clamor for more stable investment returns; and a recognition that the next energy age is closer to dawning than at any other time in recent history
Given this myriad of trends, each petroleum producer will need to develop his own strategy for growing his company. There will not be a one-size-fits-all corporate strategy for growth because so much about a company's future will depend upon its current asset base, perceived corporate strengths and weaknesses and its risk tolerance. Industry moves during the past few months have covered a range of actions, but all designed to enhance individual company future opportunities. For example, the merger announced a week ago involving Suncor (SU-NYSE) and Petro-Canada (PCZ-NYSE) has created a junior IOC with a base built on its strong Canadian oil sands assets. In a world of low oil prices and faced with a high-cost asset base, a diversified combined company's resource base enhances its cash flow generation capability and should enable it to lower its annual operating costs. From Suncor's position, capturing the anti-takeover protection of the Canadian government's golden share in Petro-Canada will ensure that the new company's long-term strategy to exploit its oil sands asset base, even though it represents one of the more expensive unconventional petroleum resources available in the world, will not be short-circuited by a forced sale to a bigger company during a period of low investment returns.
Likewise, the recent purchase of Pure Energy (PES-ASX) of Australia by the UK's BG Group (BG.L) demonstrates another case of a buyer seeking to back up its corporate strategy with assets. BG Group is involved in developing a liquefied natural gas (LNG) plant in Australia using coal bed methane gas, an as-yet-untested technology. Last year, BG Group purchased Queensland Gas Company for $2.9 billion, another company with coal bed methane reserves. With its 90% ownership (the balance will be acquired through forced sales under Australian securities law) of Pure, BG significantly expands its coal bed assets. To secure Pure, BG Group competed against much larger rival Royal Dutch Shell (RDSA- NYSE) who has a joint venture with Arrow Energy (AOE-ASX) that in turn owned 20.3% of Pure and also competed for its ownership.
Another example of a company acting to strengthen its strategic position involves Libya National Oil Company (NOC). The government is striving to increase its oil production capacity to 3 million barrels a day by 2013. The country holds an estimated 42 billion barrels of reserves. In this case, Canadian oil explorer Verenex has a subsidiary that holds a 50% interest in a concession in the Ghadames Basin in western Libya on which it has made 10 discoveries to date. China National Petroleum Corp (CNPC) made a bid to buy Verenex for $400 million, subject to various conditions, one of which was a waiver of the right of first refusal claim held by NOC. In this case, NOC decided to exercise its first refusal right in order to further its long-term objective and prevent the oil falling into the hands of the Chinese, a nation that has aggressively moved to buy up natural resource assets around the globe during this period of commodity price weakness.
Other examples of companies exercising asset purchases to further corporate strategies include BP's (BP-NYSE) and Statoil Hydro's (STO-NYSE) purchases of gas shale leases from Chesapeake Energy (CHK-NYSE). The interesting question is whether this industry downturn will ignite a surge in industry consolidation such as happened in past downturns when Exxon and Mobil and Chevron and Texaco combined, along with a host of other oil and gas companies.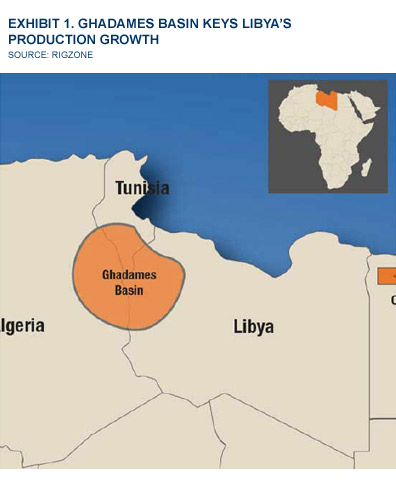 Likewise, there has been speculation raised about consolidation within the oilfield service industry, especially following successful debt financings by companies such as Halliburton Companies (HAL-NYSE), Weatherford International (WFT-NYSE) and Nabors Industries (NBR-NYSE).
Both the oil and gas and oilfield service sectors will have a wide array of companies under varying degrees of financial stress in the coming months due to the speed of the recent industry downturn and, for producers, the shrinking of their borrowing bases. The ability of financially-stressed companies, particularly oilfield service companies, to weather this downturn will depend not only on their balance sheet strength, but also on their relative business exposure to those geographic regions suffering the most from weak commodity prices such as North America and Russia.
Another factor that could increase the pressure for deals is the outlook of the owners or managers of these stressed companies for how long before their markets improve. In the case of North America, the recent bleak assessment of the U.S. natural gas market issued by Aubrey McClendon of Chesapeake Energy saying he didn't see an upturn in prices until 2010 or 2011 could force some companies to have to throw in the towel and combine sooner than they might otherwise consider. Absent these pressures, the urge to merge may remain merely an itch still waiting to be scratched.
Generated by readers, the comments included herein do not reflect the views and opinions of Rigzone. All comments are subject to editorial review. Off-topic, inappropriate or insulting comments will be removed.
RELATED COMPANIES
Company: BP plc
more info
Operates 33 Offshore Rigs
- Exxon, BP Targeted in NYC Suit That Relies on 'Nuisance' Theory (Jan 10)
- Owners of Louisiana-Illinois Pipeline Eye Reversal Next Steps (Dec 21)
- Canadian Offshore Oil Interest Grows As Pipeline Woes Sink Alberta Prices (Dec 20)
Company: Exxon Mobil Corporation
more info
Operates 16 Offshore Rigs
- ExxonMobil Reports Papua New Guinea Discovery (Jan 16)
- Exxon, BP Targeted in NYC Suit That Relies on 'Nuisance' Theory (Jan 10)
- ExxonMobil Reports More Offshore Guyana Success (Jan 05)
Company: Halliburton Company
more info
- Halliburton Posts International Revenue Growth, Unlike Schlumberger (Oct 23)
- Halliburton CEO Defends Fracking Business as Margins Disappoint (Oct 23)
- Venezuela's IOUs Pile Up, Keeping US Oil Servicers in Tow (Aug 23)
Company: Shell
more info
Operates 30 Offshore Rigs
- UK Firm Intertek Says Employee Involved in Shell Oil Theft Case (Jan 17)
- Shell Looks Beyond Road Fuels to Secure Future of Refining (Nov 06)
- API Panel Member: Voluntary Methane Program Forthcoming (Oct 06)
Company: Weatherford International
more info
- US Oil Service Firms Face Hit from Venezuela Debt Restructuring (Nov 06)
- Weatherford Names Former Halliburton CFO Its New Chief (Mar 07)
- Document: Algeria's Sonatrach Awards $180M in Oil Service Contracts (May 08)
Company: BG Group
more info
- Shell Mulls LNG-Hub Network as Use by Ships and Trucks Expands (Jul 11)
- Tanzania Laws Would Allow Govt to Tear Up Mining, Energy Deals (Jun 29)
- Despite Cuts, Big Oil to Expand Production into the 2020s (Sep 05)
Company: Chevron Corporation
more info
- Oil Producers Want New Hearing on Impact of Magellan Proposal (Jan 17)
- Exxon, BP Targeted in NYC Suit That Relies on 'Nuisance' Theory (Jan 10)
- Angola LNG Production Setback Prompts Tender Cancellation (Jan 08)
Company: Petro-Canada
more info
- C-NLOPB Approves Hebron Application (May 31)
- Petro-Canada to Fire Up Syrian Gas Production Soon (Apr 06)
- Faroe: Possible Hydrocarbons Found in North Sea Well (Mar 23)
Company: Suncor Energy
more info
- Suncor Says Makes Progress In Oil Sands Project Dispute With Total (Oct 26)
- Canadian Oil's High-Priced Run Set to End as Supply Surges (Oct 11)
- Suncor, Total Argue Over Cost Of Fort Hills Project (Jul 27)
Company: Chesapeake Energy Corporation
more info
- Chesapeake To Cut Rig Count, Bring Fewer Wells To Production (Aug 03)
- Chesapeake CEO: Downturn Challenges Helped Oil, Gas Companies (Mar 07)
- Chesapeake Energy Posts Smaller Quarterly Loss (Feb 23)
Company: CNPC
more info
- Petrobras CEO Says To Discuss Refining Partnership With CNPC CEO (Nov 15)
- CNPC Plans to Cut Gas Supplies to Industrial Users-State Media (Nov 06)
- China's CNPC Starts Third Natural Gas Pipeline To Shanghai (Oct 13)
Company: Libyan National Oil Corporation (NOC)
more info
- NOC: Libya Needs A Week To Repair Blown-Up Oil Pipeline (Dec 27)
- Engineer: Libya's Sharara Oilfield Still Shut Due To Action By Armed Brigad (Oct 03)
- Libya Oil Output Drops to 5-Month Low on Biggest Field Halt (Oct 02)
Company: Nabors Industries
more info
- Contract Driller Nabors Expects Current-Quarter Results To Fall (Aug 04)
- Nabors Profit Takes Hit on Tough N. American Market (Jul 23)
- Cultural, Strategic Changes Brighten Outlook for Nabors (May 24)
Company: Verenex Energy
more info
- Marathon Struggles to Exit Libya as Unrest Grows (Oct 25)
- Verenex Completes Arrangement with Libyan Investment Authority (Dec 21)
- Verenex Updates on Acquisition Status (Dec 15)
Company: Arrowhead Energy Ltd.
more info
- Musings: Changing Landscape of Global E&P Industry (Mar 31)
- Arrowhead Reports 3Q Results (Oct 30)
- Austral Pacific Reports Promising Cheal News (Nov 30)
Company: StatoilHydro
more info
Operates 33 Offshore Rigs
- Samsung Heavy Industries Lands Statoil FSU Construction Contract (Sep 14)
- First Movers in Eco-Drilling: Going 'Dope'-less (Apr 25)
- StatoilHydro Delays Hammerfest LNG Start Up (Nov 23)