Musings: Early Signs of Petroleum Demand Revival in U.S.
by G. Allen Brooks
|
Parks Paton Hoepel & Brown
|
Tuesday, March 03, 2009
Crude oil prices had a good week last week, closing up $5.82 to $44.76 a barrel on the futures market. This rise amounted to a healthy 14.95% increase, although oil prices had actually advanced higher during the week, but fell on Friday when both the details of the Obama administration's budget impact on the energy industry became clear and the nation's GDP estimate for the fourth quarter was revised sharply lower.
For the week, the oil price rise was driven by a number of factors -- surprising strength in domestic oil inventory data, a positive report about OPEC's cutback compliance and signs that oil demand is rising. When the U.S. Department of Energy reported its weekly oil inventory data last Wednesday, crude oil inventories only rose by 717,000 barrels, about half the 1.2 million barrel rise anticipated by analysts. Gasoline inventory fell by a surprising 3.3 million barrels, although refinery capacity utilization was down reflecting industry efforts to take advantage of weak petroleum demand to undertake refinery turnaround operations early.
Another positive was the report from Petrologistics, a tanker tracking company, suggesting that OPEC members were achieving about an 89% compliance with the cartel's December 2.2 million barrel a day production cutback. At the same time, Dubai announced it was reducing further the amount of oil it will supply to refiners in Asia in March, which has revived hope that OPEC may be positioning to institute another production quota cutback at the body's March 15 meeting.
Last week was the third weekly decline in oil imports, which suggests that OPEC's production cutback is working. Some analysts have speculated that oil is flowing to other markets around the world as the U.S. is awash in crude oil, at least at Cushing, Oklahoma. If Petrologistics is right, and we have no reason to believe they are way off in their estimate, then one should expect a decline in imports to the world's largest oil consuming and importing market.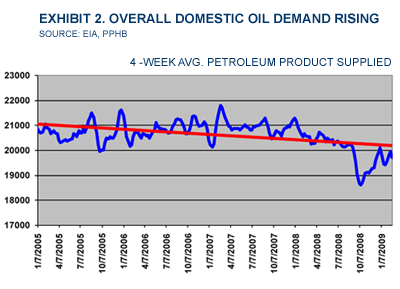 What may be more important for the oil market is that weekly demand has begun to show signs of improving. This is noted in the chart of the 4-week average for petroleum product supplied over the period from 2005 through now. Over that period the trendline has been down. Starting last fall when the credit crisis exploded, petroleum product supplied fell sharply but then began a recovery back to the trendline at the start of 2009. Demand then fell off but has since moved up closer to the trendline. Whether the weekly petroleum supplied volume rises above the trendline is unknown, but the fact it has recovered from the credit-crisis induced low last fall is encouraging.
Gasoline supplied, which is a measure of demand, has also bounced off its credit crisis low, even though it has recently retested that low. As shown by the chart in Exhibit 3, gasoline supplied has been much more volatile over the 2005-2009 period, but again, we are encouraged by the fact that although the recent low demand was lower than experienced twice in 2005, demand has not gone lower in the recent dip at a time when unemployment has been soaring and the economy has apparently dropped into an abyss.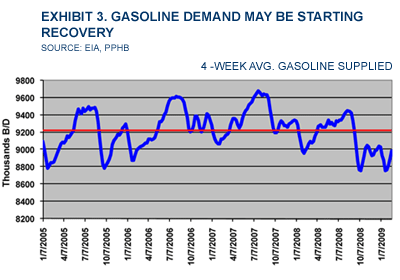 The latest highway travel data shows that although December's monthly vehicle miles driven of 237.2 billion is down by 3.8 billion vehicle miles, a decline of 1.6% from the prior year, the rolling 12- monthly total has shown a slight uptick. Quite possibly this mileage increase is related to the dramatic decline in gasoline pump prices, but offsetting that positive one would have to factor in the impact of the dramatic economic and employment deterioration, which should negatively have impacted consumer spending and driving habits in the month. To the contrary, the Federal Highway Administration's release of the December data pointed out that 17 states showed increases in vehicle miles driven that month, the first time since August 2007. For all of 2008, vehicle miles driven fell by 3.6%.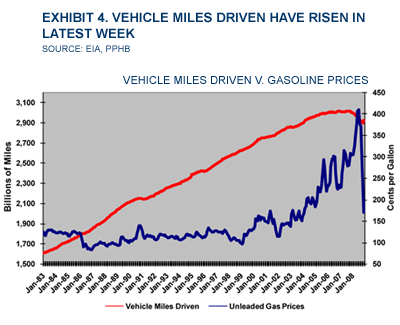 All the latest oil supplied and consumption figures suggest that domestic demand is recovering somewhat. We recognize that the upticks in oil use and the downticks in imports are small, and in some cases represent repeats of moves of earlier weeks, but they come in a period when the domestic economy is acknowledged to be experiencing one of its worst contractions since the Great Depression. In the face of that weakness, any oil demand improvement should be noted. Hopefully, these improvements are like green shoots through a winter blanket of residual snow.


Reprinted with permission from PPH & B
Generated by readers, the comments included herein do not reflect the views and opinions of Rigzone. All comments are subject to editorial review. Off-topic, inappropriate or insulting comments will be removed.