Musings: If China's Growth Goes South What Happens to Oil?
by G. Allen Brooks
|
Parks Paton Hoepel & Brown
|
Thursday, January 22, 2009
A new analysis of China's growth shows its economy slumping and that it has recently crossed its long-term filtered growth trend line. The filtered growth trend line is developed utilizing a macroeconomic mathematical tool to smooth short-term fluctuations from time series data. When you look at the filtered growth trend for China's economy since 1978 in Exhibit 12, the pace of its growth, including those periods of modest decline, creates a slow, undulating line over time rather than the sharp up and down movements reflected in a plot of the actual changes in real annual gross domestic production.
The current trend pattern suggests a further weakening in the country's economic growth based on China's history of economic growth. The people who prepared this chart are suggesting that China's economy will slump for potentially four years. They arrive at their forecast based on the three economic contractions since 1978 that averaged 4.3 years. We believe it might be of more value to examine closer the three historic recession periods and business conditions.
In the first recession, 1978-1982, China's economy was subjected to the same pressures the rest of the world's economy experienced as there was a broad-based recession during that period. The second recession spanned the 1988-1991 period, again when the world suffered a recession but one that was much more mild than the earlier period. It did include the last time of significant social unrest marked by the Tiananmen Square confrontation between students and the Chinese military. The six-year recession of 1996-2002 encompassed the Asian currency crisis, which was regional in scope rather than the global one we are now dealing with. That economic recession was accompanied by a huge collapse in oil prices that inflicted economic pain on the Southeast Asia region.
We looked at China's oil consumption over 1978-2008. Over that period, China's oil consumption has grown by slightly over 6.1 million barrels a day (b/d) from 1.825 million b/d to 7.940 million b/d. Within this growth profile there were periods of rapid oil consumption increases and periods of slow growth and even periods of decline in consumption. For example, in 1978-1982, China's oil demand fell by 224,000 b/d. Then in 1988-1991, oil consumption grew by 313,000 b/d. The more recent period of economic weakness - 1996-2002 - saw the country's oil consumption grow by 1.586 million b/d. Clearly each of these periods was marked by different economic and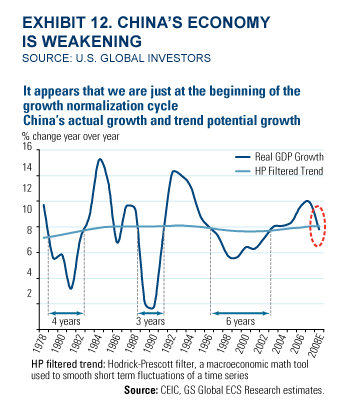 financial factors making it impossible to merely point to one and say that should be the model for forecasting the impact on China's oil consumption in the next recession.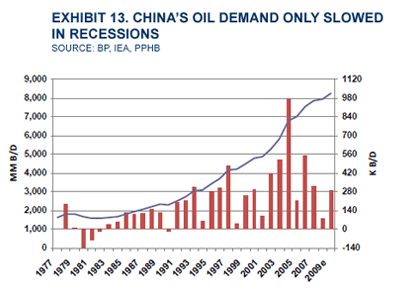 It is interesting to note the relative impact of the consumption growth or contraction on China's total oil consumption in each period.
When oil consumption fell in the early 1980s, the average annual decline measured against the average annual total consumption during the period was 3.3%. In 1988-1991, the impact was 4.3%. During the most recent period of economic weakness, the impact of the oil consumption change was 5.6% of average annual Chinese demand.
Looking to the future to try to assess the impact of a contracting Chinese economy on the country's oil demand, we think the recent period of economic weakness may prove to be of greater guidance value than the two earlier periods. That means we still expect Chinese oil consumption to grow in the next few years even if the pace of economic activity is below its historic trend line growth rate. So far, we have seen the IEA's estimates for China's oil demand growth shrink. This is true for both 2008, which has already seen significant deterioration in the country's rate of growth, and 2009. The IEA initially estimated China's oil demand growth for 2008 at 500,000 b/d but have reduced it to 85,000 b/d and its 2009 growth projection has fallen from a 400,000 b/d increase to 290,000 b/d. We would not be surprised to see the 2009 forecast fall further as we move deeper into the year.
We feel safe stating that conclusion given the latest economic data points and antidotal evidence coming from China. For example, Guangdong province, mainland China's largest exporting base, grew at 10.1% in 2008, some 4.6 percentage points slower than in 2007. The province's export growth shrunk 5.6 percentage points from the 22.3% growth recorded in 2007 while industrial output slowed by 5.2 percentage points to 12.8% in 2008. According to Guangdong province's vice governor Huang Longyun, the number of businesses that closed or de-registered in 2008 increased to 62,400, 4,739 more than in the previous year. Small companies and traditional industries made up the bulk of the casualties. The province added 32,800 new companies in the Pearl River Delta area. The vice governor pointed out that some of the province's economic indicators "declined seriously" last year. He believes the province is facing the worst economic environment since the Asian financial crisis a decade ago.
The poor health of the Chinese economy and especially its export industry was further substantiated by figures for China's air cargo volumes for mainland airlines in November that declined 11.3% compared to the prior year. Air cargo from the mainland to Hong Kong, a major export hub for Chinese air freight, declined 22.4% in November after slipping 3.1% in October, as reported by the South China Morning Post. The air cargo weakness was supported by the second profit warning issued to the Hong Kong stock exchange by Cathay Pacific. An unidentified Cathay Pacific executive said he expects Hong Kong exports to fall year over year more than 20% in December magnifying the 15.4% decline experienced in November. Besides profit warnings, Cathay Pacific has parked two large air freight planes to trim its U.S. and European capacity by 10%.
The outlook for an improvement in Chinese exports in the near term is not promising. According to Sunny Ho Lop-kee, executive director of the Hong Kong Shippers' Council, Pearl River Delta factories are working on old contracts, if they have any, as no new contracts have been signed in recent months. The market for exports will be slow to recover since new contracts have 6-week to 6-month lag times from signing to production. With the demand for high-end goods (electronics and high-fashion) withering in the United States and Europe, he does not expect much of a recovery in the region's exports until well into 2009. The economic softness recently showed up in China's foreign exchange reserves, which increased by 27% last year to $1.95 trillion. That growth was down from prior years' growth rates marking the first time in a decade that has happened. In 2008, foreign exchange reserves increased by $417.8 billion compared to $461.9 billion in 2007. The slowdown is attributed to a shrinking trade surplus that became very evident in the second half of last year and a possible slowing of the speculative "hot-money" flows into the country.
As we read these economic statistics and learn about growing economic and financial turmoil in China, we are reminded about the Chinese counter arguments to the theory that countries that host the Olympics suffer slower economic growth following the event. This analysis points to the 5.2% annual GDP growth in Japan in 1965, the year following the Tokyo Olympics and a year with 13.1% growth. People also point to 1988 when South Korea's growth rate slowed to 6.7% from 10.6% the year prior to the Seoul Olympics. It seems that this economic growth pattern was also true for Spain, Australia and Greece. It was not true for the United States as its post Atlanta Olympics growth rate accelerated to 4.5% from the prior year's 3.7%.
The research conducted on this economic growth phenomenon by various Chinese professors concluded that there is a close relationship between the host country's economic growth following an Olympics and the host city's economic size. The larger the city's role in the host country's GDP, the greater the impact on the national economy. Tokyo represented 26.3% of Japan's GDP in 1965 while Seoul accounted for 27.7% of South Korea's economy and Sydney was 24.5% of Australia's national product. These three cities accounted for over one-quarter of their country's GDP. Athens' was even greater as it accounted for 34.2% of Greece's economy.
In contrast, Atlanta accounted for only 1.9% of U.S. GDP. In 2007, Beijing's GDP was 900 billion yuan in contrast to 25,000 billion yuan for all of China's economy. Beijing represented only 3.6% of its nation's economic activity. Because almost all of the Olympic events and venues were in or close to Beijing, the view of these economists was that the country would not suffer the same economic fate of most of the other host cities. Since the global economic and financial downturn deepened soon after the ending of the Olympics, it is hard to discern whether Beijing will prove to be the exception to the rule of cities with small national economic impact not experiencing a post-Olympic slowdown.
As more global oil forecasts call for 2009's demand to decline from 2008, marking the second year in a row of declining oil consumption, one might expect there to be a significant impact on China's oil use. We believe China's recently announced economic stimulus package that emphasizes new infrastructure investment coupled with the country's expanding population and domestic consumption, energy use will increase. Unless we experience a global recession similar in scale to the Great Depression, we believe there is little that will stop China's oil consumption from growing. If nothing else, the government may consider accelerating buying foreign crude oil for storage in its newly completed strategic storage facilities. While we are comfortable in projecting increased Chinese oil consumption, we are not sure about the rate of its consumption growth. For global oil markets therein may lay a problem. If China's oil demand growth is not robust, which we believe means 500,000 b/d to one million b/d of annual growth, then global oil markets could be negatively impacted for a period of time that would place downward pressure on oil prices.
A counter to that view is suggested by recent research from BCA Research that examined the history of China's economic growth since 1975. They concluded that China's healthy economic growth periods nearly always were preceded by major economic challenges. That correlation extends back 30 years to the start of Deng Xiaoping's efforts to use market forces to strengthen the Chinese economy.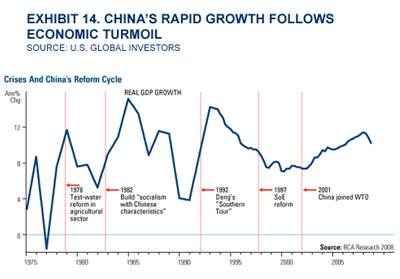 After the 1970s economic slowdown, China embarked in the early 1980s on its policy of "socialism with Chinese characteristics," which blended state ownership of major industries with private enterprise. The result was acceleration in China's growth rate. Again after a government-induced economic slowdown and the Tiananmen Square massacre in the late 1980s, Deng made his famous tour of southern China to promote special economic zones and other market-oriented reforms. China's growth then shot up. The same sequence of government action and rapid economic growth followed China's admission into the World Trade Organization in 2001.
From this research, BCA believes there is the opportunity for China to seize upon the current financial turmoil and take bold actions that will boost the country's growth. There may be a huge opportunity for the government to use its announced economic stimulus program to begin the shift of its economy away from an export-dependent model to one more reliant on domestic consumption. That could not only provide a stimulus to economic growth but also provide a more steady growth for China in the future. If this is part of the government's plan, it would help explain the government's efforts in recent years to seek out oil and mineral resources around the world to ensure the country's raw material supplies. It also suggests that China will continue to need more oil in future years, a good thing for oil exporting countries.


Reprinted with permission from PPH & B
Generated by readers, the comments included herein do not reflect the views and opinions of Rigzone. All comments are subject to editorial review. Off-topic, inappropriate or insulting comments will be removed.