Musings: Back To The Future: $1 Per MCF Natural Gas Again?
by G. Allen Brooks
|
Parks Paton Hoepfl & Brown
|
Last week we attended several meetings about energy markets, companies, investing and private equity. We found two of the talks about the natural gas market in the United States significantly depressing. During 2008's first half natural gas futures prices soared to over $13.50 per thousand cubic feet (Mcf) before starting their extended slide that has continued into early January. Last week the near-month futures price actually fell below $5 per Mcf, their lowest price since September 2006. The dour outlooks for domestic gas markets were shaped by the respective speakers' views about the state of the U.S. economy and the timing of its recovery. Both believe the economic recovery will not arrive until sometime in 2010, in contrast to the conventional view that sometime in 2009 credit markets will begin functioning normally and investor and consumer confidence will be restored leading to increases in spending and investment.
One of the concepts we had not heard discussed in many years is gas-on-gas price competition. John Walker, the chief executive officer of EV Energy Partners (EVEP-Nasdaq), who began his company's investment presentation with a discussion of the general economic environment and energy market outlook. His outlook on the oil market is that it all hinges on the health of the Chinese economy. If it doesn't grow or has negative economic growth (the most negative view we've heard to date) then there will be no oil demand growth. We already have negative oil demand growth projections with China at 5%-8% economic growth in 2009, so no economic or negative growth would suggest something in excess of a 1-million b/d drop in global oil demand.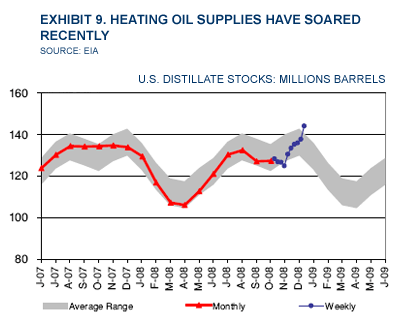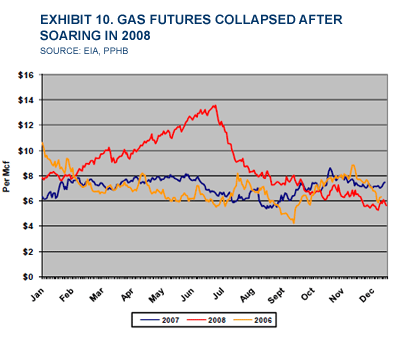 He believes there will not be an economic turnaround until 2010. He sees too much natural gas supply in the market largely due to the fall in industrial gas consumption, but also from the development of unconventional gas supplies. According to Ziff Consulting, by 2014, some 42% of U.S. gas supply will be coming from unconventional gas resources. Given the current gas supply/demand situation, he sees gas prices falling into the $3-$4 per Mcf range that will create serious economic challenges in the gas and energy industries. He thinks gas storage will be full by September 1st and that could lead to $1 per Mcf gas as gas-on-gas price competition develops. His thoughts about the impact of the natural gas industry environment on the oilfield service business were not particularly encouraging. He expects a further 500 rig-count drop and expects well costs to fall dramatically as well. He pointed out that well costs had risen by a factor of two over the prior two years, but well costs are starting to fall, especially for steel prices (casing and tubing) and drilling rig day rates. He questioned how quickly we would see oilfield service costs fall to 2006 levels, but then wondered aloud when they would retreat to 2003 levels. Bad news for oilfield service companies!
Mr. Walker used his outlook to help boost the investment merit of his master limited partnership (MLP). He said that MLPs are the best energy investment place to be because of the nature of having to distribute significant cash flow to investors, which forces managements to put substantial hedges in place that insures stronger cash flows than for traditional E&P companies. He also admitted that he shouldn't have made any acquisitions last year because he overpaid for all the reserves and prospects he bought. On the other hand, because he was able to hedge most of the production (but not all) his deals weren't as bad as they might have been otherwise.
He also thinks that by the 2nd and 3rd quarters of 2009 there will be plenty of distressed assets to acquire at higher V/P ratios and that are less risky investments. He is excited about there being less capital chasing deals - the first time in about seven years this has happened. In his view the industry needed this shakeout. He also believes there will be a number of mergers and joint ventures as operators combine to lower costs and to strengthen the entities.
The other talk we heard with a negative view of the natural gas market was made by Doug Schantz, the head of Sequent Energy Management, a division of AGL Resources (ATG-NYSE). They are the 13th largest marketer of natural gas and focus on physical asset management. He stated that the gas industry needs to watch the corporate world closely and pointed to Dow (DOW-NYSE), DuPont (DD-NYSE) and the bankruptcy of privately-held chemical company LyondellBassel as examples. He sees 1-1.5 billion cubic feet (Bcf) lower industrial and power generation gas consumption.
Mr. Schantz doesn't see any early recovery for the gas markets, due to economic conditions. Instead, he sees the gas market returning to health at the end of 2010 or maybe even as late as early 2011. The impact of credit markets is forcing a lot of changes on the gas and power industries that will have a negative impact on gas producers. He sees many infrastructure projects delayed due to a lack of funding. In addition, lower demand and prices will have implications on companies as they evaluate how many of these infrastructure projects are needed. All these projects require that the owners do not need to access capital markets. That means companies are being forced to live within their cash flow.
A major shift within corporations is an increased focus on trade credit. Managements will spend a lot more time checking out and monitoring the credit health of their customers. The emphasis on working capital will also impact the gas supply situation. He believes that the domestic gas storage volumes will not reach the 3.8 trillion cubic feet (Tcf) goal, but rather be capped at 3.5 Tcf. That could set the market up for a spike in gas prices if demand were to surge while inventories are capped. Hearing of the problems facing the gas marketers, pipeline operators and gas gatherers due to the credit crisis and changes in business plans, we think there are number of unintended consequences that could significantly hurt, or at least disrupt, the recovery of the domestic gas business.


Reprinted with permission from PPH & B
Generated by readers, the comments included herein do not reflect the views and opinions of Rigzone. All comments are subject to editorial review. Off-topic, inappropriate or insulting comments will be removed.
MORE FROM THIS AUTHOR
G. Allen Brooks
Managing Director, PPHB LP