Refiners and Shippers Not Ready for New Fuel Reg
|
Wednesday, February 13, 2019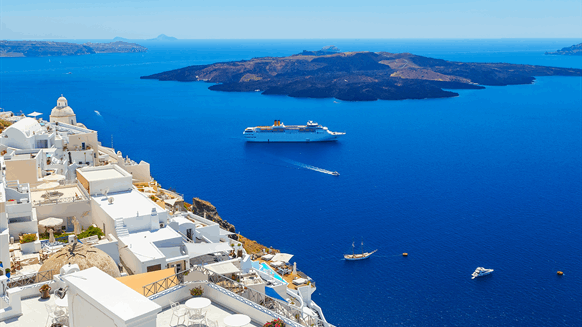 New report finds implementing pending IMO mandate is a challenge for refiners and shippers.
Beginning Jan. 1, 2020, most of the world's commercial shipping fleet will need to use marine fuel oil whose sulfur content is dramatically lower – no more than 0.5 percent compared to the current threshold of 3.5 percent.
The stricter marine fuel regulation – promulgated by the United Nations' International Maritime Organization (IMO) – aims to reduce the amount of sulfur in bunker fuels and, by extension, cut sulfur oxides (SOx) air emissions. A new report by IHS Markit, however, concludes that sufficient supplies of the very low-sulfur fuel oil (VLSFO) may be hard to find in ports worldwide when the mandate goes into effect. Consequently, the research firm envisions higher freight costs for most cargoes – including electronics, automobiles and petrochemicals – and potentially pricier cruise ship fares.
"The IMO is taking positive action to address shipping pollution, but the rapid pace of the implementation of this new regulation is making it very challenging for the refining and shipping industries to respond," Sandeep Sayal, IHS Markit's vice president of downstream research, said in a written statement emailed to Rigzone.
IHS Markit pointed out that the 2020 compliance date is five years earlier than many had initially expected. For the refining and shipping sectors, the accelerated timeline "has sent tidal waves through two industries that typically take many years to adapt to such significant change that requires tens of billions in investment," the firm stated. For shippers, non-compliant vessels could lose their charter to sail and some insurance companies have tied vessel insurability to compliance assurance, IHS Markit added.
"Shippers will face significant compliance costs to either upgrade equipment or switch to more expensive, cleaner fuels," remarked Spencer Welch, IHS Markit's executive director for oil, midstream and downstream for Europe, CIS and Africa and the study's manager. "Refiners – and fuel buyers – will experience significant price impacts as they shift production to deliver greater volumes of VLSFO and find a market for their less valuable fuels."
Refiners will need to make major operational changes and invest billions to shift their existing product slates, IHS Markit predicts. The firm explained that new demand will prompt refiners to produce more distillates. It pointed out that roughly one-half of the VLSFO will be sourced from refinery distillates, with the remainder coming from non-distillate sources within the refinery. Refiners will also channel distillates to cater to other growing diesel markets, the firm added. Consequently, IHS Markit expects refiners' costs and distillate prices – relative to crude oil prices – to increase.
Within the refining community, there will be clear winners and losers, IHS Markit predicts.
"Highly complex refineries, which have the flexibility to convert various grades of crude oil into a wide range of refined products to meet market demand, will benefit most from the IMO-specification change," said Welch. "Highly complex refiners produce the least amount of residual fuel oil and the highest amount of distillate and gasoline compared to lower-complexity refiners. Less integrated and less complex refiners will likely experience the greatest market risk."
According to an American Bureau of Shipping (ABS) summary of the regulation, shipowners and operators can comply with the IMO sulfur cap by taking approaches such as:
Using compliant low-sulfur fuels
Using alternative fuels such as liquefied natural gas (LNG), liquefied petroleum gas (LPG), compressed natural gas (CNG), biofuel, solar power or fuel cells
Controlling SOx with technologies such as exhaust gas cleaning systems (scrubbers)
IHS Markit anticipates that installing on-board scrubbers will be the primary compliance approach for larger ships – a path that would enable them to continue to burn cheaper, higher-sulfur fuels. Nevertheless, the company observed that many ships will need to burn the costlier VLSFO fuels because they will not have been fitted with scrubbers by Jan. 1, 2020.
"We estimate between 5,000 and 10,000 ships will undergo scrubber installation at a cost of between $2 million and $7 million each, plus increased operations costs," according to Krispen Atkinson, IHS Markit senior consultant for maritime and trade research. "To date, the industry has spent or committed more than $6.6 billion to fit more than 2,000 ships with scrubbers."
Generated by readers, the comments included herein do not reflect the views and opinions of Rigzone. All comments are subject to editorial review. Off-topic, inappropriate or insulting comments will be removed.