The Buy Canada Trade Is on With Trade Deal Done, LNG on Way
by Bloomberg
|
Doug Alexander & Paula Sambo
|
Monday, October 01, 2018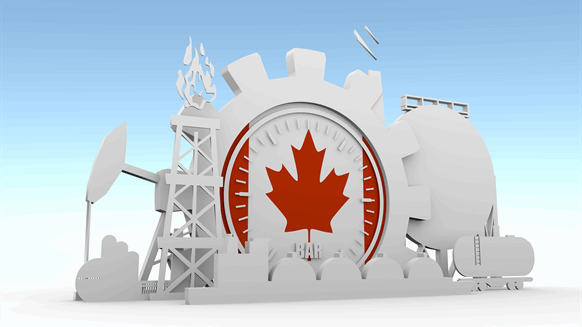 Recent news is giving Canada's stock market and currency the best outlook they've had in months.
(Bloomberg) -- Canadian assets may finally begin to feel some love.
A new trade deal between U.S., Mexico and Canada, news that a group led by Royal Dutch Shell Plc are set to move ahead with a liquefied natural gas project on the country's west coast, and a takeover offer for a Canadian energy company are giving the country's stock market and currency the best outlook they've had in months.
"This is very upbeat news, there was a lot of Nafta uncertainty weighing on economy, stocks, with equities underperforming," Michael Gregory, deputy chief economist at Bank of Montreal, said in a phone interview. Economic activity will probably pick up and the Bank of Canada is likely to tighten more than it otherwise would have, Gregory said.
The flurry of developments on trade and energy lift an overhang that's held back business investment and growth in the world's 11th biggest economy. The Canadian dollar appreciated 0.7 percent to C$1.2815 at 10:17 a.m. in Toronto to the strongest level in more than four months while S&P/TSX Composite Index advanced 0.4 percent in following a surge in U.S. stocks.
The new U.S.-Mexico-Canada Agreement, or USMCA, covering a region that trades more than $1 trillion annually, gives the U.S. improved access to Canada's dairy market, stronger intellectual property provisions, and includes tighter rules of origin for auto production, according to two senior Trump administration officials who spoke to reporters on condition of anonymity.
Auto company suppliers were among the biggest gainers on the Canadian stock index with Martinrea International Inc. up as much as 18 percent, Linamar Corp. advancing 13 percent and Magna International Inc. jumping 10 percent in early trading.
"The Canadian market has been in the bottom of the league tables all year, kind of dismal and in particular the heavy hitters like the banks and the metals," David Baskin, president of Toronto-based Baskin Wealth Management, which oversees C$1.2 billion ($940 million), said by phone. "I think a lot of that has to do with uncertainty about trade and the Canadian economy."
The country's benchmark stock index is down slightly this year despite strong global growth, making it the 11th worst performer among developed markets and trailing the 9 percent gain in the S&P 500. The loonie has risen in recent months but is down 2.4 percent in the past 12 months against its U.S. counterpart.
Mark McCormick, North American head of FX strategy at Toronto-Dominion Bank, said the important thing to consider is how much of the new trade agreement has been priced in."It also depends on whether it moves the needle on Bank of Canada pricing next year. Do we get another hike for instance?"
Bank of Canada Governor Stephen Poloz had already been expected to boost the central bank's key lending rate by a quarter point to 1.75 percent at the next meeting on Oct. 24. Beyond that, the trade deal also raises the possibility the economic could handle more than the two rate increases that had been expected next year, according to economists at some of the country's largest banks.
"The central bank, which had been concerned about exports and investment amidst rising trade barriers, can now more forcefully address mounting inflation pressures," Krishen Rangasamy, senior economist at National Bank Financial in Montreal, said in a research note.
On the oil front, Husky Energy Inc. made a C$3.3 billion hostile bid for MEG Energy Corp., setting up a battle between the Canadian oil company linked to Hong Kong billionaire Li Ka-shing's family and Chinese giant Cnooc Ltd., a major investor in the targeted oil-sands producer.
"A global energy company has said oilsands assets are worth a lot -- that's a positive development for Canada," Ian de Verteuil, head of portfolio strategy at CIBC Capital Markets, said in a telephone interview. "There's three positive things for Canada."
To contact the reporters on this story: Paula Sambo in Sao Paulo at psambo@bloomberg.net ;Doug Alexander in Toronto at dalexander3@bloomberg.net. To contact the editors responsible for this story: Jacqueline Thorpe at jthorpe23@bloomberg.net Steven Frank.
Generated by readers, the comments included herein do not reflect the views and opinions of Rigzone. All comments are subject to editorial review. Off-topic, inappropriate or insulting comments will be removed.