Kinder Morgan, EagleClaw and Apache Team Up for $2B Permian Pipeline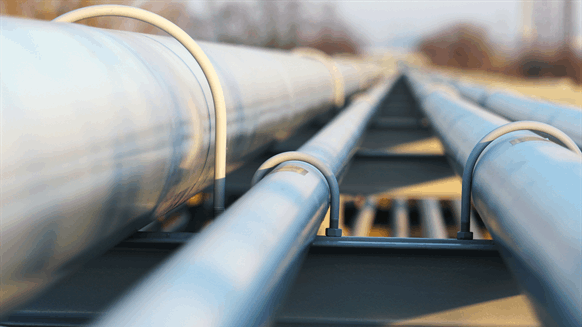 The pipeline project should address some of the bottleneck concerns around Permian Basin production.
Kinder Morgan Texas Pipeline LLC (KMTP), EagleClaw Midstream Ventures LLC and Apache Corp. have teamed up for the Permian Highway Pipeline Project, which ideally will help alleviate some of the gas transportation challenges from the Permian Basin to markets along the Texas Gulf Coast.
The $2-billion project can transport up to 2 billion cubic feet per day (Bcf/d) of gas through 430 miles of 42-inch pipeline from Waha, Texas, to the U.S. Gulf Coast and Mexico markets. Kinder Morgan is also evaluating the feasibility of a 48-inch pipeline with increased transportation capacity. The project is expected to be in service in late 2020.
Gas will be sourced into the PHP Project from multiple locations, including Kinder Morgan Inc.'s, EagleClaw's and Apache's existing systems in the Permian, with additional interconnections to intrastate and interstate pipeline systems in Waha.
The PHP Project will hold capacity on KMI's intrastate pipeline systems in the market area, which will allow it to deliver gas to the Katy market hub, the Agua Dulce market hub, the Coastal Bend and Kinder Morgan Tejas headers connected to the Freeport LNG export facility, the Cheniere header connected to the Cheniere Corpus Christi LNG export facility, and several pipelines along the Texas Gulf Coast.
KMTP and EagleClaw will be the initial partners with 50 percent ownership each, and Apache, who has been jointly developing the project, has an option to acquire up to 33 percent equity in the project from them.
KMTP will build and operate the pipeline. Apache and EagleClaw will be significant shippers, with Apache planning to commit up to 500,000 dekatherms per day.
Sital Mody, chief commercial officer of Kinder Morgan Natural Gas Midstream, said, "By contracting for space on KMI's extensive intrastate systems, the project will offer seamless nominations to the Katy and Agua Dulce market hubs; pipeline headers into LNG export facilities on the Texas Gulf Coast; multiple pipelines delivering gas into Mexico, including Valley Crossing, NET Mexico, and KMI's Border and Monterrey pipelines; and numerous other intrastate and interstate pipelines."
Generated by readers, the comments included herein do not reflect the views and opinions of Rigzone. All comments are subject to editorial review. Off-topic, inappropriate or insulting comments will be removed.