Natural Gas in US Soars 60-Fold Amid Icy Squeeze in Northeast
by Bloomberg
|
Naureen S. Malik
|
Thursday, January 04, 2018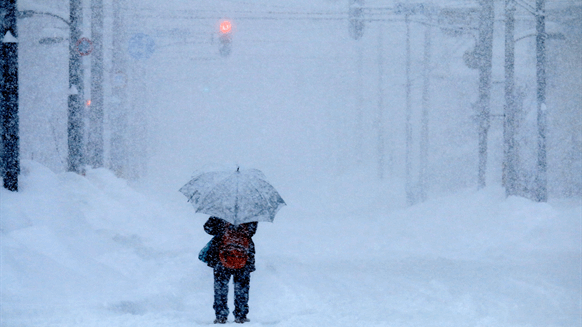 Natural gas surged to 60 times the going rate as howling blizzard conditions stoked demand for the furnace fuel across the US Northeast.
(Bloomberg) -- Natural gas surged to 60 times the going rate as howling blizzard conditions stoked demand for the furnace fuel across the U.S. Northeast.
Spot prices for the fuel used to heat homes and generate power reached a record $175 per million British thermal units in New York, according to Consolidated Edison Inc. That's a far cry from the $2.93 that U.S. gas futures have been averaging on the New York Mercantile Exchange this winter.
Other major trading hubs in New York and New England saw prices exceed $100, according to a person familiar with those markets. Even if the rally cools later Thursday as the storm lambasting New York and Boston moves off to the north, prices in the region probably will close in the triple digits, the person said.
"This string of cold has stressed the market just as much as the polar vortex" of 2014, said John Borruso, director of natural gas trading at ConEdison in Valhalla, New York. "You are seeing pipeline restrictions and flow restrictions pop up."
The cold-weather cyclone swirling off Nantucket island grounded thousands of flights, disrupted rail service, shut schools and prompted emergency declarations up and down the Eastern Seaboard. Even as slashing winds cut off power to more than 70,000 homes and businesses, electricity prices climbed 126 percent to $273.23 a megawatt-hour on Thursday morning, the highest for that time of day in almost four years.
The gas squeeze underscores the lack of adequate pipeline capacity to haul enough gas from Appalachia and points farther afield to Northeast metropolises where households have been scrapping heating-oil tanks for gas-fired furnaces. As a result, gas in the region is the world's priciest, commanding 14 times more than U.K. futures price and about nine times more than Asian imports of the liquefied version of the fuel.
The market mayhem in and around New York is having a knock-on effect even in regions far away from stormy weather. At an Appalachian pipeline hub known as Dominion South that is typically home to the cheapest American gas, the price jumped to $4.15, almost twice the 12-month average and a huge premium to late October, when it fetched just 29 cents, according to Borruso and Intercontinental Exchange data.
"With demand and price for gas being this high in New York and New England, everybody wants to flow gas into the region but the current pipeline infrastructure cannot carry enough to even the market out," said Armagan Yavuz, the Boston-based regional director for Genscape Inc., which tracks real-time power and gas data.
With assistance from Tim Loh. To contact the reporter on this story: Naureen S. Malik in New York at nmalik28@bloomberg.net. To contact the editors responsible for this story: Reg Gale at rgale5@bloomberg.net Joe Carroll, Debarati Roy.
Generated by readers, the comments included herein do not reflect the views and opinions of Rigzone. All comments are subject to editorial review. Off-topic, inappropriate or insulting comments will be removed.