Private Oil Made a Big Find in Mexico. Now State Oil Wants a Cut
by Bloomberg
|
Adam Williams
|
Wednesday, October 04, 2017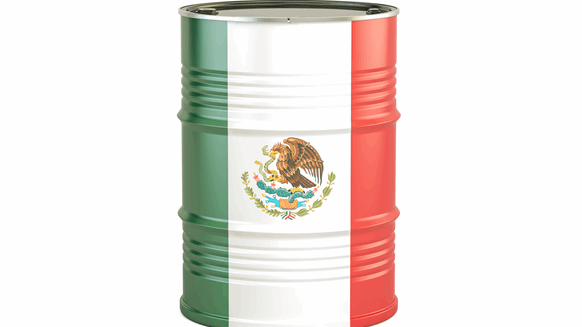 The rush of enthusiasm that followed the July find has turned into a nervous wait.
(Bloomberg) -- When private drillers struck oil off Mexico's coast this year, they didn't anticipate sharing it with the state oil company. It looks like they'll have to.
The discovery of as much as 2 billion barrels in July, by a group led by Houston-based operator Talos Energy LLC, grabbed the oil world's attention. Mexico's energy reformers celebrated. It was the first big find since the government opened the industry to investors in 2014 -- a controversial move in a country that kicked out foreign oil companies in the 1930s, and had mixed feelings about letting them back in.
The reformers were vindicated: Private capital could get results where Pemex, the cash-strapped state operator, couldn't. More would surely follow. Then a problem emerged. The crude deposit found by Talos, it turned out, spread beyond the boundary of the company's exploration bloc and into a neighboring one -- owned by Pemex.
Now the government is rushing to put together a rulebook for how this find, and subsequent ones, get shared out. It could shape the future of the whole energy plan. The group - which includes Sierra Oil & Gas S de RL de CV and Premier Oil PLC - is said to be holding off on further investment pending the decision. Other drillers who bought exploration rights also want to see the government ruling before making financial commitments. The rush of enthusiasm that followed the July find has turned into a nervous wait.
'Most important issue'
"This is the single most important outstanding issue in the sector," said Raymundo Pinones, director of Mexico's Association of Hydrocarbon Companies. "It could delay activity until there is clarity. In place of drilling or continuing with development, the industry is waiting for this to be resolved."
Almost 70 companies have been given leases to explore for crude in Mexico. One of them, Italy's Eni SpA, reported a shallow-water find of at least 1.4 billion barrels this year, located beneath an existing Pemex well.
The field discovered by Talos, Sierra and Premier may be even bigger. From the start, in its July 12 press statement, the consortium said that the oil "could extend into a neighboring block." Weeks later, in an interview with El Financiero newspaper, Pemex Chief Executive Jose Antonio Gonzalez Anaya said that his company, which has rights to that block, would fight for a share of the proceeds.
The Talos-led consortium already has to pay 83 percent of profits from its field, known as Zama-1, to the Mexican government, according to the Energy Ministry. Sharing with Pemex could push the figure even higher. So the group has temporarily halted investment and development of the massive find, according to a person familiar with the plans.
The entire industry in Mexico is affected by the delay in establishing the rules, Pinones said. "All the companies that need to plan investment, all those that need to have certainty when they go to their boards to respond to questions, in order for the approval of hundreds of millions of dollars."
'Global Standards'
Like BHP Billiton Ltd, which won rights to operate the Trion field near Mexico's maritime border with the U.S., estimated to hold the equivalent of about 485 million barrels. The Australian driller has identified at least four locations on the block that have exploration potential.
The new rules on sharing "would be of key interest to us there," Tim Callahan, BHP's Mexico president, said in an Oct. 2 interview. Mexican officials have already circulated a draft version to oil companies, and discussions are ongoing, he said. "We've been working very hard to try to help influence the secretary of energy to come up with a proposal that's more in accordance with global standards."
Even if the government is inclined to cut the Talos-led group some slack, there's a political obstacle. Mexico has a presidential election next year, and the early frontrunner is a fiery populist, Andres Manuel Lopez Obrador, who's campaigning against the energy reforms. Last month he reiterated a promise to review oil contracts if he wins. Concessions to foreign capitalists will be grist to his mill.
Deputy Energy Minister Aldo Flores points out that the problem confronting his government isn't unique to Mexico. The process of dividing up an oil find that spans different jurisdictions is known in the industry as unitization, and there are plenty of international precedents.
1
2
View Full Article
Generated by readers, the comments included herein do not reflect the views and opinions of Rigzone. All comments are subject to editorial review. Off-topic, inappropriate or insulting comments will be removed.