BLOG: Survey Reveals Gaps Between Process Safety Management, Daily Ops
by Valerie Jones
|
Rigzone Staff
|
Thursday, September 28, 2017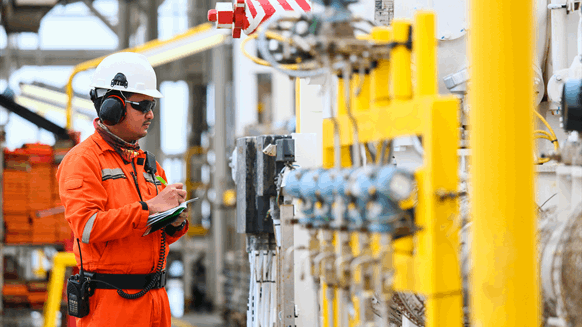 Petrotechnics report sheds a light on how process safety professionals feel about what's needed to attain operational excellence.
What role does safety performance play in oil and gas companies achieving operational excellence? According to a recent survey from software developer for operational excellence Petrotechnics, operational excellence is one of the main drivers for improving safety performance.
Sixty-one percent of respondents from around the globe felt this way. Even more respondents (71 percent) said reducing operational and major accident hazard (MAH) risk is the main driver. But 59 percent believe process safety is not always fully incorporated within an organization's operational excellence strategy and 61 percent believe companies don't have well-defined safety performance measures.
Eighty-six percent of respondents said organizational culture has the greatest impact on process safety management (PSM), but 61 percent said developing a safety culture was a challenge to delivering effective PSM. Leadership support was listed as a challenge by 57 percent of respondents. Further, 65 percent said the C-suite had little to no understanding of the health of process safety barriers and their importance. But 51 percent also feel that the C-suite is responsible for understanding where risks lie, but not for measuring and evaluating its impact or for managing and mitigating its impact.
While survey results seem a bit paradoxical in some aspects, the information suggests that in order to truly reach operational excellence, defined in the report as "the pursuit of world-class performance … by enabling everyone within the organization to consistently make the most effective operational decisions," companies must first address the issue surrounding PSM.
Seventy percent of respondents acknowledge that there are gaps between the intent of process safety planning and what actually happens on the plant or asset.
"Process safety is specialized knowledge, not typically understood by operations and maintenance, leading to implementation gaps," one survey respondent commented.
Another said, "Production takes priority over safety, which often leads to shortcuts and safety incidents, despite corporate safety policies."
"The findings represent the opinions of process safety professionals. Their focus is on major accident hazards and how to eliminate the low-frequency, high-consequence events that have such a devastating impact," Simon Jones, Petrotechnics' head of professional services and report author, told Rigzone. "The survey indicates that these professionals are on a journey to ensure that process-safety is considered by all. From the comments received, visualization of both risk and the health of process-safety barriers is seen as vital to this endeavor."
Simon also believes breaking down organizational silos will help oil and gas employers achieve operational excellence.
"Speaking more diplomatically – ensuring that the right information about hazards and risk is available in a format that can be consumed, understood and used to support OE decision-making across all parts and at all levels of the organization" is key, he said.
Generated by readers, the comments included herein do not reflect the views and opinions of Rigzone. All comments are subject to editorial review. Off-topic, inappropriate or insulting comments will be removed.