Oil Ghost Towns Dot the Landscape in Texas' Other Shale Patch
by Bloomberg
|
Dan Murtaugh
|
Tuesday, September 26, 2017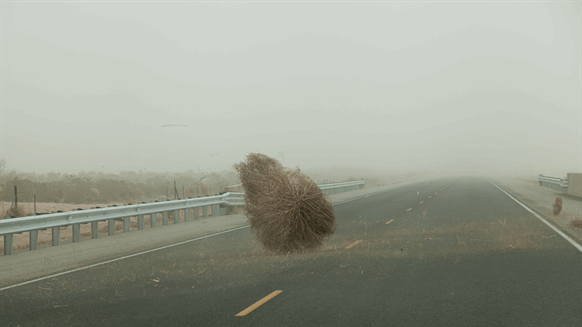 If Texas' Permian Basin is Exhibit A for the US oil boom that refuses to die, then the Eagle Ford represents all those places that have been left behind.
(Bloomberg) -- If Texas's Permian Basin is Exhibit A for the U.S. oil boom that refuses to die, then the Eagle Ford, a smaller shale patch some 400 miles to the east, represents all those places that have been left behind.
It's not that the oil rigs totally disappeared after crude prices abruptly collapsed in 2014. But it's awful quiet. The wells here aren't the kind of gushers that make it attractive to keep pumping at $50 a barrel.
As the shale drillers moved on to richer fields, the South Texas landscape became pockmarked with abandoned structures. This nimbleness—the ability to just pack up and leave at a moment's notice—may give U.S. oil companies a competitive advantage against their more rigid state-run OPEC rivals, but there is a human cost to it all.
Lives are turned upside down. Plans are crushed. Savings are drained. As three Eagle Ford veterans—Jill Potts, George Garcia and Randy Katzmark—can attest.
What does the bust look like? To Jill Potts, a pair of work gloves.
Fluorescent green ones, to be exact. She flips them on her desk at Summit Oilfield Supply, the shop she and her husband own in Cuero, a little town to the southeast of San Antonio and in the heart of the Eagle Ford formation.
The days when roughnecks hopped out of their pickups and plunked down $5 for a pair without thinking about it are long over. Potts marked them down to $2.20 a pair, barely above cost, and still her clients balk at the price.
"They're asking me for quotes on these so they can compare and get the best price," Potts, 49, says with a laugh. "They're drilling multimillion-dollar wells and they're haggling over pennies."
She entered the oil industry more than a decade ago. She was waitressing in the Dallas-Fort Worth area, and several of her regulars were oil and gas workers lured to the Barnett shale, the epicenter of America's then-nascent shale boom.
The workers kept mentioning enamels and industrial paints they were having trouble finding. So Potts started ordering them online and delivering them to drilling sites. Over the years, she and her husband, Skip, built the business into a full oil supply company selling everything from wire rope to wrenches the size of dinosaur bones.
They moved their business to the Eagle Ford in 2014. Things went great for a while. They were raking in $250,000 in revenue a month. Then the crash hit, and by 2016, that figure sank to as low as $25,000. Profits vanished. They cut out some of their more conspicuous spending—like Skip's new-truck-a-year habit—and scaled back the allowance money they sent to their kids in college. (One of them, Tyler, stopped studying petroleum engineering and is preparing instead to be a wind-turbine engineer, upon the urging of his mother: "I told him, 'Don't live and die by the price of oil.'")
Still, Potts says she has no regrets. She and Skip are turning a profit again—a competing supply shop went out of business recently, helping drive traffic their way—and they're socking those proceeds back into inventories. That way, when the next boom comes along, they figure they'll be ready to capitalize.
"I'm a gambler," Potts says. "A lot of people in the oil field are. They say it all the time when they come in my shop: 'Lord, just give me one more boom, and this time I promise I won't piss it away."
Some 50 miles to the west of Cuero lies Karnes City. Back in the summer of 2011, the tiny town got a new restaurant: Partners BBQ, with proprietor George Garcia behind the grill.
1
2
3
View Full Article
Generated by readers, the comments included herein do not reflect the views and opinions of Rigzone. All comments are subject to editorial review. Off-topic, inappropriate or insulting comments will be removed.