Women's Panel Shares Career Struggles, Successes
by Valerie Jones
|
Rigzone Staff
|
Friday, September 22, 2017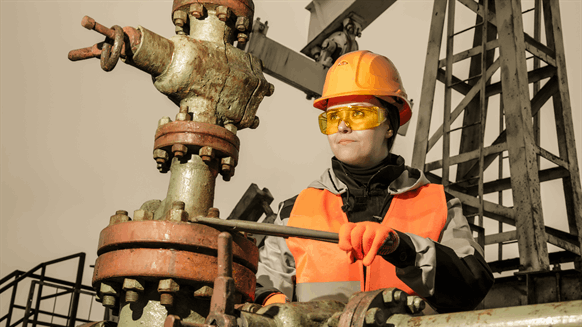 Energy professionals candidly discuss personal and professional obstacles they faced during a recent event in Houston.
Whether it's battling a life-threatening disease or deciding to move to another state and switch careers, panelists at Pink Petro's HERWorld Connect event Sept. 21, were able to overcome unique challenges – some which could have been career-ending – on their way to success in the energy industry.
Panelists Suzette Colton, head of settlements – NAGP for BP; Jennifer Hohman, director of information technology for ConocoPhillips; and Emily Fletty, vice president of human resources for Surterra shared their personal and professional challenges at the HERWorld Connect event, and more importantly, how they were able to cope with them.
Life Comes at You Fast
While all panelists juggle their career and families, the idea of work-life balance at times is just that – an idea.
"People talk about work-life balance and I don't think there is such a thing. There's just life. Sometimes one takes priority over the other – you go where the need is at the moment," said Fletty, who worked at an energy company that had gone through three reorganizations in 18 months. "I don't think you can be stressed at work and come home and be your best self. The stress started to get to be too much for me. I knew my role was likely to be eliminated, so I decided to leave that company."
Fletty now works in a completely different industry and will be moving to Tampa soon.
For Colton, 20 years after she decided to buy a sailboat with her boyfriend at the time and sail in the Bahamas, life jolted her and she was diagnosed with triple negative breast cancer stage 2. Being the breadwinner in her family, she was scared – not knowing if she would even live through it.
That was 2010. Today, she's strong, happy and confident. And she credits her employer BP for helping her get through it.
Now imagine going from being perfectly healthy to near death in a matter of days. That was the case just a few months ago for Hohman, who suffered from a fever for nine days straight before not being able to walk and having to be rushed to the emergency room where her blood pressure crashed twice. After being put into a coma, her husband was told to contact family and friends to make peace because she might not live through the week.
"All through Thursday, I was dying," Hohman recounted. "My husband remembered I had gotten bit by a flea and told my doctor … come to find out I had Rocky Mountain Spotted Fever, an extremely rare disease that can be fatal."
Doctors were able to treat Hohman and she's been recovering. But she's more than ready to get back to work.
"I don't have a college degree. I worked my ass off to get where I am … eight weeks is a long time to be at home, especially for a working woman," she said.
Coping Strategies
Despite their circumstances, none of the women played victim. Instead, they continued to plow ahead and take control of what they could with their lives. Each learned valuable lessons in how to cope and shared them with attendees.
For Fletty, who admits she's always craved stability, completely switching careers gave her more time to spend with her 13-year-old daughter, doing physical activities that helped with her health.
Colton learned that she had to take the time to do things for herself – and not feel guilty about it.
1
2
View Full Article
Generated by readers, the comments included herein do not reflect the views and opinions of Rigzone. All comments are subject to editorial review. Off-topic, inappropriate or insulting comments will be removed.