Protesting Pipelines Is Becoming A Growing 'Industry'
|
Tuesday, September 19, 2017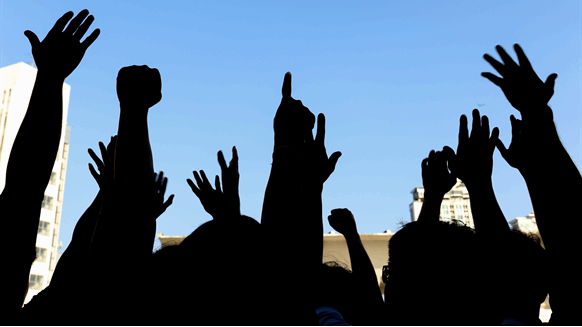 Protesting pipelines is becoming a growing 'industry' fueled by scare tactics and social media.
Stories about groups protesting the Keystone and Dakota Access pipelines in the recent past remain in the minds of many, as their headlines once splashed across countless newspapers at home and abroad. And, there will likely be many more, as protesting the construction of new oil and gas pipelines has become an industry in itself, said David Holt, president of Consumer Energy Alliance, to Rigzone.
Environmental groups such as Greenpeace, the Sierra Club and Food & Water Watch are heavily targeting the energy industry with what appears to be an extreme goal: "To not build anything next to anything," Holt said, explaining that many want to shut as many windows on the energy industry as possible.
Anti-energy groups are increasingly targeting pipeline projects, spreading misinformation about purported environmental hazards to incite citizens and elected officials, and using social media to quickly get the public on board with their agendas, said Jim Sisco, president and founder of ENODO Global, a consulting firm specializing in risk analysis and population-centric engagement, to Rigzone.
"This is a growing trend," he said, adding that it can cost companies an enormous amount of time and money and can ultimately shut a project down – as it did with the Dakota Access Pipeline. "And if companies don't change the way they manage public perception up front, it's going to continue."
Scare Tactics
In a March 2017 issue of Mother Jones, an article titled "Get Ready for the Trump Pipeline Boom" listed eight oil and gas pipeline projects in the queue for protests, including the Trans-Pecos, Bayou Bridge, Mariner East 2, Sabal Trail, Diamond, Atlantic Sunrise, Pacific Connector and Agua Prieta.
Many extremist groups are publishing the names of pipeline employees and commissioners of the Federal Energy Regulatory Commission and urging the public to travel to their homes and protest, Holt said.
"Yet the average man on the street is oblivious to the fact that the sign he is holding was made from petroleum products, not to mention the fact that he drove his car to get there," Holt said.
Recalling the Dakota Access Pipeline protest that reached full fury in 2016, Sisco said opposition began when members of the Standing Rock Sioux Tribe expressed concern about the project infringing on their sacred sites. Yet, when professional activists learned of the issue, they "hijacked" the protest, changed the narrative into an environmental issue about contamination of the Missouri River and managed to rally thousands of people against the project, Sisco said.
Protesters from around the country and the world gathered at the Standing Rock Indian Reservation in North Dakota for months and fought for the community's right for clean water, ultimately requiring Energy Transfer Partners, the parent company of Dakota Access LLC, to pay approximately $30,000 a day for security – with a final estimate of $22 million, Sisco said.
It was later determined that 95 percent of the people who came to the site to protest did not even live in North Dakota, Sisco added. Ironically, Holt said environmental protesters left behind nearly 5 million pounds of garbage for the local community to clean up.
Construction on the 1,100-mile pipeline was halted when the U.S. Army Corps of Engineers denied an easement last December, but was given a green light by President Donald Trump earlier this year.
Burying The Truth
A fact rarely mentioned is that of the approximately 2 million miles of pipelines in the country, more than 99 percent are safe and effective, Holt said. Furthermore, unlike barges and trains, pipelines do not release emissions. Like a web of arteries, they are the safest lifeline to supply oil and gas, and ultimately energy, to all areas of the country.
While some activists have good intentions when it comes to protecting the planet, others are using the oil and gas industry as a means to push an unrealistic agenda of eliminating the use of fossil fuels in the United States and fundraise for their respective organizations by organizing large protests, Holt said.
"They are raising money by scaring people with alarming information. It's not all altruistic," he said. "To go into a community and intentionally spread misinformation or to exaggerate potential implications in order to scare the public or to misinform elected officials so that rational decision making is no longer occurring is an abuse of power, social media and the system."
Similar protests occurred against hydraulic fracturing in multiple states when environmental groups claimed the practice contaminated local water supplies and caused air pollution. Word spread through social media channels like wildfire, and before long, cities such as Denton, Texas – the birthplace of hydraulic fracturing in the Barnett shale – were outlawing the practice altogether. (Texas Gov. Greg Abbott later made it illegal for local communities to make such decisions when he signed H.B. 40 into law in 2015.)
It was only when operators began holding open dialogues with communities about their plans, offering clear and transparent explanations about hydraulic fracturing and answering questions and concerns, that protests began to subside.
Eliminating Pipelines, Eliminating Energy
A 2017 study by Consumer Energy Alliance, prompted by the growing number of large-scale pipeline protests, shows that if planned oil and gas pipelines were prevented from being built, the consequences to the country would be dire on multiple levels.
The "Families, Communities and Finances: The Consequences of Denying Critical Pipeline Infrastructure" study determined that: The failure to permit and construct new pipeline infrastructure and the inability to obtain permits and approvals for coal, natural gas, nuclear and petroleum-fired electricity generation power to maintain the nation's existing power generation would create a shortfall of one-third of the electricity generation needs from the overall U.S. electricity market by 2030.
To put that into perspective, a total of 12 states – California, Florida, Illinois, Ohio, New York, Texas and all of New England – would be in a permanent blackout.
"If you follow the logical path of halting pipeline construction, you are actually hurting the people who can least afford to pay higher amounts for electricity, as prices would obviously significantly increase," Holt said.
The chances of pipeline construction stopping are unrealistic, however the price tag for security and cleanup from protests, not to mention the political ramifications, can significantly delay or shut a project down altogether, Sisco said.
Because these high costs and derailments are typically not factored into budgets, pipeline companies and operators must be armed with the right tools to effectively quash social unrest, and that means adopting a new set of strategies that go well beyond traditional public relations tactics.
Read about evolving strategies for effectively dealing with industry opposition in a social media world on Rigzone tomorrow.
Generated by readers, the comments included herein do not reflect the views and opinions of Rigzone. All comments are subject to editorial review. Off-topic, inappropriate or insulting comments will be removed.