Far From the Texas Coast, Hurricane Harvey Hits Oil Refiners
by Bloomberg
|
Barbara Powell & Jessica Summers
|
Tuesday, September 19, 2017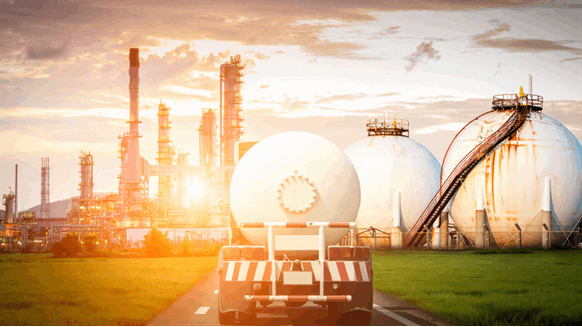 Three weeks after Hurricane Harvey ravaged the massive fuel-making industry, the region's recovery from storm damage is starting to disrupt plans for crucial maintenance.
(Bloomberg) -- Three weeks after Hurricane Harvey ravaged the massive fuel-making industry along the Texas coast, the region's recovery from storm damage is starting to disrupt plans for crucial maintenance at refineries thousands of miles away from the flood zones.
Harvey knocked out almost one-quarter of U.S. refining capacity in late August, sending gasoline and diesel prices soaring. The storm hit a few weeks before most of the nation's fuel makers were set to begin seasonal shutdowns. Demand usually slows at this time of year, so it's a good time to make repairs and install new equipment at plants that typically run all day every day.
But at least 13 refineries from Louisiana to Montana with a combined 3.27 million barrels a day have delayed maintenance for weeks or months, according to company statements and people familiar with the situation. Some are churning out more fuel to take advantage of strong margins, while others simply don't have the personnel because workers were dispatched to help repair and restart storm-hit facilities along the Gulf of Mexico.
"Any plant that has the option of pushing back the work is probably going to do so," Robert Campbell, head of oil-products analysis at Energy Aspects Ltd. in New York, said by telephone. "You have really good margins. There would be concerns about some of the skilled trades, some of the services required."
The largest U.S. refinery, owned by Motiva Enterprises LLC in Port Arthur, Texas, is said to have pushed back maintenance on a crude unit to April from September, while Exxon Mobil Corp. said it delayed work at three refineries to divert workers to Texas, where it's trying to restart its Beaumont and Baytown plants.
Harvey swept through the Gulf Coast, making landfall on Aug. 25 and leading to widespread closures of refineries, including Motiva's, with about 605,000 barrels a day of capacity.
While refiners such as Valero Energy Corp., Citgo Petroleum Corp. and Flint Hills Resources LLC were able to quickly restart plants in the Corpus Christi, Texas, area shortly after Harvey rolled through, Motiva Port Arthur, Total SA Port Arthur and Exxon Beaumont are among those still working to reach normal operations. At one point during the hurricane, at least 17 refineries either shut or operated at reduced rates.
The gasoline crack spread, a rough measure of the profit from refining crude into gasoline, jumped to the highest level in two years in late August. Profit margins for refineries in the Midwest using Bakken crude from North Dakota more than doubled, as did margins for plants along the Gulf Coast that process crude from offshore Louisiana.
Gasoline for October delivery fell 0.2 percent to $1.6658 a gallon on the New York Mercantile Exchange at 10:48 a.m. London time on Tuesday. The crack spread narrowed 2.7 percent to about $19.63 a barrel.
"If you're a refiner in the Midwest and you are unaffected, you're probably going to want to keep churning out product to take advantage of the high margins," Bill O'Grady, chief market strategist at Confluence Investment Management in St. Louis, said by telephone. "The trouble is, at some point you've got to shut everything down and clean it up."
Shifting Maintenance
Marathon Petroleum Corp. is postponing the start of maintenance at its Garyville refinery in Louisiana by about two weeks to October to make up for lost production from its Galveston Bay and Texas City plants, which had shut due to the hurricane. Exxon said it's delaying turnarounds at facilities from Louisiana to Montana.
Phillips 66's Sweeny refinery in Texas is moving maintenance to February that was set to start this month. The plant resumed normal operations Sept. 13 after the storm last month. Other Texas plants shifting maintenance include Valero's McKee refinery and Andeavor's El Paso plant.
Some refineries in the Midwest have altered their plans. HollyFrontier Corp. delayed a turnaround at its Tulsa West plant in Oklahoma to the first quarter of next year from September, and October work at its Woods Cross site near Salt Lake City for two weeks. Citgo's Lemont plant that serves the Chicago-area market also pushed back its September maintenance.
While there is a risk of more breakdowns the longer refiners delay maintenance, these delays aren't likely to cause huge problems, according to O'Grady.
"Most likely, the refineries that are delaying maintenance will be fine," he said. "We'll just see a bigger maintenance season in March."
To contact the reporters on this story: Jessica Summers in New York at jsummers24@bloomberg.net; Barbara Powell in Houston at bpowell4@bloomberg.net. To contact the editors responsible for this story: David Marino at dmarino4@bloomberg.net Steve Stroth.
Generated by readers, the comments included herein do not reflect the views and opinions of Rigzone. All comments are subject to editorial review. Off-topic, inappropriate or insulting comments will be removed.