How to Become a Safety Engineer
by Rigzone Staff
|
Monday, September 18, 2017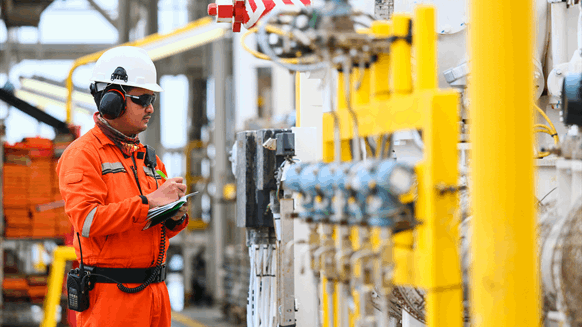 Safety engineers guide, work to effect change at oil and gas facilities.
Regularly working with heavy equipment, flammable liquids and vapors and other potential dangers, workers throughout the oil and natural gas value chain confront hazards every day. Whether they work on drilling rigs or production platforms, at refineries or petrochemical plants, or at other facilities, workers need to follow established safety practices to navigate these hazardous environments. Safety engineers, also known as safety professionals, help to ensure that worksite safety policies are followed.
Wayne Vanderhoof, Certified Safety Professional (CSP) and president of Claysville, Pa.-based RJR Safety Inc., told Rigzone that an individual typically joins the ranks of safety professionals via one of two pathways.
"A person can become a safety professional essentially two ways," Vanderhoof said. "The first is to be promoted from within the company from a position such as supervisor or experienced hand and enforce the safety procedures that the company has in place. The second way is to go to college for a two-year or four-year degree in occupational safety and health.
Safety professionals work at oil and gas facilities of all sizes as either employees or contractors.
"Every company has workers and, therefore, are required to established safety procedures and need to protect workers from injury or death so safety professionals can work in any company," said Vanderhoof. "Generally, the larger the company, the more hazardous the tasks, the more safety professionals there are on staff. However, many smaller companies contract safety professionals on a less than full-time basis."
Regardless of facility size and employment status, the role of a safety engineer is multifaceted.
"A safety professional works with all phases of operations and production – wherever workers are – to assist supervisors and management in their efforts to keep workers from being injured or killed," explained Vanderhoof. "The safety professional will identify hazards associated with tasks, develop methods to eliminate the hazard or control the hazard so it does not injure the worker. The safety professional is a resource to assist management in ensuring that the safety procedures that are in place to protect workers from hazards are utilized correctly."
Although safety engineers monitor hazards and design programs for mitigating them, it might surprise some to know that they rarely are empowered to remove workers who violate safety policies.
"The safety professional usually has no authority to hire and fire or direct the workforce," said Vanderhoof. "We work more on relationships and responsibility. We need to be able to work with people to help them understand they can work without getting injured and killed and we can help them understand the hazards and how to eliminate or control the hazards. Safety professionals are not command-and-control type people, we are more an influencer of change."
Generated by readers, the comments included herein do not reflect the views and opinions of Rigzone. All comments are subject to editorial review. Off-topic, inappropriate or insulting comments will be removed.