New China Energy Star Still Hungry After $9 Billion Rosneft Deal
by Bloomberg
|
Aibing Guo & Helena Bedwell
|
Thursday, September 14, 2017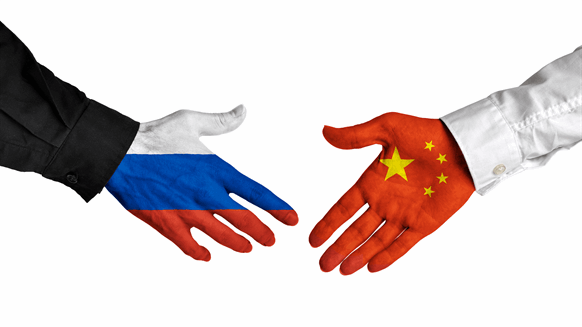 An obscure conglomerate has been thrust into the spotlight.
(Bloomberg) -- A $9 billion stake in one of the world's biggest oil companies may not be enough for CEFC China Energy Co.
A week after China's largest private energy company struck a deal for a chunk of Rosneft PJSC, it's been pegged as a possible investor in a Russian metals and power business and a free-trade zone in Georgia's Black Sea port of Poti.
The Rosneft deal has thrust CEFC into the spotlight, transforming it from an obscure conglomerate focused mainly on the former Soviet Union and eastern Europe into a conspicuous player on the world energy stage, mixing with the likes of Glencore Plc. This rapid metamorphosis is raising curiosity about the company's origins, how close it is to the government and how it's funding the expansion.
"It's surprising because this little-known company has been able to do the type of large-scale transactions that are left to state-owned energy companies," said Laban Yu, head of Asia oil and gas equities at Jefferies Group LLC in Hong Kong. "Many people have never heard of it and don't know where the funds for these acquisitions are coming from."
Starting as a small trading company in 2002, CEFC has grabbed assets including storage, terminals, refineries and oil fields, as well as financial businesses. In its statement on the Rosneft deal, CEFC described itself as the country's largest private oil and gas company, with 50,000 employees and revenue of more than $40 billion.
The Chinese company is considering the acquisition of a 75 percent stake in the Poti Free Industrial Zone, Giorgi Gakharia, Georgia's economy minister, said in an interview in Tbilisi on Wednesday. Gakharia said he plans to travel to China sometime next week to sign the deal for the port area, which includes chemical and steel industries and light manufacturing.
Belt, Road
Meanwhile, En+ Group Ltd., the power and metals business controlled by Russian billionaire Oleg Deripaska, is looking at CEFC as a possible cornerstone investor for a planned initial public offering, according to two people with knowledge of the matter.
CEFC declined to comment on either development.
More active outside of China than at home, CEFC has followed President Xi Jinping's efforts to boost investment and construction across a trade route between China, Asia and Europe, in what is known as the "Belt and Road" initiative, amid his government's encouragement of private enterprise. Company officials joined Xi's visit to Russia in July.
At the same time, a focus on energy may leave the company unaffected by a recent clampdown on "irrational" overseas investments -- a campaign that's put the likes of HNA Group Co., Fosun International Ltd., Anbang Insurance Group Co. and Dalian Wanda Group Co. under scrutiny. Regulators list oil and mining exploration under its encouraged category for investment.
Oil Assets
CEFC's Chairman Ye Jianming told Fortune magazine last year that the company bought at auction its first oil trading assets, which were once owned by Lai Changxing, who fled to Canada in 1999 to avoid accusations of smuggling and is now serving a life sentence in China. Ye denied having connections to the country's military in the Fortune interview. He is also the biggest shareholder of CEFC International Ltd., an oil-trading unit listed in Singapore, according to its latest annual report.
Ye continues adding to holdings that span Africa, Europe -- include a brewery and a soccer team in the Czech Republic -- Central Asia, the Middle East and now Russia. In February, CEFC signed a deal with Abu Dhabi National Oil Co. for a share of an onshore venture that includes state-run giant China National Petroleum Corp., as well as international oil majors BP Plc and Total SA. In March, it agreed to buy a stake in the U.S. broker Cowen Group Inc.
With assistance from Adrian Leung Jack Farchy Blake Schmidt Yuliya Fedorinova Hannah Dormido and Ben Scent. To contact the reporters on this story: Aibing Guo in Hong Kong at aguo10@bloomberg.net, Helena Bedwell in Tbilisi at hbedwell@bloomberg.net. To contact the editors responsible for this story: Alexander Kwiatkowski at akwiatkowsk2@bloomberg.net, Torrey Clark at tclark8@bloomberg.net, Ramsey Al-Rikabi, Adam Majendie.
Generated by readers, the comments included herein do not reflect the views and opinions of Rigzone. All comments are subject to editorial review. Off-topic, inappropriate or insulting comments will be removed.