China Big Oil Investors Shrug Off Future Fossil-Fuel Vehicle Ban
|
Monday, September 11, 2017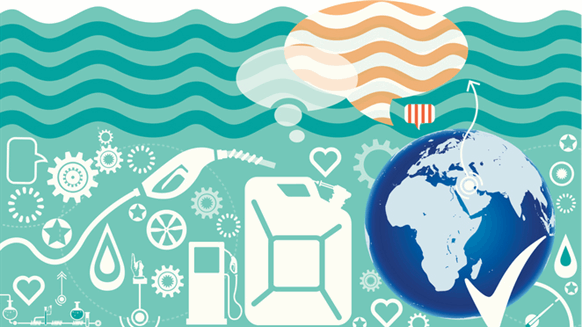 The prospect of China banning fossil fuel-powered vehicles is failing to alarm investors in the oil producers likely to lose out.
(Bloomberg) -- The prospect of China banning fossil fuel-powered vehicles is failing to alarm investors in the oil producers likely to lose out.
Shares in the listed units of China's biggest oil companies -- PetroChina Co., Cnooc Ltd. and China Petroleum & Chemical Corp. -- barely budged after the government said it's working on a timetable to end production and sales of vehicles that run on gasoline, diesel and other fossil fuels. By contrast, electric car producers and the companies that supply their components surged.
"Investors probably have priced in the risks for electric car replacement in the future," said Laban Yu, head of Asia oil and gas equities at Jefferies Group LLC in Hong Kong. "People understand gasoline and diesel cars will probably be gradually replaced by electric cars around the year 2040, and there's enough time for investors to look carefully into such investment and properly phase out if they choose to."
From the Organization of Petroleum Exporting Countries to BP Plc, the world's biggest oil producers have started to take electric vehicles seriously as a long-term threat to demand. The head of Royal Dutch Shell Plc has warned oil liquids demand could peak in the early 2030s as electrification accelerates.
Before China's announcement, Bloomberg New Energy Finance forecast that global electric vehicles will displace 8 million barrels a day of oil demand by 2040, based on the assumption that about half of new car sales in China will be EVs. The impact of a total ban on that forecast depends on when China enacts its policy, according to Colin McKerracher, head of advanced-transport analysis at Bloomberg New Energy Finance in London.
New Policies
"They've already set a target for EVs being 20 percent of sales for 2025 and we currently don't expect that to change," he said. "Our 2040 forecast doesn't include any new policies not yet enacted so this would be additional to what we forecast previously."
The U.K. and France have already said they'll ban sales of diesel- and gasoline-fueled vehicles from, or by, 2040. While Beijing is yet to set a deadline, 2040 would be "logical," according to Neil Beveridge, an analyst at Sanford C Bernstein & Co. in Hong Kong.
If China follows through on its plan, Beveridge estimates that demand for gasoline will peak by the middle of next decade and oil consumption by 2030.
"Getting buy-in for such a phase out would require coordination and agreement between many levels of government," said BNEF's McKerracher. "It will probably take a long time to work out the implementation details."
PetroChina and Cnooc both closed 0.2 percent lower in Hong Kong. Sinopec, which is trading Monday without the right to receive its next dividend, gained 0.8 percent. Cnooc's Beijing-based spokeswoman declined to comment on the matter, while spokesmen for Sinopec and PetroChina couldn't immediately comment.
The Winners
While investors in oil producers may be holding tight for more details or simply unconcerned about the ban, the same can't be said for shareholders in the car manufacturers and companies that produce the components and raw materials for electric vehicles.
Suppliers of battery materials, from Australian lithium miners to suppliers of cobalt from Africa, surged. Galaxy Resources Ltd., which began exports of lithium to China this year, advanced 6.8 percent in Sydney. China Molybdenum Co., a miner of cobalt and copper in the Democratic Republic of Congo, jumped in Hong Kong to its highest since 2007.
BYD Co., China's largest electric-vehicle maker, gained as much as 7.2 percent while BAIC Motor Corp. jumped 2.9 percent. Guoxuan High-Tech Co., an EV battery manufacturer, rose as much as 8.3 percent in Shenzhen.
To contact the reporter on this story: Aibing Guo in Hong Kong at aguo10@bloomberg.net. To contact the editors responsible for this story: Alexander Kwiatkowski at akwiatkowsk2@bloomberg.net Ramsey Al-Rikabi.
Generated by readers, the comments included herein do not reflect the views and opinions of Rigzone. All comments are subject to editorial review. Off-topic, inappropriate or insulting comments will be removed.