Canadian Natural Buys Cenovus' Pelican Lake for $787 Million
by Bloomberg
|
Kevin Orland
|
Tuesday, September 05, 2017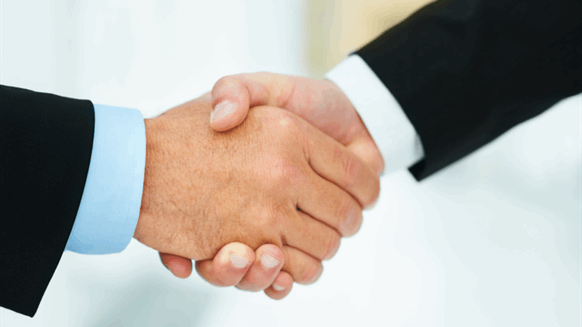 Canadian Natural Resources agreed to buy Cenovus' Pelican Lake heavy-oil project and other assets in northern Alberta.
(Bloomberg) -- Canadian Natural Resources Ltd. agreed to buy Cenovus Energy Inc.'s Pelican Lake heavy-oil project and other assets in northern Alberta for C$975 million ($788 million), bulking up its operations in the area.
The assets produce the equivalent of about 19,600 barrels of oil a day, Canadian Natural said in a statement Tuesday. Cenovus plans to use the cash to pay off part of the C$3.6 billion bridge loan it used in the purchase ConocoPhillips' Canadian oil and gas assets announced in March, according to a separate statement.
Canadian Natural is picking up an asset that fits easily into its portfolio because it already runs similar operations and owns oil and gas fields in the Pelican Lake area. For Cenovus, the deal is the first sale from a batch of assets it put on the block to help whittle down debt from the ConocoPhillips acquisition. The price it garnered may help calm investors' fears that it wouldn't be able to generate enough cash from the sales to pay off those borrowings.
"It's a relief (in our view) to see that Cenovus was able to fetch a decent price for the asset," Justin Bouchard, an analyst at Desjardins Securities in Calgary, said in a note to clients. He estimated the sale at eight times the asset's cash flow, based on oil pricing at the futures strip.
Cenovus also is selling its Suffield oil and natural gas drilling project and its Palliser and Weyburn oil assets in Western Canada. The sale process for Suffield is well advanced, the company said. The sale to Canadian Natural is targeted to close on or before Sept. 30, said the companies, which are both based in Calgary.
'First Step'
"This represents a significant first step in our strategy to optimize our asset portfolio and de-leverage our balance sheet," Cenovus Chief Executive Officer Brian Ferguson said in the statement. "The divestiture processes for the remainder of our legacy conventional assets are proceeding as expected, with strong interest from potential buyers."
Cenovus shares rose 1.2 percent to C$10.07 at 8:40 a.m. in Toronto. Canadian Natural slipped 0.5 percent to C$38.55
The deal is the second major purchase for Canadian Natural this year, following its C$12.7 billion acquisition of most of Royal Dutch Shell Plc's and Marathon Oil Corp.'s oil-sands production. Investors cheered that deal, sending the shares up 10 percent the day it was announced.
In contrast, Cenovus's ConocoPhillips takeover has been widely panned, and the shares had slid more than 40 percent since that purchase was announced.
With assistance from James Herron. To contact the reporter on this story: Kevin Orland in Calgary at korland@bloomberg.net. To contact the editors responsible for this story: Reg Gale at rgale5@bloomberg.net Joe Carroll, Jim Efstathiou Jr.
Generated by readers, the comments included herein do not reflect the views and opinions of Rigzone. All comments are subject to editorial review. Off-topic, inappropriate or insulting comments will be removed.
RELATED COMPANIES
Company: Canadian Natural Resources Ltd.
more info