How to Sell Yourself in the Job Search: Follow-up
by Matthew V. Veazey
|
Rigzone Staff
|
Monday, September 11, 2017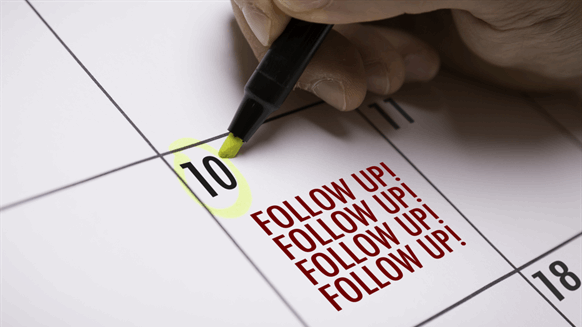 You need to strike a balance during this final phase of personal selling.
Unless you've gotten a job offer during your interview or you've been told that you're no longer a candidate, you're done applying the personal selling process after the interview ends and need only wait to hear if you've been selected, right? Wrong!
Although the conclusion of the interview – the close – marks the end of the "real-time" phase of seeking a job and the process becomes more passive, you still need to sell yourself. You've entered the final step in personal selling: following up with the interviewer with an email, hand-written thank-you note or phone call.
More from Rigzone's Personal Selling Series
Here are links to additional articles in Rigzone's series on personal selling for the job search:
"The main reason why the follow-up is important is that the interviewer might be undecided, and you can help them see things your way," said Jason Lavis, managing director of UK-based Out of the Box Innovations Ltd. and a specialist in energy marketing and recruitment. "Also, it takes a number of interactions to start to 'get to know' someone. It's often on the second or third interaction that bonding starts to occur. This is simple human psychology."
In addition, Lavis pointed out the follow-up is the culmination of a fully executed personal selling process.
"Following up won't work if previous steps have not been completed properly," Lavis explained. "If you haven't prepared, rehearsed and given it your best, there are no clever approaches or phrases that might work."
"Just like any high-level performer, it's the preparation stage that's most important," continued Lavis. "With proper preparation, the rest of the path becomes a lot easier. This probably applies to the job role that you're going for as well."
Strike a Balance
Like previous stages of personal selling, following up requires a balance of assertiveness and restraint: you need to remind the interviewer(s) why you think you're the best person for the job, but overdoing it can derail your chances. Asking the right questions during the tail end of the interview can help you to strike that balance, said Steve Benson, CEO of Badger Maps, a sales route planner for field salespeople.
"You can be too aggressive in the follow-up phase," said Benson. "The best play is to ask what the process is and, if they don't follow the process, then reach out for clarification."
Benson acknowledged that the aggressiveness threshold differs by company and type of position.
"Some companies, especially ones that are seeking aggressive salespeople, will look for people to follow up more aggressively," noted Benson, pointing out that various websites offer "insider" insights about companies' interview processes. "All that being said, just like in sales you should follow up at an appropriate cadence – tapering with time – until you get a 'yes' or a 'no.'"
In regard to following up, you should also recognize when it's time to cut your proverbial losses if you never get a response, advised Mike Smith, Founder of SalesCoaching1.com.
"If you don't hear anything within the specified time, you probably are out of the picture," said Smith. "Don't keep hoping. Move on. Here is a little phrase to keep in mind: 'You have to open a lot of oysters before you find a pearl.' That means, in selling and searching, don't get discouraged. Be focused and persistent."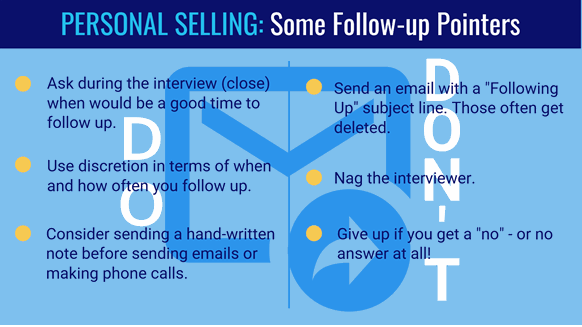 Generated by readers, the comments included herein do not reflect the views and opinions of Rigzone. All comments are subject to editorial review. Off-topic, inappropriate or insulting comments will be removed.