Prolonged Shutdowns From Harvey Could Strand Shale Output
by Bloomberg
|
Meenal Vamburkar
|
Tuesday, August 29, 2017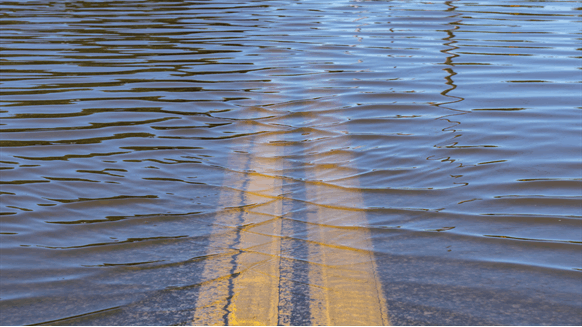 The mutual dependency of pipeline companies and refiners is being magnified as Tropical Storm Harvey takes its toll on the Gulf Coast, putting at risk the US shale boom.
Bloomberg) -- The mutual dependency of pipeline companies and refiners is being magnified as Tropical Storm Harvey takes its toll on the Gulf Coast, putting at risk the U.S. shale boom.
With a number of refineries in the region closed by the storm, pipelines have fewer places to deliver oil carried from prolific West Texas shale basins. When pipelines close, the refineries still open have less oil to process. Ultimately, producers may find their oil stranded with their route to the coast limited.
A few more days isn't a problem, according to Libby Toudouze, a partner at Cushing Asset Management LP. But if the Gulf Coast closures continue into and past next week, it could spur a ripple effect across the industry, she said.
"If there's no place for it to go, you can't keep jamming more crude into the line," Toudouze said in a telephone interview.
Marathon Petroleum Corp.'s Galveston Bay refinery in Texas City, with a capacity of 451,000 barrels a day, may be forced to halt production within several days because it is running out of crude, a person familiar with operations said on Monday. Its oil comes via Magellan Midstream Partners LP, which suspended use of its pipeline in the area on Sunday.
Magellan didn't immediately respond to a request for comment. Marathon declined to comment on operations at its plant.
While the closures don't affect oil produced offshore in the Gulf of Mexico, producers in the Eagle Ford and Permian basins will eventually feel the pain if refiners and pipelines serving the Houston area -- the heart of the U.S. oil industry -- can't quickly right themselves, said Rob Thummel, managing director at Tortoise Capital Advisors LLC.
"The longer the duration, the more problems are going to come from disruptions," Thummel said by telephone. "We really have to wait and see."
30 Inches of Rain
As the Houston area copes with flooding from the storm's first surge, it remains unclear how much infrastructure is damaged. So far, the hurricane has drenched Houston with as much as 30 inches of rain, with downpours forecast to last through the week.
A major concern is that the storm isn't yet finished with the Texas coast, according to the National Hurricane Center.
While Harvey retreated to the Gulf of Mexico on Monday, it is poised to regain strength before crashing back on the Texas-Louisiana border, the center reported. The area near the Louisiana line has 1.65 million barrels a day of refining capacity, including Exxon Mobil Corp.'s Beaumont plant, according to Andy Lipow, president of Lipow Oil Associates LLC.
Already, the Beaumont facility has lowered its operating rates because of flooding and Motiva is said to be considering shutting down Tuesday, according to people familiar.
If Harvey causes shutdowns in Louisiana, as much as 30 percent of U.S. refining capacity overall could be offline, according to a Tudor Pickering Holt & Co. note to clients. In that case, disruptions could last one to two weeks, the note said.
Cautious Drillers
Portions of drilling areas are already in a "holding pattern," waiting for pipelines and refineries to come back online, said Scott Hanold, a Minneapolis-based analyst at RBC Capital Markets, in a research note Tuesday.
"While it is premature to speculate on the ultimate impact to our production, we anticipate volumes will be restrained until Gulf Coast and Houston refineries are back online," said Gordon Pennoyer, a spokesman for driller Chesapeake Energy Corp., in a email.
Meanwhile, refiners in other parts of the country unaffected by the storm saw their fortunes rise.
HollyFrontier Corp. , which operates across the U.S. Midwest and the Rocky Mountains, led the gains, climbing as much as 9.1 percent. At the same time, the gasoline crack spread, a rough measure of profit from processing crude into fuel, was up as much as 18 percent Monday, the most since February, implying higher margins for those refineries that are still operational.
To contact the reporter on this story: Meenal Vamburkar in New York at mvamburkar@bloomberg.net. To contact the editors responsible for this story: Reg Gale at rgale5@bloomberg.net Christine Buurma.
Generated by readers, the comments included herein do not reflect the views and opinions of Rigzone. All comments are subject to editorial review. Off-topic, inappropriate or insulting comments will be removed.