How to Sell Yourself in the Job Search: Closing the Sale
by Matthew V. Veazey
|
Rigzone Staff
|
Tuesday, September 05, 2017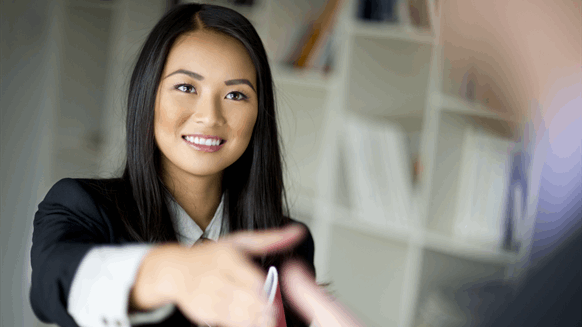 A good close can keep your job candidacy alive.
Closing marks the final stage of your sales presentation or job interview, but often it is not the last step in the personal selling process. In fact, unless you make the sale or get a job offer on the spot, a well-executed close can help you to keep the lines of communication open with the prospect or candidate.
"Whether in sales or interviewing situations, it is desirable to have agreed-upon next steps at the end of a call or interview," John Holland, co-founder of the trademarked CustomerCentric Selling training workshops and co-author of a book by the same name, told Rigzone. "After an initial interview, it could be that the candidate will provide two or three references."
More from Rigzone's Personal Selling Series
Here are links to additional articles in Rigzone's series on personal selling for the job search:
Show that you're the solution
Successful sales professionals are accustomed to closing, but individuals outside of sales may find the process daunting. Closing should not be difficult for someone who's done their homework earlier in the personal selling process, said Mike Smith, Founder of SalesCoaching1.
"Closing is easy if you have done a good job qualifying," Smith said. "You are looking to show there is fit for what you are offering and their real or perceived needs."
Smith explained that closing should emphasize solving a problem.
"The product, or you, is not what they buy," Smith pointed out. "They buy a solution to their problem. Your job is to help them to see that your skill set is the best solution for them. Match the requirement to your experience."
You can present yourself as the solution by asking a series of prepared questions, Smith continued. He explained that that questions should focus on topics such as:
the industry
the company
the company's culture
training and continuing education
paths to advancement
other factors not related to pay and benefits.
Once you've asked your prepared questions and received responses, Smith recommends asking one more question that can help to keep your job candidacy alive – or at least help you to refine your personal selling approach for future reference.
"You should say, 'Well, based on what you have seen, is there any reason I could not be hired for this position?'," Smith said. "Make them tell you. This is your best chance to fix something that might be an obstacle."
'Earn The Right' to Ask If You're Advancing
To be sure, asking an interviewer if you're moving to the next stage of the candidate screening process demands some diplomacy on your part, noted Holland. Moreover, he said that you need to be reasonably confident that the interview is going well.
"I believe buyers prefer to buy rather than being sold," Holland said. "Part of that is not pressuring buyers and by asking questions rather than making statements."
1
2
View Full Article
Generated by readers, the comments included herein do not reflect the views and opinions of Rigzone. All comments are subject to editorial review. Off-topic, inappropriate or insulting comments will be removed.