How Did Worker Responses Vary Between Regions?
by Valerie Jones
|
Rigzone Staff
|
Wednesday, August 23, 2017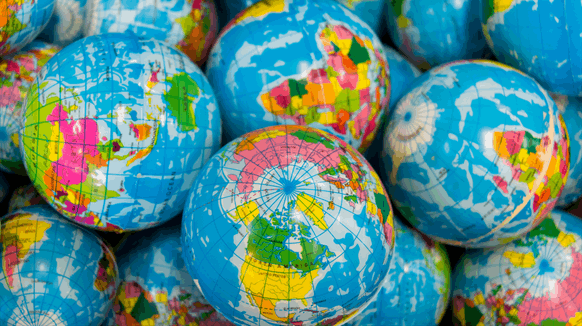 Rigzone's worker exodus survey explores the differences among respondents in different countries.
Among the 1,500 respondents to Rigzone's worker exodus survey, regional differences were prevalent, evidenced in everything from industry experience to overall sentiment. In this article, we'll highlight some of the differences among the regions of North America, EMEA (Europe, Middle East and Africa) and Asia by taking a microscope to the countries in each respective region with the most survey respondents.
North America: Experienced U.S. Workers "Uncertain" about Industry
A large chunk of global respondents (about 30 percent) came from North America. This isn't terribly surprising considering the popularity and availability of oil and gas jobs in the region, the United States in particular, a few years ago – due in part to the shale revolution and the oil boom in North Dakota. But the industry has since taken a massive dip and many workers are left wondering "what's next?"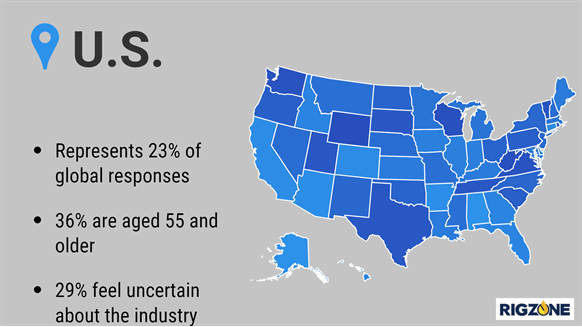 Of North America respondents, the United States is the leading country, representing 76 percent.
Overall, U.S. respondents were a more experienced group (45 percent had more than 20 years of oil and gas experience) and were a bit older (36 percent are age 55 and older). Most of the respondents who had been the victim of layoffs during the downturn were still currently looking for jobs in the industry at the time of the survey (mid-May). But 68 percent of those still employed in oil and gas had considered leaving due to the industry downturn.
One thing to note of U.S. respondents was a high level of uncertainty toward the oil and gas industry. Twenty-nine percent of respondents said they felt "uncertain" about the industry, followed by 24 percent who said they felt "concerned."
EMEA Region: UK's "Disenchanted" Gen Xers
The EMEA region (which includes Europe, the Middle East and Africa) accounted for 41 percent of survey respondents, most of whom came from the UK. Globally, UK responses were 11 percent, the Middle East had 10 percent of respondents and Africa accounted for nine percent.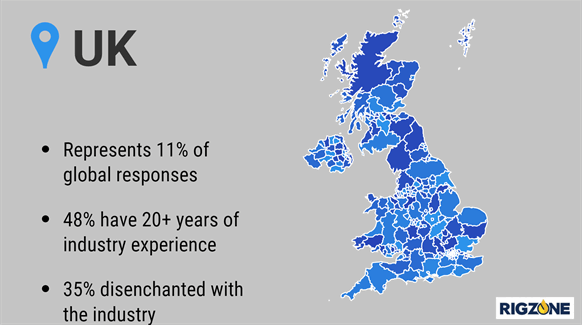 The UK was an experienced bunch, with 48 percent having more than 20 years of experience. The overwhelming majority of respondents (59 percent) were Gen Xers, ranging in age from 36 to 54 years old. Most of those who remained employed in the oil and gas industry had considered leaving (73 percent). And while the majority of U.S. respondents expressed concern for the industry, 36 percent of UK respondents said they were in fact "disenchanted" with the industry.
Asia: India's Younger Workers "Optimistic"
According to the survey, 21 percent of respondents came from Asia; 8 percent came from India. Unlike the United States and UK respondents, the majority of respondents from India (27 percent) had between 10 and 20 years of industry experience and 53 percent were millennials (aged 18 to 35 years old).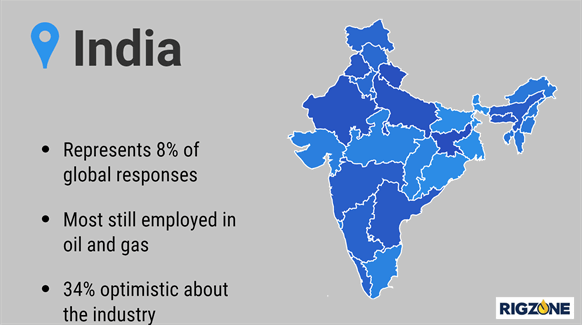 They also had the largest percentage of respondents out of the three who were still employed in oil and gas (38 percent). And interestingly, of those people, 67 percent say they had not considered leaving despite the industry's downturn. That same loyalty and trust of the industry remained with India respondents throughout the survey. While 35 percent of respondents said they were "concerned" with the industry, another 34 percent expressed that they were "optimistic" about the industry.
Methodology: Rigzone conducted the worker exodus survey using online survey tool SurveyMonkey. The survey was executed via email to Rigzone's member database as well as the company's social media platforms from May 11 through May 18 and garnered more than 1,500 responses from nearly 100 countries.
Generated by readers, the comments included herein do not reflect the views and opinions of Rigzone. All comments are subject to editorial review. Off-topic, inappropriate or insulting comments will be removed.
MORE FROM THIS AUTHOR
Valerie Jones
Senior Editor | Rigzone