How to Sell Yourself in the Job Search: Handling/Overcoming Objections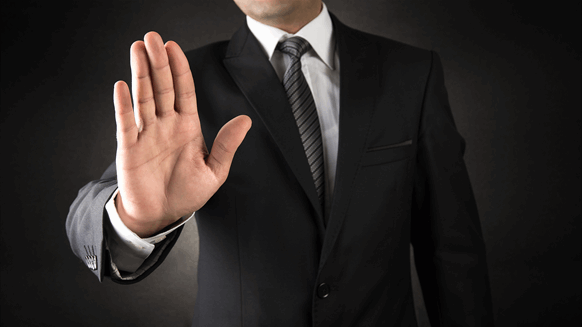 Objections won't necessarily sink your chances of getting the job.
If you've ever been in a position where you've had to sell an idea, service, product – or yourself – you may have been told beforehand "don't take no for an answer." Although the admonition may help to boost your resolve as the seller, it implies that you can expect pushback from the prospect in a sales presentation – or, in the case of this series, the person interviewing you for a job.
"Price, terms and conditions and timing tend to be the most common objections sales people will encounter," noted Greg Accardo, director of the Professional Sales Institute and marketing instructor with Louisiana State University's E.J. Ourso College of Business. "All three could be experienced in the job search. Price will relate to salary requirements. Terms and conditions, with duties and responsibilities, along with multi-year compensation packages. And timing will surface occasionally when negotiating job start dates."
More from Rigzone's Personal Selling Series
Here are links to additional articles in Rigzone's series on personal selling for the job search:
Accardo added that objections are a natural part of the sales process. In fact, he said that an interview without objections might be a greater cause for worry.
"If a prospect absorbs your sales presentation and offers nothing back in the form of questions or objections about some feature or benefit of your product or service, it's a good chance they're not interested," Accardo explained. "Always remember: questions and objections are indications the prospect is interested but not yet ready to close."
Jason Lavis, managing director of UK-based Out of the Box Innovations Ltd. and a specialist in energy marketing and recruitment, pointed out that objections offer you an opportunity to shine in the interview.
"Objections are where you're not quite on the same page," Lavis said. "Either there is a misunderstanding, or you're being tested. This is the time to demonstrate your mettle."
Lavis added that objections during the interview phase likely are not directed just at you.
"Keep in mind that they're the same objections that everyone else is hearing," explained Lavis. "You're all on the same obstacle course. The tough ones are tough for everyone."
How to Navigate the 'Obstacle Course'
Lavis' comment in the preceding paragraph alludes to the preparation you've done earlier in the personal selling process, before you take a seat at the interview conference table. Just like the interview, objections occur in real-time. How can you handle and overcome them?
You can anticipate them and plan a course of action for each before you've entered the conference room, remarked Jerry Acuff, CEO of the sales consulting firm Delta Point, Inc.
"Be prepared for the objections," Acuff said. "Carefully think through what they might say and practice preparing as many possible responses as scenarios you might encounter."
Acuff pointed out that three basic objection scenarios matter in sales presentations:
A small difference in what we want or expect and what they offer
A medium-sized difference
A huge difference
"Prepare for all three IF the job is important," continued Acuff. "Also be prepared to refer them to a strong reference – or two or three – and have them ask them what they think of you as a candidate as it relates to the difference you are discussing."
Accardo recommends a tactic of "pause and wait" as the initial response when an interviewer/prospect presents an objection.
1
2
View Full Article
Generated by readers, the comments included herein do not reflect the views and opinions of Rigzone. All comments are subject to editorial review. Off-topic, inappropriate or insulting comments will be removed.