What Will Happen to Experienced Oil, Gas Workers?
by Valerie Jones
|
Rigzone Staff
|
Wednesday, August 16, 2017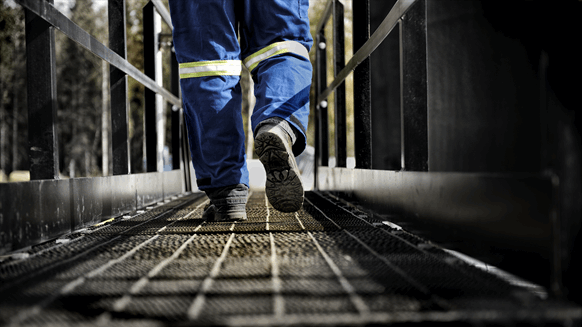 Rigzone's worker exodus survey finds that highly experienced oil and gas professionals are struggling with whether or not to return to the industry in the wake of a new normal.
Nearly one-third of respondents to Rigzone's worker exodus survey are highly experienced (having more than 20 years of oil and gas experience). This group of industry professionals has been quite vocal about how they feel about leaving the industry – either voluntarily or involuntarily.
Some have decided to leave the industry due to disappointing job opportunities or an uncertain future with volatile commodity prices. Several have gone as far as to swear off the industry altogether and warn newcomers against entering into the world of oil and gas.
"As long as we have workers willing to learn and put their skills to use, they will be hired. There is no room for complacency; workers need to adjust to change."
Fifty-two percent of Rigzone's respondents with more than 20 years of industry experience are currently unemployed, having most recently worked in oil and gas. Almost half of these people were the victim of a layoff within their company. Yet 83 percent of them are still actively looking for employment in the oil and gas industry.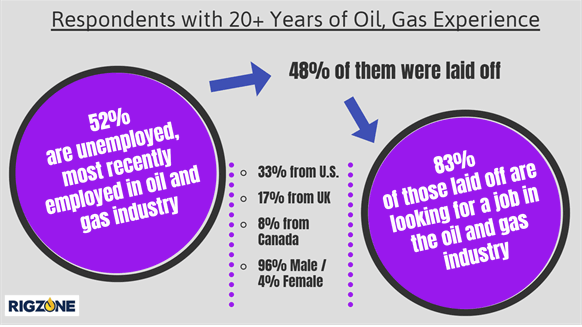 Glory Days Are Gone
Many experienced job-seekers have reached out to Rigzone, expressing frustration with employers, claiming they were pushed out to make room for younger and cheaper labor.
However, Regina Mayor, U.S. and global energy sector leader for KPMG, doesn't see this as the case.
"My perspective is that less experienced resources have been cut to save more experienced resources," Mayor told Rigzone. "Oil companies have favored experience and performance during the downturn … they have tried to use this down cycle to create a high-performing culture and use previous performance and experience as the key indicator for retaining resources."
David Hsieh, an oil and gas professional with 35 years of industry experience, was laid off (he was asked to sign a termination agreement) during the most recent downturn and he says this low cycle is much different than past ones.
"I chose to retire after working as an expat in China for 18 years and there was no hope of a firm recovery," he told Rigzone. "I am one of the lucky ones that enjoyed the glory days of big oil and my own frugal lifestyle to have plenty to retire at age 58. I did not actively look for employment and didn't focus in my old field, but feel the combination of my 35 years' experience and seniority give the recruiters excuses to bypass me."
Having survived the energy crises of the 80s and the financial crisis of 2009, Hsieh maintains this down cycle is more than a "severe winter."
"The upstream oil and gas industry recovered within a year each time even though many of us in operations were removed from the payroll," he said. "The world had never experienced such a drastic collapse of an industry and this is more like an 'Ice Age' of the petroleum industry in my opinion. The glory days are gone!"
Life After Oil and Gas
Some workers found greener pastures in other industries after being laid off from oil and gas. Twenty-year oil and gas veteran Reinel Solano is one such person, who used his severance money to purchase his own Floor Coverings International franchise in Houston. Solano, who was a reservoir engineer, has since hired two full-time employees and employs five crews of contractors. Though he said managing a business doesn't come without its stress, he enjoys the work. Still, returning to oil and gas is a possibility.
"I would like to have my company more established and with a staff that can sustain itself; then I would consider going back into the oil business," Solano said.
1
2
View Full Article
Generated by readers, the comments included herein do not reflect the views and opinions of Rigzone. All comments are subject to editorial review. Off-topic, inappropriate or insulting comments will be removed.