How to Sell Yourself in the Job Search: The Presentation
by Matthew V. Veazey
|
Rigzone Staff
|
Monday, August 14, 2017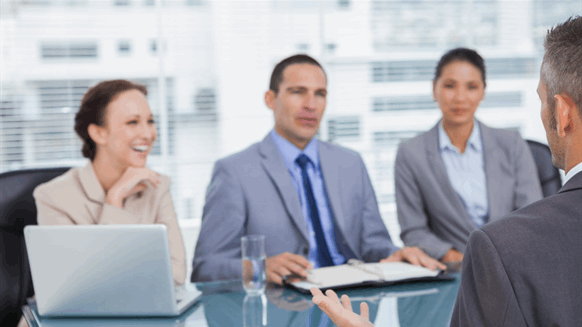 'Be prepared and execute' during the job interview, says sales pro.
Like the approach, the presentation occurs during the "real-time" stage of applying the personal selling process in your job search. In fact, the presentation is part of the approach – more specifically, the job interview.
"The critical importance of the presentation lies in the fact it's your opportunity to demonstrate to the prospect how your solution can solve the identified, or perceived, problem or goal," said Greg Accardo, director of the Professional Sales Institute and marketing instructor with Louisiana State University's E.J. Ourso College of Business.
Accardo added that it behooves the salesperson or job candidate to make the most of this window of opportunity. "If someone grants you their limited and valuable time to make a presentation, be prepared and execute," he said.
Follow A Three-Point Plan
Jason Lavis, managing director, UK-based Out of the Box Innovations Ltd., pointed out that you should do three basic things in a sales presentation:
Outline the problem
Demonstrate that you understand the problem better than your customer
Explain how your product or service can help overcome the problem
"Added to this will be any evidence, numbers, charts, testimonials and so on," Lavis continued. "It also makes sense to stick to these practical points, for the sake of clarity, time and the concentration span of your customer."
Lavis, whose specialty areas include marketing and recruitment in the energy industry, offered an example of how one can tailor the three steps above to an oil and gas job interview.
More from Rigzone's Personal Selling Series
Here are links to additional articles in Rigzone's series on personal selling for the job search:
"In an oil and gas job-hunting context, you can explain the common challenges that are faced when carrying out the role, ones that often go unnoticed or tend to be improperly addressed," he said. "You can highlight times when you've been instrumental in identifying and solving these issues that others might not have. This way, you can cover some of the interviewers' questions and objections in advance, and create a level of confidence in your skills."
Lavis added that taking such a problem-solving bent into your interview rather than a more traditional focus can help you to stand out among other candidates.
"This is more effective than telling stories about your life, or job postings," Lavis explained. "Most of your competition will be able to talk generally about their work history. How many can relay situations where they were a linchpin or cornerstone of an operation?"
Show That You Understand The 'Buyer'
During the presentation, show that you know the company's goals, aspirations and culture, said Accardo. He added that prospective employers typically provide such information very conspicuously.
"They're looking for candidates who can assist their team in achieving outcomes," Accardo said. "I tell my students to study the company mission statement before the big interview, or presentation. The mission statement can tell you a lot about the company vision, goals and culture."
Aside from showing the interviewer that you understand the company's mission, let your presentation demonstrate that you've studied the job description, said John Holland, co-founder of the trademarked CustomerCentric Selling training workshops and co-author of a book by the same name.
"Before presenting their background and experience, interviews are likely to go better if candidates better understand the position and requirements," Holland said. "You can't fabricate items on your resume, but interviews should go better if you know what areas of your background and experience should be highlighted."
Holland also stressed the value of asking relevant questions.
1
2
View Full Article
Generated by readers, the comments included herein do not reflect the views and opinions of Rigzone. All comments are subject to editorial review. Off-topic, inappropriate or insulting comments will be removed.
MORE FROM THIS AUTHOR
Matthew V. Veazey
Senior Editor | Rigzone