BLOG: Fatigue May Be Debilitating Your Workforce
by Valerie Jones
|
Rigzone Staff
|
Thursday, August 10, 2017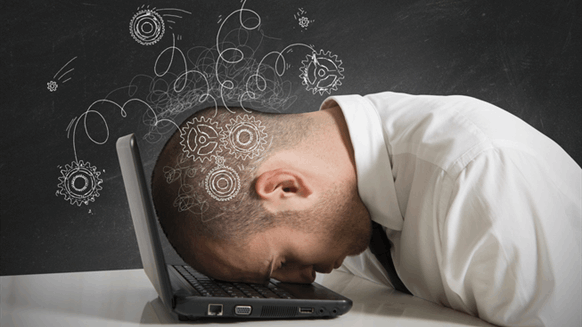 A new report from the National Safety Council suggests that US workers are fatigued enough that it affects their work performance.
We've all heard the warnings against not getting enough sleep. And many of us are probably guilty of not getting enough sleep despite knowing said warnings.
*slowly raised hand*
But a new report by the National Safety Council (NSC) reveals that sleep loss is just one of nine risk factors for fatigue in the workplace.
The report, which includes survey results of more than 2,000 working adults in the U.S., identifies the nine fatigue risk factors as well as how many U.S. workers suffer from each.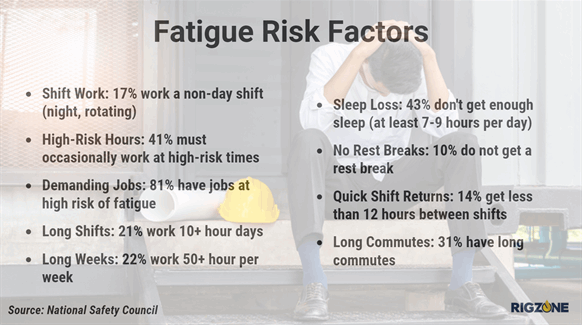 It's fair to say that eight of the nine risk factors are commonplace among many oil and gas workers, particularly those who work in the oilfield. With an industry very much focused on Health, Safety and the Environment (HSE) and whose workforce has several of the risk factors, employers should take heed.
"These findings are a literal wake-up call: when we're tired, we can put ourselves and others at risk," said Deborah A.P. Hersman, president and CEO of the National Safety Council. "We hope Americans recognize that impairment stems not just from alcohol and drugs, but lack of restorative rest – fitness for duty starts with getting a good night's sleep."
Fatigue can be exhibited in many ways, including decreased cognitive performance (i.e. feeling tired at work, having trouble focusing, etc.); microsleeps – (yes, those head nods you do at your desk have a name); and increased safety risks. The report states that 13 percent of workplace injuries can be attributed to fatigue. Three percent of respondents reported they had experienced a workplace safety incident due to fatigue.
And apparently, regional trends exist, with Southerners suffering the most. Workers in the South (defined in the report as Texas, Louisiana, Oklahoma, Mississippi, Alabama, Arkansas, Tennessee, Kentucky, Georgia, Virginia, West Virginia, North Carolina, South Carolina and Florida) reported the highest average number of risk factors out of all regions in the United States.
The report also reveals a knowledge gap, revealing that only 20 percent or respondents truly understand fatigue. So what can employers do? According to the NSC, employers should continue learning about the causes and consequences of fatigue in the workplace, take precautionary measures to manage fatigues among employees and include fatigue in safety talks.
Generated by readers, the comments included herein do not reflect the views and opinions of Rigzone. All comments are subject to editorial review. Off-topic, inappropriate or insulting comments will be removed.