Where Did the Oil, Gas Workers Go?
by Valerie Jones
|
Rigzone Staff
|
Wednesday, August 09, 2017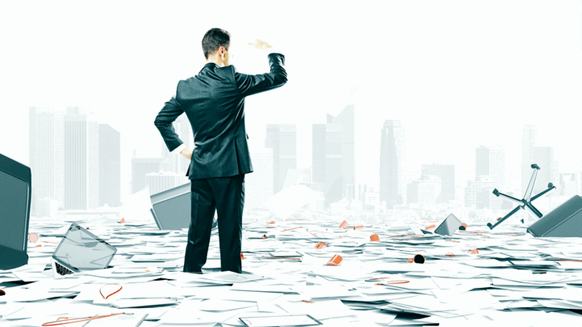 Rigzone explores the industries where departed oil and gas workers migrated to the most, based on survey results.
Trying to recoup after a layoff can be tough enough in itself, but for those who have been laid off from oil and gas, an industry that ebbs and flows constantly, questions often arise of whether professionals should take their talents elsewhere.
As Rigzone explored in its first story about the oil and gas industry's departed workers, 38 percent of respondents said they were currently unemployed, having most recently worked in oil and gas. More than half of those people were laid off. While opportunities for work, specifically in drilling and oilfield services, were sparse during the downturn, it forced some people to find opportunities in other industries outside of oil and gas. Of the survey's more than 1,500 respondents, about 17 percent reported they are currently employed outside of oil and gas.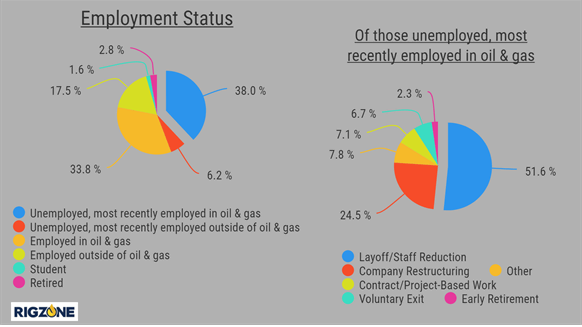 Industries Welcoming Oil, Gas Talent
Laid off oil and gas workers seemed to migrate most to the construction and manufacturing industries. According to survey results, one-third entered into either construction (23.6 percent) or manufacturing (10.1 percent).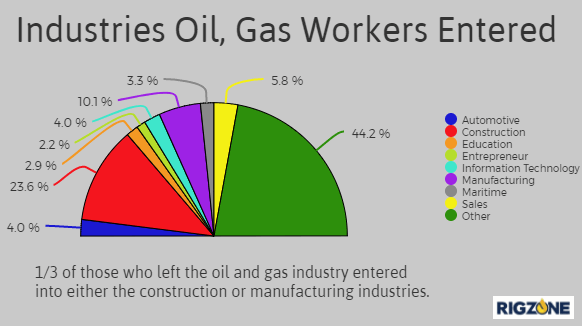 While U.S. employment in oil and gas extraction and support services saw declines month over month the past few years before reaching a low in October 2016, other industries were adding jobs, according to the U.S. Bureau of Labor Statistics (BLS).
An Aug. 4 detailed industry employment analysis from the BLS reported that manufacturing added 16,000 jobs in July and 100,000 jobs since November 2016. Construction jobs increased slightly by 6,000 in July, with building construction paving the way with 5,500 jobs added.
"When we place a job posting, there's a greater concentration of candidates with oil and gas experience. Since mid-2014, it's been consistently strong all the way around."
Jeff Applegate, CEO of Texas Injection Molding, a Houston-based plastics manufacturing company, has seen firsthand how oil and gas professionals can transition into manufacturing work.
"Whether it be maintenance personnel, quality personnel or engineering personnel, we have hired from the oilfield for all three of these departments," Applegate told Rigzone. Downturn "or not, the majority of applicants we see for a job come with oil and gas experience."
Applegate started Texas Injection Molding in 2013 and said some of the best workers he's hired have come from an oil and gas background.
"The concentration is greater," said Applegate. "When we place a job posting, there's a greater concentration of candidates with oil and gas experience. Since mid-2014, it's been consistently strong all the way around."
Certain skillsets oil and gas professionals possess (i.e. reading blueprints, technical background, familiarity with electrical controls and hydraulic systems) translate well to the type of work done at his company, Applegate said. "Whether engineers are taking components and building something for the oilfield or taking components and building a manufacturing plant for molding … while it's certainly not a 1:1 translation, there's a lot of commonality in the skillset."
Applegate mentioned he's heard of billions of dollars of investments being made in new polyethylene plants on the Gulf Coast to take advantage of low costs for natural gas.
Manufacturing is one of six sectors accounting for the bulk of job growth in metropolitan Houston in 1H 2017, adding 10,500 jobs, according to recent data from the Greater Houston Partnership (GHP).
Methodology: Rigzone conducted the worker exodus survey using online survey tool SurveyMonkey. The survey was executed via email to Rigzone's member database as well as the company's social media platforms from May 11 through May 18 and garnered more than 1,500 responses from nearly 100 countries.
Generated by readers, the comments included herein do not reflect the views and opinions of Rigzone. All comments are subject to editorial review. Off-topic, inappropriate or insulting comments will be removed.