How to Sell Yourself in the Job Search: The Approach
by Matthew V. Veazey
|
Rigzone Staff
|
Tuesday, August 08, 2017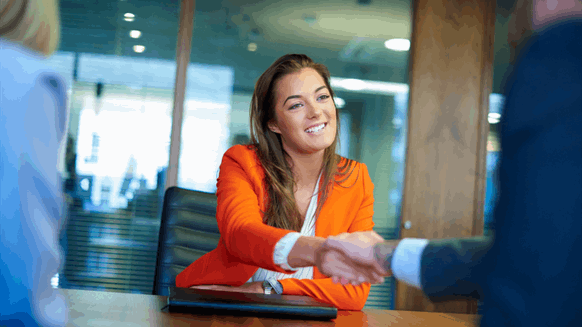 In the approach, your job search transitions to real-time.
If you've been following Rigzone's series on applying personal selling to the job search, you probably noticed very quickly that the process involves considerable background research. In the prospecting and qualifying stage, you define your target market. Next, during the preapproach, you learn more about that target market – companies of interest, individuals with ties to those companies, facts about the competitive and industrial landscapes – and analyze that information through the prism of your internal needs and wants. When you move into the third phase of personal selling, the approach, you take what you've learned and apply it in the actual job interview.
"The preapproach ends as soon as the interview starts in real-time," Jerry Acuff, CEO of the sales consulting firm Delta Point, Inc., said of the transition from the preapproach to the approach.
Make that First Impression Count
Acuff said the approach usually represents your target market's first encounter with you.
"The approach is important because it almost always is the first impression," he explained. "First impressions matter and we want to be seen as 'different' right out of the gate."
Seemingly minor gaffes can quickly work against you in the approach, rendering all of your background research useless in pursuit of the job opening in question, Acuff continued. He said that examples of common missteps include:
offering the interviewer a "lousy" handshake
being late for your appointment
"underdressing" by, say, wearing business casual rather than business dress attire
trying to be funny
swearing and making inappropriate comments
being too serious
chewing gum
being overly zealous about the role
answering questions that the interviewer has not asked; for instance, don't discuss your work history until asked to do so
"Many things can be rapid knock-out factors," Acuff pointed out. "Everything matters and the first few minutes are the minutes the interviewer often decides whether she likes you or not. That alone can change the likelihood of success."
Make an Informed Judgment
During the approach, the buyer and seller are assessing one another, said John Holland, co-founder of the trademarked CustomerCentric Selling training workshops and co-author of a book by the same name.
"Competent sellers don't want buyers to buy if there isn't a good fit," explained Holland. "My thought is that early in buying cycles it's important for both sides to mutually determine if the offering can address a buyer's needs."
Part of a well-executed approach – in this case a job interview – calls for those at both sides of the table to honestly visualize how well the candidate would perform the job, added Holland.
"I suggest the approach in a job search should be along the same lines, with both parties trying to determine if the candidate is qualified and likely to do a good job," he said.
Aside from avoiding gaffes and honestly assessing your fit within the role and organization, what can you do to boost your chances of advancing past the approach/interview phase? Remember human nature and show that you've done your homework, said Acuff.
"The job-seeker should remember that most people need to like us to want to see us again – true in life and in a job search," Acuff said. "Go in with a big smile, a positive attitude and loaded with an understanding of their company and the role as well as what you can learn about the people interviewing you. Make sure you have prepared great questions that will tell you whether this role, this company and this manager are a great fit for what you are looking for."
In addition, Acuff advises candidates to remember the type of environment in which sales pitches typically occur.
"Selling yourself in a job search is no different than selling yourself in a selling situation," he said. "Most sales happen in a relaxed atmosphere so make sure you are relaxed and confident and that your interactions create excellent conversation that makes the interviewer feel at ease speaking and being with you."
Finally, bring an open mind into the interview with you, Acuff added.
"Above all, be excited and ready to learn something," he concluded.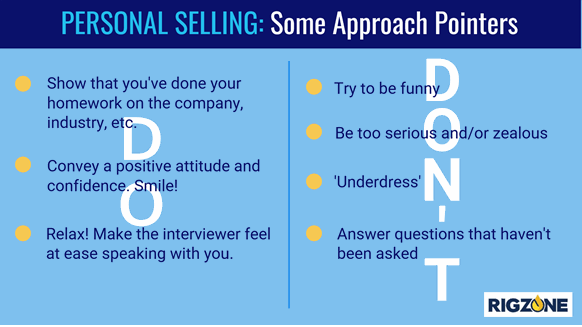 Generated by readers, the comments included herein do not reflect the views and opinions of Rigzone. All comments are subject to editorial review. Off-topic, inappropriate or insulting comments will be removed.
MORE FROM THIS AUTHOR
Matthew V. Veazey
Senior Editor | Rigzone