BLOG: The Best and Worst Places in the US to Buy Energy
by Matthew V. Veazey
|
Rigzone Staff
|
Thursday, August 17, 2017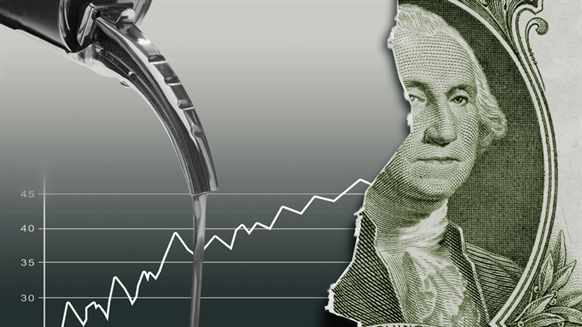 Recent study reveals most and least expensive places in the US to buy natural gas, motor fuels, more.
The personal finance website WalletHub recently put an energy-oriented spin on the real estate mantra "Location, location, location!" By examining how retail prices and consumption rates affect energy expenses, the website's analysts determined the most – and least – attractive locations in the United States for energy consumers.
"An important consideration when it comes to energy costs is the proximity and availability of the energy sources within a state," Jill Gonzalez, an analyst with WalletHub, told Rigzone.
Weighing factors including monthly electricity, natural gas, motor fuel and home heating oil costs, WalletHub determined that consumers in the following states pay the highest total energy costs:
1. Connecticut ($380 average monthly energy bill)
2. Alaska ($332)
3. Rhode Island ($329)
4. Massachusetts ($327)
5. Wyoming ($320)
At the other end of the spectrum, the following U.S. jurisdictions reportedly boast the lowest total energy costs:
51. District of Columbia ($219)
50. Washington ($226)
49. Colorado ($228)
48. Oregon ($246)
47. Illinois ($247)
Based on its comparison of energy prices by fuel type, WalletHub ranked the states below best and worst price-wise for natural gas consumers.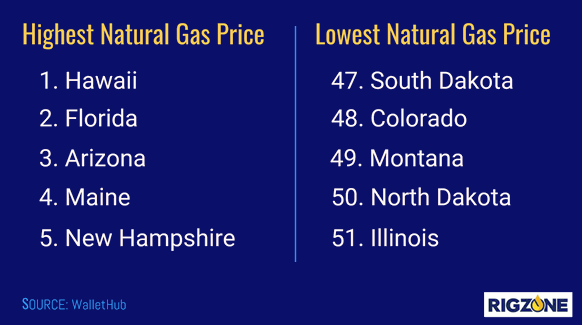 In its natural gas consumption analysis, WalletHub concluded the following: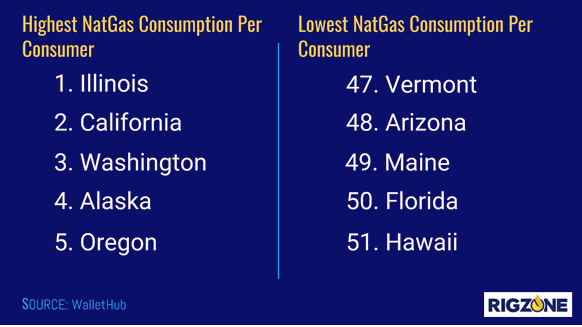 1
2
View Full Article
Generated by readers, the comments included herein do not reflect the views and opinions of Rigzone. All comments are subject to editorial review. Off-topic, inappropriate or insulting comments will be removed.