TWITTER POLL: Rigzone Readers Weigh In on Volvo's All-electric Decision
by Matthew V. Veazey
|
Rigzone Staff
|
Friday, July 14, 2017
Volvo Car Group recently announced that it will stop producing automobiles powered by the internal combustion engine starting in 2019. Calling it "one of the most significant moves by any car maker," Volvo stated that it all of its vehicles launched from 2019 onward will have an electric motor via fully electric cars or one of two different types of hybrids.
How significant will Volvo's decision be for oil refiners? Nearly one-quarter (23 percent) of the 208 participants in a recent poll on Rigzone's Twitter page believe it is "Bad news for refiners." In contrast, a plurality of respondents – 39 percent – see the move as "A mistake on Volvo's part." However, a nearly identical 38 percent indicated the Volvo announcement amounts to "No big deal for refiners."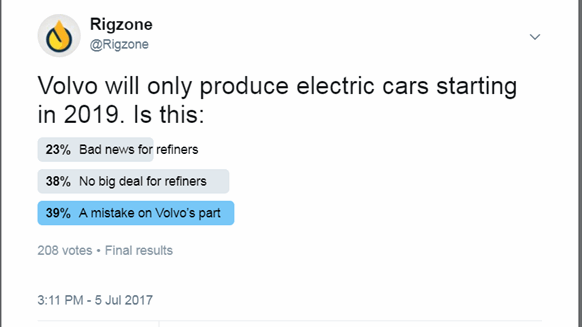 What are your thoughts on Volvo's decision to ditch the internal combustion engine, and do you think that other automakers will follow suit? What mid- and long-term implications do you expect for refiners and fuel demand?
Generated by readers, the comments included herein do not reflect the views and opinions of Rigzone. All comments are subject to editorial review. Off-topic, inappropriate or insulting comments will be removed.
MORE FROM THIS AUTHOR
Matthew V. Veazey
Senior Editor | Rigzone