What Are the Qualifications to Become a Welder?
by Rigzone Staff
|
Friday, June 23, 2017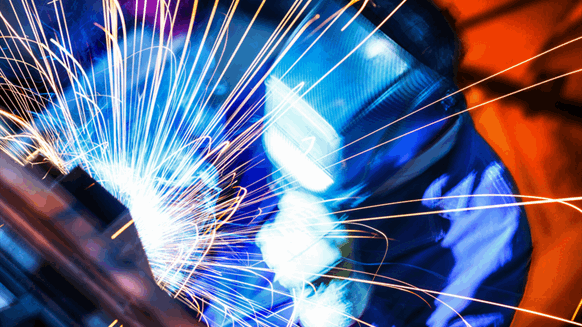 Learn about basic qualifications to become a welder.
As the American Welding Society observes, the demand for welders is growing. Do you think you have what it takes to become a welder?
Welders work in a variety of oil and gas settings: drilling rigs, offshore production platforms, shipyards, refineries, pipelines, liquefied natural gas terminals and more. They possess highly coveted skills that can integrate robots, lasers, computer programming and even artistry. Top-notch experienced welders can earn six-figure incomes, but the work is demanding. Welders often contend with physically demanding working conditions such as outdoors in the elements, confined spaces and even underwater. Moreover, their jobs often take them away from home for extended periods of time.
According to Tiburcio "Tivo" Parras, director of the welding program at San Jacinto College (San Jac) in Pasadena, Texas, welders need to exhibit good hand and eye coordination. In addition, he pointed out that becoming a welder involves learning about:
electrodes and amperage settings for various thicknesses of materials and welding positions
arc welding principles
electrode classifications
welding operations in various positions using selected electrodes and different joints
Aspiring welders can pursue various degree and certificate training programs, which are designed to prepare students to pass welder certification exams. San Jac's website offers details on what these different tracks entail.
Educational and certification requirements notwithstanding, Parras added that successful welders:
exhibit effective verbal and written communication skills
work as team players and know how to resolve problems
follow and understand directions well enough to pass them along to co-workers
demonstrate good safety practices
show up on time and ready to work
"Students that come out of San Jacinto are some of the most sought-after welders in the industry," concluded Parras, adding that good welders never stop learning. "We are honest with our students and will push them to strive to be the best. They understand how competitive the welding industry can be. They understand that learning something new every day makes you better than the next welder."
Generated by readers, the comments included herein do not reflect the views and opinions of Rigzone. All comments are subject to editorial review. Off-topic, inappropriate or insulting comments will be removed.