Rig Trends: Offshore Rig Market Recovery Reports Premature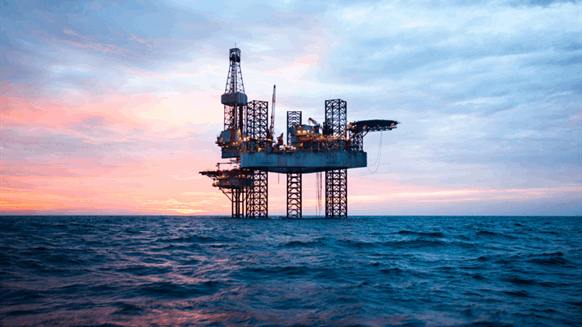 For quite some time now, many oilfield analysts have reported the beginning of a recovery in offshore rig demand.
For quite some time now, many oilfield analysts have reported the beginning of a recovery in offshore rig demand. Recent report headlines, however, have now started to use phrases like "elusive recovery" or something similar. The fact of the matter is that a recovery never really started. Yes, there have been isolated positive developments in some markets for some rig types, but reports of a recovery have most definitely been overstated.
As seen in the figure below (courtesy of the June 2017 RigOutlook forecast), the competitive jackup, semisubmersible (semi) and drillship rig fleet totaled 700 rigs comprising 431 jackups, 150 semis, and 119 drillships. While this was down by 6.2 percent from 747 in September 2014 (generally recognized as when the current downturn began), the drop in rig demand during the same period was much more severe, falling by over 42 percent to 350 rigs in May 2017. At the time of this writing, the number of rigs under contract rose to 353, certainly not a lot, but any upward movement at this point is welcomed.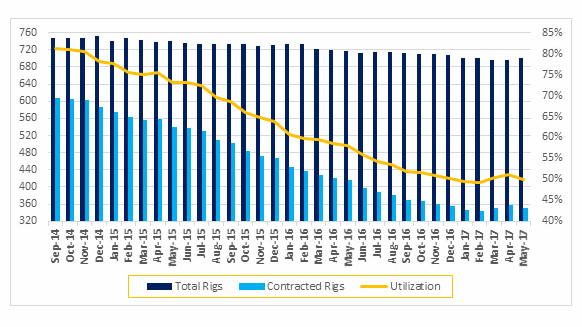 Day rates in most regions continue to reflect the low utilization market. While most new fixtures are at or slightly above breakeven levels, the Gulf of Mexico jackup market has been an exception. New rates rose by as much as 37 percent over a six-month period. That helped average jackup fixture rates for 2017 to increase by around $8,000 over the 2016 average. For floating rigs, however, the 2017 average fixture rate of just over $179,000 was down nearly $65,000 from 2016. We should note that rig owners have now reverted to the age-old practice of not disclosing all day rates, a clear indication of which side of breakeven those rates likely reside. The result is that 2017 average fixture rates are likely much lower, but by how much is impossible to know.
Despite industry-wide continued calls for attrition, rig retirements have inexplicably slowed down. Through May 2017, only 16 rigs were removed from service versus 28 for the same period in 2016. As of this writing, there were 273 competitive rigs that were 30 years or older and 76 of those are cold stacked – leaving plenty of candidates. Overall, the cold stacked fleet currently totals 134 units, down from 140 on Jan. 1. Going forward, we expect the attrition pace to pick up, but given the pattern established so far in 2017, hitting the increased attrition levels of 2015 and 2016 is doubtful.
Delivery date deferrals for rigs under construction continue to be the norm as only those rigs with contracts and a few others were delivered. In the first five months of 2017, just five rigs entered service. For the remainder of 2017, there are four rigs with contracts in place, which virtually assures their delivery. Otherwise, we expect no more than five to 10 rigs to enter the fleet with the rest deferred into 2018 or beyond.
Looking forward, the price of oil will clearly dictate what level of activity takes place. So far, the OPEC production cuts have not resulted in a higher sustained oil price, so much so that some are revising price forecasts down. Should the price fall to and remain in the low $40s or worse, there will be little, if any, increase in activity and utilization and day rates will remain in the doldrums. In addition, continued survival for some companies will become questionable. However, with a stable price that is in the mid $40s to low $50s, the few bright spots that have occurred should become more frequent and visible.
Assuming the latter oil price scenario from above occurs, rig demand will rise during the remainder of the year. However, it may not result in a large number of additional rigs being put to work as there is a large number of rigs currently scheduled to roll off contract. Rig supply should decline, but by how much depends on the level of attrition that takes place. There will be a small number of new rig deliveries, but that should be more than offset by rig retirements. By the end of the year, utilization will get a boost, but not by a lot. However, in late 2017 or early 2018, utilization will begin to increase a bit faster and could be 60 percent or higher by June, a sizable gain from the 50 percent seen in May 2017.
Generated by readers, the comments included herein do not reflect the views and opinions of Rigzone. All comments are subject to editorial review. Off-topic, inappropriate or insulting comments will be removed.